Issue Date: April 11, 2003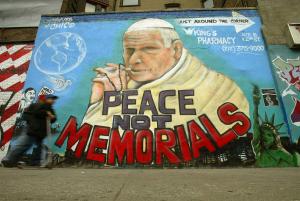 A mural for peace on the side of New York City building depicts Pope John Paul II holding a rosary. At the Vatican, the pope continued his calls for peace and said the conflict must not become a "religious catastrophe."
-- CNS/Reuters
Pope gets credit for averting anti-Christian backlash
By JOHN L. ALLEN JR.
Rome
Although John Paul II's opposition has so far failed to stop the war in Iraq, it may have succeeded in brokering a separate peace between Christians and Muslims in the Islamic world.
Two weeks into the war, apparently not one case of a Christian harassed or attacked as a reprisal for the U.S.-led assault has been recorded, despite fears to the contrary before hostilities began. Both Christian and Muslim sources say that while reasons for the lack of violence are complex, one important factor is the public antiwar stance of the pope and other Christian leaders.
Between March 29 and April 1, NCR canvassed Christian and Muslim leaders in zones where relations have been most tense: Pakistan, Nigeria, Indonesia, Lebanon, Egypt and Palestine. NCR has also been in contact with the Latin-rite Catholic community in Baghdad, as well as observers in Rome and Washington who track the persecution of Christians worldwide.
All confirmed that they are unaware of incidents of anti-Christian backlash. Many reported that Christian-Muslim ties are actually better than ever, forged by common opposition to a conflict they see as an American, rather than a Christian, venture.
"Our relations with Christians have never been so cordial," said Mohammad Sammak, a Muslim and chair of a Muslim-Christian dialogue in Beirut, Lebanon. "The pope's stand is perhaps the primary reason why."
Sammak said that in Beirut, the pope's statements on the war have been translated into Arabic and read in mosques during Friday prayer services. He said the Vatican's depiction of the war as both illegal and immoral has also been widely reported by local TV and newspapers.
Fear of anti-Christian reprisals was based on precedent. In Pakistan, for example, 25 people were killed and dozens injured in attacks by Islamic fundamentalists on Christian churches in Islamabad, Bahawalpur, Daska and elsewhere after American strikes in Afghanistan.
Evidence pointed to similar dangers this time. Pakistan's ecumenical Christian Minority Alliance warned before the Iraq war of death threats from Islamic extremists angered by American efforts to topple Saddam Hussein. Those concerns reached the Washington-based Center for Religious Freedom, a group that monitors anti-Christian persecution, and were relayed to the U.S. State Department.
Yet based on NCR's informal survey, those fears have apparently not materialized, in Pakistan or anywhere else.
"Both Christians and Muslims in Pakistan are grateful to the pope, and this has contributed to keeping the peace," said Bishop Andrew Francis, head of the Multan
A Muslim reads the Quran in the memorial chapel to St. John the Baptist at Omayyad Mosque in Damascus, Syria, at the time of the pope's visit there in May 2001.
diocese in Pakistan. Francis has pastoral responsibility for the southern Punjab, long a bloody zone of interreligious conflict.
"So far, so good," Francis said April 1.
Indonesia has also been the site of much Christian-Muslim fighting. More than 5,000 people were killed and half a million driven from their homes in the Moluccas islands before a shaky truce took hold a year ago.
Yet there, too, the atmosphere is calm, according to Fr. John Prior, an English missionary in Indonesia.
"There are massive anti-U.S. demonstrations, and most are explicitly Islamic," Prior said. "Yet there have been no anti-Christian elements to date, due to the prominent role Christian leaders have taken over the past six months" in opposing the war.
Archbishop Jean-Benjamin Sleiman, head of the Latin Catholic church in Baghdad, also told NCR that as of March 30, Christians there had not been targeted for harassment. He said the pope's pro-peace message has received wide coverage in the official Iraqi media.
Nina Shea, director of the Center for Religious Freedom, told NCR that despite the fact that Christians have suffered "intensifying persecution" as Islam has radicalized in the last five years, she is not aware of any anti-Christian reprisals in Islamic nations related to the war.
Sources were quick to attribute the calm to factors alongside the pope's interventions. Pre-existing Muslim-Christian dialogues, they say, helped build networks of understanding. Other Christian leaders, including the local Catholic hierarchy in most places, have also spoken against the war. Several of the nations in the frontline of opposition, such as France and Germany, are historically Christian. Moreover, despite statements to the contrary from some Islamic leaders, many Muslims are not sympathetic to Saddam Hussein.
"People are not daft," Francis said. "Muslims know that the Iraqi regime invaded its own neighbors. People have seen documentaries on our television about Hussein killing his own people."
Jesuit Fr. Tom Michel, one of the Catholic church's leading experts on Islam, said the very question about the lack of anti-Christian backlash betrays an anti-Muslim prejudice.
"The premise is that Muslims are trigger-happy, constantly ready to fly off the handle, and willing to strike out at any convenient target," he said. "That's not reality."
All seem to agree, however, that the pope's high-profile opposition to the war has helped the "Islamic street" distinguish between the Bush administration, the West and Christianity.
"The Holy Father's efforts clearly have had an impact in the Arab world," Archbishop Michael Fitzgerald, head of the Pontifical Council for Interreligious Dialogue, told NCR March 31.
Fitzgerald said, for example, that when he was recently in Cairo, he took part in a television program in which a well-known Egyptian sheikh expressed appreciation for the pope's stand.
Vatican officials stress, however, that in time tensions could re-emerge.
"This war was said to last either six days, or six weeks or six months," Archbishop Celestino Migliore, the Vatican's permanent observer at the United Nations, told NCR. "It's already more than six days, and six weeks doesn't seem enough," Migliore said.
"As the war goes on, it won't fail to show its devastating impact."
John L. Allen Jr. is NCR's Rome correspondent. His e-mail address is jallen@natcath.org
National Catholic Reporter, April 11, 2003