Issue Date: April 11, 2003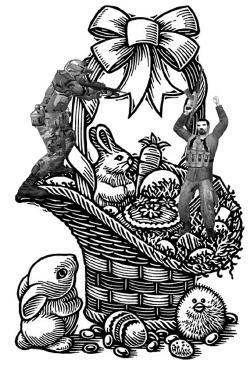 -- Digitally altered image by NCR staff
Along with jelly beans and chocolate rabbits: guns and GI Joe
Grandmothers for Peace protest war toys in Easter baskets
By KELLEY KEPLER
Catholic News Service
Superior, Wis.
For years the Superior area's chapter of Grandmothers for Peace has been urging parents not to buy war toys for their children, and they have been holding "nonwar" toy drives for the needy.
Now, the grandmothers say they are appalled at the latest marketing trend they are seeing -- Easter baskets filled with war toys.
Now with the United States and its allies at war with Iraq, the toy industry is filling Easter baskets with toy soldiers dressed for battle and toy machine guns, planes and tanks alongside the typical candies.
"We were not happy about this," said Jan Provost, a member of Cathedral of Christ the King Parish in Superior.
Provost founded a local chapter of Grandmothers for Peace in 1982, shortly after her sister, Barbara Wiedner, started the international peace organization. The chapter has 45 members from the Superior area and nearby Duluth, Minn.
The group's main focus is to rid the world of nuclear weapons. It is an effort that Provost said must start within the community because "peace begins at home," she told the Catholic Herald, newspaper of the Superior diocese.
To achieve their goal, the grandmothers give out scholarships to high school and college students involved in social justice activities, write to their senators and representatives, and those who are able to hit the streets to protest war. On March 8, they joined an antiwar rally in Duluth that drew about 1,600 protesters.
Their latest cause began when members of Grandmothers for Peace spotted the Easter baskets being sold at three major retailers: Walgreen Drug Stores, Kmart and Wal-Mart. They began sending e-mails and calling corporate offices in the hope of getting the baskets out of stores.
The effort compelled Walgreen to reconsider selling the baskets. Carol Lively, a spokeswoman for the 3,998-store chain, told USA Today, "We reconsidered the appropriateness of having them in Easter baskets and considered the impending war and thought it would not be appropriate to sell baskets with soldiers or military men."
"Walgreens was wonderful," Provost said. "All of Walgreens took them off their shelves almost immediately."
Representatives from Kmart and Wal-Mart told the group that the items were big sellers, and the stores had no plans to remove the baskets from their shelves. A Wal-Mart official said the toys encourage patriotism in children.
"Most of us have grandsons who are in Kuwait or husbands who are veterans. We love the warriors, but we want them to be home safe," said Provost. The grandmothers argue there are better ways to teach children to love their country.
A study done by Physicians for Global Survival, a physician-led organization based in Canada and committed to preventing war, abolishing nuclear weapons and promoting nonviolent means of conflict resolution, concluded that war toys are dangerous because they "convey values inconsistent with the values we hold vital to a peaceful and just world."
In the study, family physician Darlene Hammel and child psychiatrist Joanna Santa Barbara said war toys are likely to increase aggressive behavior in children because they teach children that: "1) War is a game, an exciting adventure; 2) Killing is acceptable, even fun; 3) Violence or threat of violence is the only way to resolve conflicts; and 4) The world is divided into 'goodies' and 'baddies' where the bad guys are devoid of human qualities and their destruction is desirable."
Moreover, when parents give war toys to their children, they argue, it implies that the parents approve of such violence, thus conveying inconsistent values to their children.
"War is not fun and shouldn't be a toy," said Elizabeth Johnson, another member of Grandmothers for Peace. "That's not a good Easter message to send out to kids."
Next the grandmothers are planning to directly target the manufacturers of war toys. In the meantime, they are turning to their Catholic faith and looking to Christ for peace.
Karen Barschdorf, a member of Holy Assumption Parish, has been having Masses celebrated for the Catholic parishes in Baghdad; for the men, women and families in the military; and most recently for the children of Iraq.
Many Iraqi children, she said, are born with birth defects caused by the depleted uranium left behind after the Gulf War.
"Prayer is one of the biggest things we can do right now," Provost said. "Prayer and protest."
National Catholic Reporter, April 11, 2003