Issue Date: April 11, 2003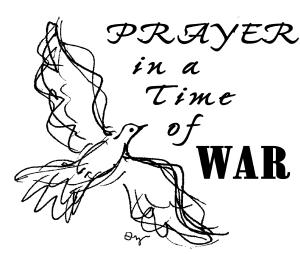 Prayer in a Time of War
A Muslim Woman's Prayer (Du'a)*
By MAHNAZ MEHDI SHABBIR
In the Name of God, the Beneficent, the Merciful
O ye people! Verily, We have created you of a male and female, and made you in nations and tribes, that we may recognize each other; Verily, the most honored of you with God is the one of you who guarded himself the most against evil. Verily, God is All-Knowing, the All-Aware.
-- Quran 49:13
Dearest god,
During this time of unrest among tribes, I need to reach out to my faith and to find solace in Your words. It's difficult for me to think that in our wonderful world there are people who want to hurt other people. I look to You, God, to help me understand why this happens.
I know You created this verse from our Holy Quran for all in the human race, not just for Muslims.
You want men, women, old, young, nations and tribes to know each other.
Why would You do that? Would it not be easier if we were all the same?
If we were the same, would we not stop hurting each other?
But You purposely said You "made [us] in nations and tribes, that we may recognize each other." So, You want us to be different. You want us to learn from each other. And by not doing so, we are not following Your words.
But somehow, the people have forgotten Your words. For many, nationalism is foremost.
So why do we, the people, not listen to Your words?
We are told to surrender to God's plan, that You are the "All-Knowing, the All-Aware." Then why are there people who want to kill each other?
Dearest god, give me wisdom so that I can learn from Your guidance, since I believe You are All-Knowing and All-Aware.
Dearest god, I pray for the innocent women, children and men of Iraq. I pray they will forgive us for what we as a country are doing to their country. I pray that our leaders support the people of Iraq so that they can grow and prosper after this war. I pray that our leaders do not make the same mistakes again as they have done in this foreign policy and past foreign policies. I pray that our leaders dispel their hidden agendas.
I pray for the United States soldiers. I pray they understand they are fulfilling a job that the United States government has asked them to do, that they befriend the people of Iraq, that they protect the people and religious shrines that are the foundation of the people's existence for over 1,300 years, and that they come home safely. I pray that they understand that peace rallies are not against them, but rather for world peace, so that they do not have to fight.
I pray for the families of the U.S. soldiers, that they find solace.
I pray for the American Muslims who are living in fear of escalating hate crimes committed against them. I pray that they not live in fear anymore.
I pray for all Americans, that they can find unity in hope.
Dearest god, grant us, all of humanity, the wisdom to learn from Your guidance. Teach us to submit to Your will. And give us peace, faith, love and hope for the future.
* A du'a is calling upon God by addressing him with one's own praise, thanksgiving, hopes and needs. In addition to the required prayer five times daily as stated in the Quran, Muslims are encouraged to practice du'a, raising their hearts and minds to God frequently throughout the day in their own words.
Mahnaz Mehdi Shabbir lives in Stilwell, Kan. She is a first-generation American Muslim of Indian descent. A native of Philadelphia, she has lived in the Kansas City area for 23 years. She and her husband, Farrukh, are the parents of four boys. She is the vice president for strategic planning and business development at Carondelet Health, a Catholic health care system in Kansas City, Mo. Mahnaz is active in several Muslim, interfaith and community organizations. She has created two Web sites to foster peace and interfaith understanding, www.americanmuslimwoman.com and www.communitypeace.com
National Catholic Reporter, April 11, 2003