Issue Date: April 11, 2003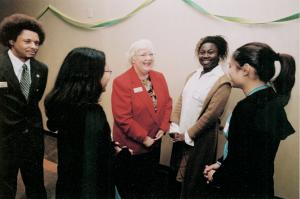 Alice B. Hayes mingles with University of San Diego students at homecoming last fall.
-- Photo by Gary Payne
As new president, her goal was quality

Now with applications soaring, USD's Hayes prepares for retirement
By ARTHUR JONES
San Diego
Eight years ago Alice Bourke Hayes had a tough act to follow. It was 1995 and the St. Louis University executive vice president had been appointed president of the University of San Diego.
The beloved president she succeeded had been in office for 24 years. A popular dean who had been at the university for many years, and who felt it was already on the right track, later told her that his chief hope when she arrived was that she wouldn't screw things up.
Hayes asked, "Were your hopes so small? Didn't you hope that maybe we would have something new, some new creativity, some new growth?"
In 1995, she said, the academic community's anxiety "was that something good would be lost. My big hope was that something good would be discovered."
Now, Hayes herself is in the countdown to retirement. She's 65, and doesn't have to leave. "It's just time," she said. "My real decision last year was one year or six years." There's a new strategic plan and capital campaign in the air, she said, "and you can't start that and pull out in the middle. In that sense it wasn't a hard decision."
The University of San Diego has named Hayes' successor: Mary E. Lyons, who has served as president of the College of St. Benedict, a 2,000-student women's college in St. Joseph, Minn., since 1996. Before that, Lyons, a retired captain in the U.S. Naval Reserve, was president of the California Maritime Academy for six years. She will assume her new position at the University of San Diego July 1.
In light of that approaching day, NCR asked the university's outgoing president to reprise the challenges inherent in running a Catholic university today -- Hayes-style. The interest, of course, is in the twin quest for academic excellence and continued Catholic identity.
A research biologist with a master's in science from the University of Illinois and a Ph.D. from Northwestern, Hayes was six years at St. Louis, and before that 27 at Loyola in Chicago. She said she took the job because she saw in San Diego an institution with strong academic potential, "maybe just beginning to hit its stride."
"My concern was to try to make some decisions that would allow excellence. I think the toughest decision was to say, we're going to define growth differently," she said.
Hayes decided the university "would not define growth as growth in enrollment, growth in programs, but as growth in quality. And that is a very different way of looking at things and maybe that was the hardest challenge."
Freshman enrollment was capped at 1,000. There was a cap on the sought-after law school. Graduate programs were allowed a little more flexibility because they were not saturated.
Today, freshman applications have soared: 7,000 applications for a class of 1,000. "When I first came we accepted about 80 percent of the applicants, and now we accept less than 50 percent," said Hayes. "More than 55 percent of the undergraduates are Catholics. Graduate student religious affiliation is not known, "but we do know [Catholic affiliation] is a very attractive feature for the professional schools."
It has been three decades since today's University of San Diego was formed in the 1972 merger of the Religious of the Sacred Heart's College for Women with the diocesan College for Men and School of Law. The merger was gradual: first cross-registration at either campus, then faculty exchanges, then full merger. The total student body in 1972 was 2,500; last fall it was 7,126.
The original academic entity sponsors have four of the 40 seats on the board: the bishop and the Religious of the Sacred Heart provincial, plus one person nominated by each of them. "It's only four votes, but I would tell you," said Hayes, "those are very influential votes. I think that if we were doing something that the bishop and provincial felt wasn't in some way amicable to Catholic higher education, they would tell us."
At the time the merger was coming together, Alice Hayes had already been at Loyola for a decade. She began as a researcher into tuberculosis, but her later specialty for more than two decades was investigation into all aspects of "why leaves are flat."
"It's not a trivial question," said Hayes. The flatness "allows photosynthesis, the source of all the food and oxygen on earth."
By 1986, she was in the space biology program funded by NASA, had been dean of Loyola's science division and was an associate academic vice president.
Asked if she would be vice president, she agreed, and arranged a funding transition so that her work was handed over to colleagues.
In 1989 Hayes went to St. Louis University as executive vice president, provost and biology professor until the San Diego move.
At the University of San Diego she wanted to use the budget in a different way -- to increase the number of faculty while holding the number of students constant; to transition from a large adjunct faculty to a more full- time faculty; to shift to a two-year budget from a one-year budget; and to aggressively go after funds from foundations and major donors.
In eight years the endowment has gone from $40 million to $135 million.
Further, "we've had some lovely gifts" for the still-in-process Center for Science and Technology. "The biotech community doesn't have a lot of money right now; people individually are still giving but not at the level that we had mentally set aside for them," said Hayes." There's also the new, internationally-recognized Joan B. Kroc Institute for Peace and Justice that opened in 2002.
Even so, everything in a university starts with the incoming freshmen. Fifty percent of the intake is from the West Coast and half of those from San Diego. Foreign students, only a few hundred of them, often find their way to the university through the Internet.
Freshmen have to live on campus. Theology and philosophy and ethics courses are mandatory. "We have ethics across the curriculum programs," said Hayes. "We've funded training programs for faculty members so they have the confidence to discuss ethical issues across the undergraduate programs."
Catholic identity is a high-level topic at Catholic colleges and universities. When Hayes arrived, the University of San Diego already was a member of the Catholic faculty-oriented Collegium, to which Hayes was an early consultant (see accompanying story).
Hayes tracked the ebb and flow of the Catholic identity issue across four decades.
"There was a contentment in the 1960s. Catholic universities were Catholic because a lot of Catholics went there," she said. "There was an increasing number of lay faculty, and leadership from the Jesuits all over the place." ("They were very brave in taking me on," she added in an aside.)
"Ron Walker, the first lay dean at Loyola, felt it important to reassure people the place was still going to have a Jesuit Catholic identity," she said, "so every year at the dean's convocation a member of the Jesuit community was asked to speak about Catholic identity. One year a philosopher, next year a theologian.
"I don't think there was a sense of anxiety until the '70s. Nobody was afraid we weren't Catholic enough. They were afraid we weren't academically respectable. There had been a drive for academic excellence, strong academics in each department -- not sufficient attention to whether that person was contributing to the Catholic identity."
By the 1980s identity was a major priority at the 200-plus Catholic colleges and universities, and by the 1990s, with in-services on campus and Collegium programs externally, the new mood and methods were in place to enhance the "Catholic" element. The University of San Diego sends two faculty members each year to Collegium programs.
Hayes said, "I think we've brought a new consciousness of Catholic identity. I urged Msgr. [I. Brent] Eagen, our vice president for mission and ministry, to write a paper on the Catholic intellectual tradition. He did and I gave it to the provost who took faculty from a variety of religious commitments, and they wrote the university's guiding document, 'Insights.' And we have a series of seminars for new faculty members that discuss issues of Catholic identity."
On a day-to-day level, though the university church is a parish, there's an active campus ministry with its own staff and chapel. As required by the upper reaches of church politics, the university has theologians who have applied for the Vatican-required mandatum to teach. "It's not something the university requires," said Hayes. "It's been a good process. Our bishop [Robert Brom] has engaged in a series of faculty discussions. I'm sure if we had faculty members who did not have the mandatum I would hear about it."
Hayes is sanguine about miscalculations she's made. This year, because of the economic situation, "I thought we'd be down 350 or so students -- they'd apply but drop out because they wouldn't have the money. So I said let's accept 1,050 freshmen instead of 1,000. And I was wrong."
Early on, she said, she miscalculated what was required to get diversity in the student body. "I thought that in this environment (highly multiethnic Southern California), they would just come. We have to go after them more aggressively to actually get them to come." The key is more financial aid, she said.
On the up side, the university has "attracted money for needed projects" during her term, Hayes said. "We have enhanced the academic quality of the student body. We've aggressively gone after good people, new vice presidents, four new deans -- not settling to fill a position just because it's open, but waiting until we got the right person.
"Now that I've announced my retirement there's discussion about my legacy," she said, "and I feel like I'm dead. Mostly people point to the buildings and improvements on campus. But those are not the things that will have long-term impact. The impact will be felt because we've been intentionally pursuing our goals -- and it is 'we' because you never do any of these things alone."
After she leaves the presidency, Hayes has a full schedule but at a different pace. The only academic board she's on is Loyola University in Chicago. She also has accreditation visit commitments. She is on the board of directors of ConAgra and on the Pulitzer committee, and the U.S. bishops' National Review Board for the Protection of Children and Youth.
She is also on the board of Jack in the Box. "You know," she said, "Jack in the Box has the same target audience as the university --18-to 34-year-olds."
As for stepping aside, she had a merry look in her eye when she said, "This is my 41st year in Catholic higher education. I've done enough damage. It's time."
Arthur Jones is NCR editor at large. His e-mail address is arthurjones@attbi.com
---
Athletics: Competitive, but not over-the-top
Without a Division I football team, men's and women's basketball dominates the University of San Diego sports scene. "Basketball is the big visibility sport," says President Alice B. Hayes. Members of the West Coast Conference (Gonzaga, the University of San Francisco, and Loyola Marymount are also in the league), both USD basketball teams had won about as much as they had lost by mid-February. Rounding out the athletic department (the university would not reveal budget figures) are the men's and women's crew, cross-country, soccer and tennis teams. Single sex sports include, for women: swimming, volleyball and softball; for men: baseball and golf.
Typical of the university's competitive but not over-the-top approach to athletics, the school's star athlete -- nationally ranked tennis player Zuzanna Lesenarova, four-time All-American, 1999 singles champion -- came to the school without a scholarship. Lesenarova graduated in 2000 with a communications major.
-- Arthur Jones
National Catholic Reporter, April 11, 2003