Issue Date: April 11, 2003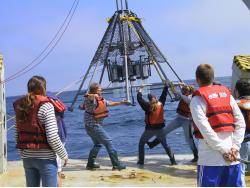 Oceangoing studies
Students in the University of San Diego's Marine and Environmental Sciences program perform oceanographic research off the coast of San Diego.
University of San Diego students have a close relationship with Scripps Oceanographic Research Institute and go out on the Scripps' oceanographic vessels. There's a similar academic link with Sea World and its Hobbs Research Institute. Students get to present their research.
The classes are small, with a lot of faculty-student interaction. So they get to do real work.
"That's why we're excited about this new [Center for Science and Technology]," said President Alice B. Hayes. "We'll have twice as many labs and a lot of very nice equipment."
-- Arthur Jones
National Catholic Reporter, April 11, 2003