Issue Date: April 11, 2003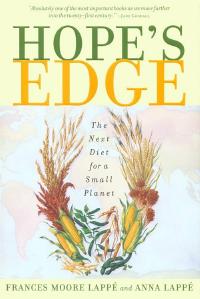 Manifesto of hope -- with recipes
Hope's Edge: The Next Diet for a Small Planet
By Frances Moore Lappé and Anna Lappé
Tarcher Putnam, 448 pages, $26.95
Reviewed by GARY MacEOIN
Frances Moore Lappé is ambitious. She is committed to persuading us to buck the "corporate capitalist system." She understands that this is a mighty big demand, calling -- as it does -- for a rethinking of the basic assumptions of our society.
What are these assumptions that distort our judgments? "They tell us we face unending scarcity, and if we keep focused on producing more we'll be able to survive. They tell us our nature is to be selfish and cutthroat, and that's what has made us the king of the mountain. They tell us our species' progress lies in ever-more sophisticated technology and in experts who solve problems by dissecting them into their smallest pieces. Most powerfully, these thought traps tell us we've happily arrived, thank God, at the end of history."
Thirty years ago Moore Lappé, then a 26-year-old graduate student at Berkeley, challenged both the claim that we face unending scarcity and the prescription that for survival we must accept factory farms and technologies that poison our food with chemicals and destroy soil fertility. Her Diet for a Small Planet described the insanity of an economic system that feeds mountains of grain to animals while people starve.
That slim volume has sold 3 million copies, and it continues to make converts. While gratified at this success, its author grieves that its impact falls so short of the needs. "Over these 30 years, millions have turned to a plant-centered, whole-foods diet, yet I was aware that millions more around the world were devouring greater amounts of meat than ever. For the first time worldwide, roughly the same number of us -- over a billion -- are underfed as are overfed. And the fast-food/fat-food diet causing obesity to skyrocket in our country has taken off globally, and the overfed are eating more of the foods predisposing them to disease. In other words, food has become a problem, a great problem, for almost half the people on our planet."
Don't give up, the Lappés, mother and daughter, now tell us. Things are really not quite as hopeless as they seem. All over the world, there are groups of people who are taking responsibility for their own lives and creating lifestyles that are providing well-being for themselves while maintaining the integrity and the viability of the earth. This book takes the reader on a trip to such experiments in Brazil, Bangladesh, India. Kenya, Western Europe, Madison, Wis., and other places.
Brazil is typical of most of the world of poverty: Its ample resources are monopolized by a tiny minority. In 1964 a constitutional change mandated transfer of idle land to the peasants. But practically no action resulted until the so-called Movement of the Landless began massive agitation in the mid-1990s. The movement has grown to more than a million members and it has settled a quarter of a million families on 15 million acres in 2,600 settlements. These settlements, the Lappés emphasize, provide hitherto unknown schools and health facilities.
The Lappés are particularly impressed by the work of the Grameen Bank in Bangladesh. Founded in 1983 by Muhammad Yunus, a U.S.-trained economist who discovered that a principal cause of poverty in Bangladesh was the 10 percent per day interest charged by loan sharks, it gives small loans without collateral or security to people who have no credit rating. Today the Grameen Bank has a staff of 14,000 working in 35,000 villages, and it lends $500 million yearly, the average loan being about $100. It lends only to the very poorest, with 96 percent of the loans going to women. On-time repayments are a remarkable 98 percent, and defaults a mere half of 1 percent.
Another development discussed by the Lappés is the fair trade movement, which seeks to put the consumers in the rich countries in direct contact with the producers in poor countries of such products as coffee.
Hope's Edge is really several books, and the effort to link them into a coherent unity sometimes results in repetition. It is a travel book. It is the manifesto of persons deeply committed to converting others to a lifestyle they believe is better for everyone and for the survival of the planet. It is a cookbook, with more than 60 vegetarian recipes. It is a source of contacts for activists, listing more than 50 organizations that include the Green Belt Movement in Kenya, the European Center for Ecological Agriculture and Tourism in Poland, and Fairtrade Labeling Organizations International in Germany.
The Lappés leave us with a positive message at the end of their world travel.
"Global corporate capitalism -- economic life cut off from community life -- is not inevitable, nor fixed, nor the best we can do. Millions are letting go of all 'isms' -- ideologies with one unchanging endpoint. They're re-embedding the market in values respecting nature, culture and themselves."
Gary MacEoin writes from San Antonio where he is a member of a community that shares life and believes in living modestly. His e-mail address is gmaceoin@cs.com
National Catholic Reporter, April 11, 2003