Issue Date: April 11, 2003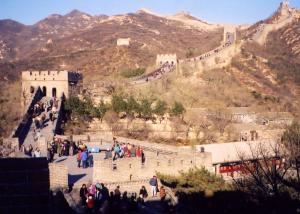 The Great Wall of China
The yin and yang of China's contradictions
By ROBERT J. McCLORY
Beijing
By mid-November it was beginning to look a lot like Christmas at the Regal East Asian Hotel in Shanghai. A large neon angel blowing her horn and an equally large neon reindeer had been installed on the overhang of the entranceway, and festive lights were glowing in the lobby. Christmas, in fact, seemed to be coming early all over China. Newspaper ads and store windows promised bargain prices during "Happy Shopping Season."
As my wife Margaret and I discovered during a three-week tour of the country, it's not that the new regime in Beijing has been converted to Christianity. The surprising Yuletide cheer was just the latest manifestation of China's obsession with all things Western. The religious study tour, organized by Maryknoll Sr. Janet Carroll, executive director of the U.S. Catholic China Bureau, took 16 Americans to eight cities and a variety of locales off the beaten path. We saw a busy nation full of vitality with productivity that may equal that of the United States in a decade, with a potential to become, as some experts predict, the world's next superpower before the middle of this century. We also came to realize that China is a land where contradictions abound and every yin has to be balanced with a yang.
Enchantment with Western goods and styles could not be ignored in Shanghai (population approaching 17 million) where towering signs along its historic waterfront touted Canon cameras, Nestle food products, Volkswagen cars and a dozen other Western brand names. Nor could it be overlooked on the streets of Beijing (population 12 million) where well-dressed young people chatted on cell phones or huddled over their food in McDonald's or Starbucks or Colonel Sanders (whose smiling Kentucky features are far more visible in China than those of Mao Tse Tung).
There are presently more than 2.2 million foreign companies operating in China. U.S. firms alone invested $35 billion in the country in 2001, and there are lots more where that came from. For example, hotel giants Best Western, Ritz Carlton and Hyatt recently announced plans to make major entrances into China next year.
Meanwhile, public works and private construction projects are everywhere as the nation rushes to keep up with all this investment. New streets, new superhighways, new parks, new malls, new museums and art galleries, towering new office and apartment complexes line the horizon in many cities. Our Chinese guide joked that the crane -- the construction crane -- is now the country's new national bird.
Chinese companies produced 116 million tons of steel in the first eight months of 2002, 22 percent more than in the same period in 2001. China Telecom, a mammoth telephone company that hooked up with 20 million new residential and business customers in 2001, recently opened offices in Washington to offer services to U.S. corporations doing business in China. Each of the country's two major oil producers, PetroChina and China Petroleum and Chemical, is building extensive pipelines into the central and northern regions, setting the stage for major competition between the two. Then there's the country's biggest building project since the Great Wall: the controversial Three Gorges dam, 1.5 miles wide, creating a reservoir 400 miles long.
Privately owned companies are also springing up in China like bamboo shoots after a summer rain. In November the country's first privately financed technology exchange was approved, in the northern city of Dahlian, where investors have poured $121 million into technology research and production during the last three years. In every city we visited there was an abundance of local entrepreneurship: everything from upscale clothing, food and electronic goods outlets to tiny mom-and-pop groceries.
All this growth is the direct result of the "Opening Up" that began in the late 1970s under Deng Xiaoping and has been continued under Jiang Zemin; its most recent, dramatic manifestation is China's entry into the World Trade Organization. What was anathema under Mao -- free market, private investment, competition -- is now approved and acceptable up to a point.
But such prosperity is only a part of the big picture, and a relatively small part at that. Richard Longworth, senior correspondent for the Chicago Tribune and a frequent visitor to Asia, estimated there are more than 100 million Chinese who are plugged into this modern economy, living at or well above middle-class standards. However, he added, "There are more than 1 billion Chinese who aren't."
We caught a glimpse of this other China. Even in thriving cities like Beijing, scattered amid the ultramodern high-rises were older, badly maintained apartment buildings with drying laundry and bundles of leeks hanging out the windows. It was not necessary to get more than a few miles from a city's center to encounter narrow, unpaved streets packed with small one-story wood or mud-brick houses, the residents clustered outside, some cooking food, others selling homemade objects. No shopping malls jammed with quality goods here. Farther out (but sometimes still within view of the high-rises) were the rice paddies, some no bigger than a typical American back yard. The scattered homes here were crumbling, many with bricks or tin piled on top to either keep the rain out or the roof from blowing away. Transportation was by bicycle, mule cart or human foot. Later, as we boated along the Li River, surrounded by beautiful mountains, we saw women washing clothes on the rocks, boatmen in rickety sampans fishing or harvesting seaweed, and water buffalo swimming or grazing along the shore. The contrast between the two Chinas was stark, like passing suddenly from the 21st century to the feudal 17th.
It is concern over this huge, underserved population of a billion plus that keeps China's leaders nervous. The masses have been known to rise up before; the country's history is replete with revolutions that ousted entrenched dynasties or were repelled by bloody slaughter. As an improved standard of living spreads, the very instruments of that improvement -- telephone, television, Internet, automobiles -- serve to make the lower classes aware of their unequal status as they never were before.
Nevertheless, the new leaders who were elected at the National People's Congress while we were in China, declared the Great Opening Up must continue; they will move forward under a new "Three Represents" motto, which means they pledge to represent continuing productivity, improved culture and the great masses of people. Stepping down, though not entirely out, is the top man, Jiang Zemin, 75, to be succeeded by the more youthful Hu Jintao, 59; Hu is best known for accepting all assignments without complaint and never having offended anyone. Two among the top eight leaders, Zeng Quinghong and Li Ruihuan, are reported to favor even more openness. Both have criticized government corruption and both are advocates of limited competitive elections, a partially free press, and an end to the one-party system. They have even suggested that top leadership might consider apologizing for the 1989 Tiananmen Square brutality. There are others among the leadership elect, of course, who are anything but enthusiastic about innovations, especially in the areas of politics or human rights.
An intriguing aspect of the new China is its attitude toward religion. Officially, it is as committed to atheism as it ever was under Mao, and nicely bound, little red books of his sayings are widely available at bargain prices. But as China becomes more interactive with the world community, an evolution is occurring. Two recent articles by Chinese officials in approved publications illustrate the change. One article in a southern newspaper argued that religion serves a positive social function. Karl Marx's celebrated assertion that "religion is the opiate of the people" has been grievously misunderstood, said the writer, because it was taken out of context. He cited the full passage from Das Kapital, which says, "Religion is the sigh of the soul, it is the emotion of an emotionless world, and just as it is … the spirit of a spiritless system, so religion is the opiate of the people." Clearly, said the writer, Marx saw opium as metaphor for needed solace and comfort, not as a dangerous narcotic. The second, published in a social science journal, called science's opposition to religion "outdated," and claimed -- in a passage that could have been taken from John Paul II -- that the two are complementary, science dealing with the "how" of the material world and religion with the "why."
The Chinese Academy of Social Science welcomed in October 2001 a host of Catholic scholars and several Vatican officials for a conference marking the 400th anniversary of the arrival of Matteo Ricci in Beijing. Ricci was the pioneer Jesuit missionary who introduced Christianity to 16th-century China and whose monument is now carefully preserved in the Beijing cemetery where he was originally buried. Last August the academy established the Beijing Catholic and Culture Institute, whose purpose, according to the director, a priest, is to "unearth the positive factors of Catholicism," to serve society "on behalf of Catholicism" and "to contribute to the strength of Catholicism."
Like all else, such heady, yin tributes must be taken with a stiff pinch of yang. The government still brutally represses the Falun Gong, a meditation-based religious movement. It is also exercising strong-arm tactics against the Uighers, a Muslim ethnic group in western China, on grounds that it may be plotting terrorism. Protestant churches, particularly evangelical ones, have been frequent targets for prosecution, as have new groups like the Eastern Lightning sect.
Of all the religious groups, Catholicism perhaps best illustrates the ambiguous dynamics of church and state in China. Bishops, priests, sisters and laity warmly welcomed us when our tour group visited Catholic institutions in eight sizable cities. On one occasion in Hebei province we were guests at a banquet featuring delicacies like chicken feet, smoked duck and whole crab, as well as alcoholic beverages. Two bishops, a priest and several ranking local Communist officials exchanged loud, good-natured toasts to one another throughout the meal. One might think prematurely that politics and religion had resolved their differences.
We visited the local Catholic headquarters, which houses a busy social service center, a publishing arm that produces catechetical materials, a national Catholic paper, Faith Fortnightly, with a circulation of 50,000, and the regional seminary. All these projects are sanctioned by the state as long as there is no overt effort to spread the faith outside church property. According to the most reliable figures, there are 12 million Catholics in China (about 1 percent of the population), 138 dioceses, 128 bishops, 2,200 priests, 3,600 sisters, 1,700 seminarians, 2,500 seminarians and about 50,000 adult converts a year.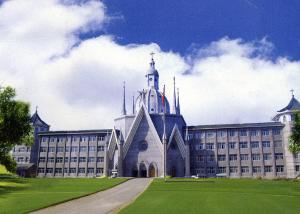 The diocesan headquarters and seminary in Hebel province
At Sunday Mass in several cities we encountered overflow crowds, including young families and college students, whose energetic participation in the liturgy would put most American parishes to shame.
In Fushun we lunched with 70 sisters whose Sacred Heart order was founded by an American Maryknoll sister in the 1940s. Most of the sisters, attired in crisp black habits with white trim, appeared to be in their late 20s or early 30s; the order's mother superior is 45. It was a scene reminiscent of U.S. convent life half a century ago. The sisters run a clinic in the city and outreach into poor, rural areas. Several are Chinese-trained doctors, eye specialists and dentists.
The government's approval is evidenced by its donation of a large plot of land in compensation for church property confiscated 30 years ago during the Cultural Revolution. Here a new, massive motherhouse and novitiate are now under construction. The sisters' present location will be turned into a home for the elderly.
The Communist government is also assisting in clergy education. The city of Beijing, we were told, has contributed $2.5 million toward the construction of a regional seminary, while the central government has put up $4.9 million for the building of a national Catholic seminary.
The new opening has clearly benefited the church -- but again, nothing is so simple in China. All the places we visited are official, registered, "above-ground" churches and are under the jurisdiction of the State Administration of Religious Affairs. Their bishops and leading clerics are members of the Chinese Catholic Patriotic Association, an organization formed in the 1950s when Communist China ruled that the Catholic church must be self-governing and independent of any foreign power, namely the Vatican. New bishops were then consecrated by certain validly ordained bishops, but without papal approval, thus establishing a thorny juridical problem that continues today. During the Cultural Revolution all forms of religion were banned. But with the restoration of churches in the 1980s, the practice of consecrating bishops independently of the Vatican was resumed. Many, in fact, have been elected by local priests, sisters and laity, with firm oversight by government officials. Registered churches today claim about 5 million members.
Bishops and others who fail to cooperate with state authorities are subject to penalties including imprisonment or periods of "reeducation." The bishops with whom we met were sometimes accompanied by "secretaries" assigned by the Patriotic Association to report on any statements or activities out of line. It is evident many bishops, priests and sisters live with this situation because there is no other way to openly serve the faithful; they are keenly aware that accommodation to unfriendly or barely tolerant governments has been a characteristic of Catholicism in China from the beginning.
Catholics in the '50s who refused to accept Communist domination went into hiding, were imprisoned or killed. Today some Catholics still refuse to participate in registered churches; instead, they support their own secret churches, bishops, priests and seminaries. The Beijing government considers these churches a threat, and reports of arrest and imprisonment of underground Catholics surface regularly.
Still, many people told us the split between approved and unapproved churches is dissolving. While no announcement has come from the Vatican or anywhere else, there is a common conviction among Chinese Catholics that Pope John Paul II has quietly recognized as legitimate the vast majority of the registered bishops. As a result, underground Catholics are beginning to attend registered churches, formerly underground seminarians are entering approved seminaries, and some priests are functioning in both arenas.
Catholicism's future in the country may be uniquely Chinese. Almost everywhere we visited, we were told of the great attraction Christmas has for non-Christians. At the Xian cathedral, for example, the midnight Mass ceremony is piped outside to overflow crowds in the huge plaza in front of the church. Elsewhere some churches have been remodeled to accommodate the Christmas visitors. A young Chinese journalist told me she knew nothing about the Catholic church, except "it's where we've always gone to on Christmas." What accounts for this fascination? We asked church leaders. It's the music, the lights, the mother and child, the whole ceremony at night, we were told. And, they added, Christmas Mass is one of the major ways non-Christians are attracted and a reason why the church is growing.
Don't try to figure it out. It's a yin yang thing.
Robert McClory is an NCR special report writer.
---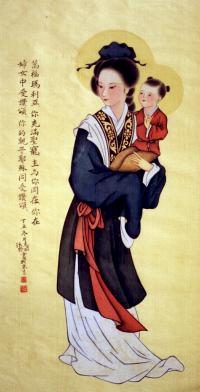 Chinese Madonna
At left, a Madonna and Child painted by artist Theresa Wo, a pioneer in bringing an authentically Chinese-Christian art to China. Wo, a convert, was sent by Bishop Aloysius Jin of Shanghai to study religious art, first in Milan for four years and then at St. John's University in Collegeville, Minn., for two years.
Art and statues in Chinese Catholic churches are commonly in a Western style -- the kind of devotional portrayals popular in America in the first half of the 20th century.
"We've had poor education in art here," Wo said. "Many think of Chinese painting as portraying concubines of the emperors or ladies of leisure. So they don't relate to painting as religious." Wo seeks to discover ways the universal message of Christianity can be particularized in China's culture.
-- Robert McClory
National Catholic Reporter, April 11, 2003