Issue Date: April 11, 2003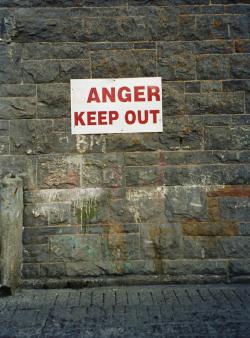 -- Kris Berggren
Sign of inner peace is a fine souvenir
By KRIS BERGGREN
I could easily become addicted to travel. I love experiencing a new place's history, geography and culture. I also love leaving behind the banalities of daily life -- in my case, cooking, cleaning and laundry; chauffeuring children to and fro; harping on everyone to do homework and household chores. The outcome of a sojourn away, if you're lucky, is to return home with a stockpile of inner peace.
I met my aunt for a whirlwind week in Ireland in August. We zipped around that small but significant country for a week in a tiny Ford Focus with the driver's seat on the right and excellent fuel economy -- quite a change from the oxymoronic jumbo minivan I drive at home. "Just follow the car in front of you," advised the rental car clerk when we expressed ambivalence about driving on the left side of the road. Go with the flow, in other words. Ireland fed my Christian spirit with Celtic flavor and my little shard of the collective unconscious with a renewed grasp of the deep river of mystery that is our temporal life.
Heading west from Dublin, we toured first-millennium monastic ruins and Mesolithic monuments like the incredible Newgrange passage tomb, which is an earthen mound covering an internal stone structure whose roof has remained watertight for 5,000 years. The mound's construction features stones weighing thousands of pounds, somehow hauled from down the River Boyne and carved with mysterious geometric designs. I felt like Indiana Jones squeezing through the short passage to the monument's inner chamber, where human ashes and bones were discovered. The chamber is pitch black for 360 days a year, but on the winter solstice and the two days before and after, it is illuminated for exactly 17 minutes by the sun's rising rays entering through an opening in the mound. Witnessing the engineering and artistry of this ancient edifice really puts a woman in her place in the big picture.
Another highlight was a daytrip to Inis Mor, population 850, one of the three Aran Islands off the Connemara peninsula west of Galway. I have a thing for places you can only get to by ferry: the San Juan Islands in Washington, Ocracoke Island in North Carolina and now Inis Mor. The island boasts ancient sites including tiny crumbling churches and a sacred well, as well as several prehistoric stone forts, including Dun Aengus, which was painstakingly constructed of stone placed on stone, probably by generations of builders, and sits on the edge of a sheer cliff dropping into Galway Bay, its mysterious stone platform aligned perfectly with the mount of Kerry across the bay.
Today Inis Mor is home to fishermen, knitters of famous Aran sweaters, graveyards, cattle and sheep, bed and breakfast operators, a few returned expatriates ready to retire back home, and, according to my tour guide, one woman from Wisconsin who alighted some years ago with 20 bucks and a desire for a new life. It retains its wild beauty and remote feel even though tourism has probably surpassed fishing in the local economy.
After a pint of Guinness and a bowl of seafood chowder, my aunt and I headed back to the dock to catch the last ferry of the evening, and we noticed a sign on the wall of the boathouse. In red letters on white background, it read:
ANGER
KEEP OUT
It was, of course, supposed to read: Danger/Keep Out; someone had painted over the "D." I liked the revision very much and snapped a photo -- much easier to capture than a grand vista of a mountain range or majestic waterfall.
I'm glad to be back home with my husband and children. But as my family's normal, busy round of activities begins again with the school year, I feel I am losing touch with my August perspective shaped by mountains and water and a sense of myself in the flow of history. I need to unwind, already, by tapping into that well of good vibes I shored up this summer. I think my little photo will serve as a fine souvenir and touchstone -- at least until next year.
Kris Berggren writes from Minneapolis. She can be reached by e-mail at krisberggren@msn.com
National Catholic Reporter, April 11, 2003