Issue Date: April 11, 2003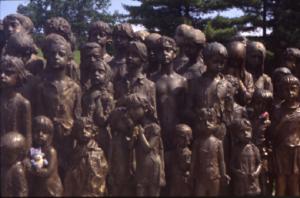 A memorial honors the dead children of Lidice.
Shrines mark Nazi victims in the Czech Republic

Deaths at Terezin and Lidice speak to us of betrayed humanity
By RAYMOND A. SCHROTH
Terezin and Lidice, Czech Republic
We approach Terezin, about an hour north of Prague, on a gray summer morning through blue hills and rolling fields of wheat and sunflowers. At first sight it seems, as our bus rumbles past the old church and abandoned military barracks, just a sleepy, semi-deserted little town; but its aerial photograph reveals the clear outline of a 17th-century fortress, its star-shaped battlements lunging out in all directions, warding off foes who for more than 200 years never attacked, and enclosing -- imprisoning -- its little town.
In 1942 Adolf Hitler expelled Terezin's inhabitants, mostly farmers, and redesignated it his "gift to the Jews" -- an instant ghetto, with its own administration and paper currency, vegetable gardens in the fortress' old moats, theater, symphony orchestra, soccer games, health services and crematorium. Men, women and children were housed apart and forbidden to communicate. But, proud of their experiment, the Gestapo welcomed the International Red Cross for an inspection visit and produced a propaganda film wherein smiling Jews water their gardens and cheer on their soccer team.
But Terezin was above all a way station to the death camps, particularly Auschwitz, Bergen-Belsen and Dachau.
Between 1941 and its liberation by the Russian army on May 8, 1945, 150,000 prisoners passed through its walls. Between 30,000 and 40,000 crammed its barracks at any one time; 35,000 died there of tuberculosis, typhoid and other diseases. In 1944 the Nazis threw their ashes in the river to cover up the scandal.
Through it all, a small group of teenage boys published -- typed or handwritten -- their secret magazine, Vedem ("In the Lead"), poetry and descriptions of daily life, to keep their spirits alive as they watched the freight trains with their emaciated human cargo rumble past their windows.
Making coffins and a swimming pool
Across the road, less than a kilometer from the town, squats the Small For-tress, a 1784 fort commandeered by the Gestapo in 1940 as a political prison. During the war 27,000 men and 5,000 women -- Czech resisters, communists, leading intellectuals and 2,500 foreigners -- were herded into its wretched cells, overcrowded to 5,500 in 1945. Over the years an estimated 2,600 died -- tortured, executed on the firing range or hanged, or wiped out in a typhus plague in the war's final months.
During the day the inmates were led out to labor on the railroads, in factories and fields. In the fort, they made coffins for themselves and dug a swimming pool for their SS captors. Above the entrance the SS had posted its motivational sign: Arbeit macht frei. "Work will make you free." But as a former prisoner told me, "You are free when you work for yourself. This work made us slaves."
Our guide, a short, tense young woman, hustled our group from station to station, cell to cell, courtyard to courtyard, not stopping to comment on the life-sized bronze statues of tattered, corpselike beings -- possibly by surrealist Alberto Giacometti -- who greeted us on the lawn.
In the solitary confinement corridor she stuffed 20 volunteers into a cramped (5 feet by 8 feet) cubicle so tightly we could barely move (a space originally set aside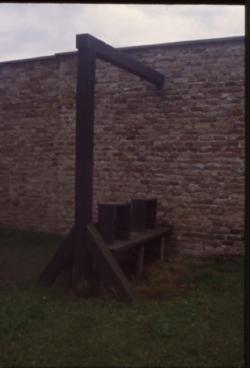 The gallows at the Terezin prison camp.
for 60 Jews at a time) and closed the door; in another cell she shut the hole, no bigger than a quarter, which let in the light.
It was terrifying. Now we knew.
Then there were the "celebrity" cells. One had held Gavrilo Princip, the young Serbian assassin who, by murdering the Archduke Ferdinand of Austria at Sarajevo in 1914, had put the whole series of events in motion that had brought us here today. The rusted chain with its manacles still dangles from the cell wall, and I could imagine a skinny, bearded young fanatic, one arm destroyed by tuberculosis, cowering in the corner, the manacles around his wrists.
Another held, after 1945, SS-Haupsturmführer Heinrick Jockel, commandant of the fort, as he awaited trial as a war criminal.
Among Jockel's crimes, which include torture and murder, would be Cell 42 in Courtyard IV, which warehoused 600 men in four-decker bunks -- each bunk a mere wooden shelf about 6 feet wide in which six men were crammed side by side. No one could budge without moving all the others. Many, stricken with typhus, crawled down and toward the door to use the two latrine seats and five sinks that served them all.
For 10 months, 1944-45, Rudolf Dusek, a 27-year-old Jesuit scholastic (theology student not yet ordained), was one of those 600 men. The Nazi crackdown on the Czech Jesuits had been severe. First the Germans closed the schools; in 1940-41 sent several priests to Dachau; in 1942 executed a scholastic; and in 1944 rounded up over 20 Prague priests and scholastics and shipped them to Terezin.
Today, 84, white-haired, stooped and hard of hearing, Fr. Dusek exudes life. He lives, as did I during my visit, at the St. Ignatius church and residence, which the Nazis occupied during the war. What was his crime? "Dangerous thinking." He was suspected of thinking against the Third Reich, of listening to foreign newscasts.
So he toiled on the railroads and in a secret factory, suffered through dysentery, washed in the once-weekly gang showers, and tried to keep his spirits up by thinking about God and helping other people. Most prisoners were friendly and supported one another, he says; but a few were selfish, refusing to share their packages of food.
The usual terrible question hung over them: If God exists, how could he allow such suffering? But this was not God's work, Dusek replied. It is the mystery of human liberty.
Young Dusek, released from Terezin, finished his theology and was ordained in England, then returned to Czechoslovakia, only to be arrested by the communists and imprisoned for 10 years. So much for thinking for yourself.
I saved my tough question for the last. Had the church done enough in opposing Hitler? The church's problem, he said, was that it thought in terms of centuries rather than an immediate crisis. So, "it waited. It could have done more."
A village obliterated
Two days later I take a solo bus ride about a half hour north of Prague to Lidice, a town once so vivid in the world's consciousness that a community in Chicago and others all over the world, from South Africa to Israel, adopted its name; but now, I suspect, it is very little known. The bus drops me at a country crossroad and I feel my way down a deserted boulevard that finally leads to a memorial/museum, a curved open space in a semi-circle of pillars, like St. Peter's Square shrunk to the dimensions of a playground.
But the desolation fits. Today the town of Lidice does not exist. It was obliterated, every building razed.
On May 27, 1942, two Czech parachutists from England assassinated Deputy Reich Protector Reinhard Heydrich, the founder of Terezin, infamous for his cruelty. In retaliation, the Germans shot 192 men, tortured and sent to death 59 women, and asphyxiated 88 children, of a population of 495.
The museum features montages of the faces of every dead man and woman, and a vivid documentary film on how, step by step, Czechoslovakia was betrayed by the Western powers as Hitler demanded first this, then that, and took it all.
The beauty of the site today is its emptiness. I stand on a hilltop and look out over a glistening green, park-like expanse, where a woman cuts the grass riding a tractor. I stroll reverently down to the spots that once were the school, the church, the original cemetery, and ask what is it that clicks in the mind of someone that tells him it is now right to obliterate helpless fellow human beings.
A holiday tour
A busload of British high school students descends on the same slope -- a holiday tour: today Lidice, tomorrow Auschwitz. We meet and kid. Am I Danish? No, I'm New Jersey. Is that near Las Vegas? I tell him there will be an exam when they get home. Why weren't they told earlier? To show off, one boy grabs his buddy around the waist and heaves him in the air.
Down the hill they cluster in awe before a life-sized collective statue of 82 children their age gassed by the Nazis. The statue-children are disheveled, some shirtless, all staring with the big eyes that ask, "Why didn't you do something to help us?"
Do they connect? Do the touring teen-agers see these victims as their brothers and sisters? I do not ask.
That morning I had asked Fr. Dusek what he had learned from what he had endured. After what seemed a long pause he said, "What we learn from all such experiences is Christ's teaching of the brotherhood of all people. Do not judge by appearances but by the substance of who someone is."
The students leave and I stand alone on this lovely, lawn-like hillside with the spirits of the miners, women and children whose faces adorn the museum walls.
When we visit shrines, like the Lincoln and Roosevelt Memorials in Washington, we sense that to check off the visit as "been there" is almost a sacrilege. We are supposed to change.
That evening I eat my garlic soup in a backstreet Prague restaurant and read in the international press that when a Palestinian madman blows himself and others up on a street corner the Israelis bulldoze Arab neighborhoods and assassinate their suspects without trial. And in Chechnya, Russians round up hundreds to a thousand men and boys in fields and pits and some are tortured and executed.
Almost two years ago I stood on my Jersey City rooftop and watched the smoke rise from what was once the World Trade Center, which had collapsed before our eyes, as the wind carried the ashes of almost 3,000 human beings on a journey around the world.
Some ashes have fallen on Lidice and Terezin, as, meanwhile, at Ground Zero, we have now drawn up plans for soaring towers that both remember and defy what has happened. And today our next response, our leaders say, must be to start another war.
Jesuit Fr. Raymond A. Schroth is the Jesuit Community Professor of the Humanities at St. Peter's College in Jersey City, N.J.
National Catholic Reporter, April 11, 2003