Issue Date: April 18, 2003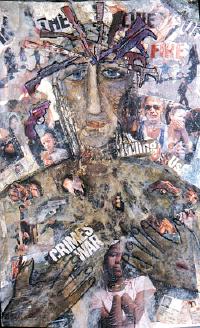 "By His Wounds We Are Healed"
by Jean Morman Unsworth
Hope in the face of suffering
By TERESA MALCOLM
It did not take Chicago artist Jean Morman Unsworth long to collect photos for her collage "By His Wounds We Are Healed." Two weeks of TIME and Newsweek back in 1999 provided many images to represent the suffering of Christ. "There was so much violence," said Unsworth, whose resulting work of art is featured on NCR's Easter cover this week.
The guns used in the Columbine school massacre earlier that spring form the crown of thorns. A sniper attacked Jewish children in Los Angeles that month. Unsworth found photos of people with their hands raised in horror, of a skull found, and of soldiers. "I was connecting it to war, though at that time, the wars were mostly in Africa and Yugoslavia," she told NCR. "But today it's our war."
Four years later, the artwork's message applies to the U.S.-led war in Iraq: "Guns are not a solution, only an agony."
As Christ's agony preceded his resurrection, she said, "we have to look to the sufferings of Christ to heal the wounds of the world."
Unsworth created the art in response to NCR's art contest, "Jesus 2000," which sought depictions of Jesus for the new millennium (NCR, Dec. 24, 1999). While she was not one of the finalists, "By His Wounds We Are Healed" was included in the commemorative booklet.
Unsworth, 78, was professor of fine arts at Loyola University in Chicago for 16 years before her retirement in 1987. She has freelanced since then, she said, and is currently working on the revisions of three textbooks she cowrote with Roslyn Ragans and Gene Mittler for 6th through 8th grade: Introducing Art, Exploring Art and Understanding Art (Glencoe/McGraw-Hill).
"By His Wounds We Are Healed" now hangs in the home she shares with her husband, NCR columnist Tim Unsworth. "Every time we look at it, it confirms our conviction that guns are evil, and the sufferings of Christ are exemplified by what we do to each other," she said.
In addition to the magazine photos, Unsworth used rice paper from Thailand to add texture, and watercolor to finish the features of Jesus' face.
"I tried to express hope in the face," she said. "I tried to give the face of Christ the strength that we could look to."
Teresa Malcolm is NCR news editor. Her e-mail address is tmalcolm@natcath.org
National Catholic Reporter, April 18, 2003