Issue Date: April 18, 2003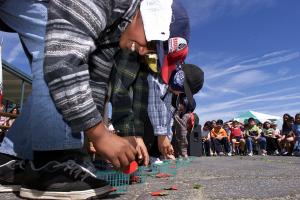 To mark the birthday of their school's namesake March 31, students at Cesar Chavez Elementary School in Oxnard, Calif., perform a skit in which they pick paper strawberries with their backs bent over to show how uncomfortable the job of a farm worker is.
-- L.A. Times Photo/Stephen Osman
Building strength
A decade after the death of César Chávez, the union he founded seeks to preserve his legacy of justice for farm workers
By ARTHUR JONES
Laz Paz, Keene, Calif.
César Chávez was buried here at La Paz 10 years ago.
Two hours out of Los Angeles, La Paz is the United Farm Workers central headquarters. The administrative center is a steel, expandable Butler building on 200-acres of rough, sandy paths, rock, tough grass, shrubs and some trees, acreage pockmarked still by a few tumbledown buildings from its 1930s heyday as a tuberculosis sanitarium.
The unincorporated hamlet of Keene is beyond Mojave (home of "the 25 cent cup of coffee" and the "$29 a night" motel), strip mall to truckers and the nearby Edwards Air Force Base. Keene, population 130, is reached by heading up out of the Mojave Desert and into the 7,000-foot Tehachapi range, snow in the wooded hollows, fine horses in lush mountain meadows, then dropping rapidly a couple of thousand feet down toward Bakersfield -- "Trucks, use low gears," warn the signs -- 35 miles away.
Off the highway, a cracked concrete mountain road leads past Keene Eats, and the post office that closes for lunch, to La Paz. A few UFW families, such as president Arturo Rodriguez, live in modest homes on the land.

Arturo Rodriguez
-- Photo/A Jones
It's a tranquil spot. Chávez named it for Our Lady, Queen of Peace.
If alive today, Chávez would be 76. As it was, as a son of parents who lived into their 90s, Chávez's death "took us completely by surprise," said Rodriguez. "We didn't anticipate it. We didn't prepare for it -- in the sense there had been no discussion as to what would happen when that day came."
Then 43, Rodriguez, B.A. St. Mary's, San Antonio, MSW University of Michigan, stepped into the shoes of the cultural icon who had mentored him for two decades. Chávez was Rodriguez's father-in-law. The young graduate first met Chávez, who was the founder of the United Farm Workers with Dolores Huerta, in 1973, after organizing boycott campaigns in Detroit. Rodriguez married Linda Chávez the following year. She died in 2000 after a long illness. The couple had three children.
"After César's death on April 23, 1993," he said, "we really spent a lot of time trying to come back together again to determine what was going to happen. And how to continue what we'd inherited and make sure it moved forward into the future. The grower community hoped and believed that with César gone it would be the end of this movement."
That didn't happen. The organization, which had about 20,000 workers under contract when Chávez died, has 27,000 now. Small numbers, but then, a lot of factors conspire to keep nonunionized the nation's 1.5 million or so agricultural workers, including some 400,000 to 600,000 of them in California.
The UFW's membership height was in the 1970s, about 80,000 members, after five years of grape strikes and boycotts. That number was almost wiped out in 1973 when the growers brought in the Teamsters. (The Teamsters still have a few agricultural worker contracts, but refused to reveal details.)
Then UFW membership built up again, to mid-40,000 by the early 1980s. Sixteen years of California Republican governors and lax enforcement cut that in half, said Rodriguez.
It was Chávez, working with California Gov. Jerry Brown, who in 1975 pushed through the state's landmark Agricultural Labor Relations Act, which established the Agricultural Labor Relations Board. The act stands alone among U.S. states as a collective bargaining beacon for agricultural workers
The trouble was that the legislation led the growers to the bargaining table but couldn't oblige them to negotiate a contract through to signatures.
Explained Rodriguez, "We won 400-something elections and only 185 ended up with contracts, about 40 percent." Last year, under Democratic Gov. Gray Davis, the California legislature and the UFW achieved their "anti-foot dragging" legislation.
"Not only do the growers have to negotiate," said Rodriguez, "they have to settle." Now, essentially, when contract talks between growers and workers break down, mediators and the Agricultural Labor Relations Board will decide the terms. There's still plenty of in-fighting among the ALRB, growers and union regarding implementation, but the direction is clear.
Outside of California, the UFW has contracts in Florida (the largest mushroom grower), Washington state (the largest winery) and Texas. It's sticking close to its familiar strategies, said Rodriguez. "If needed, and the industry is big enough to take on, boycotts are still effective." A mushroom boycott worked well, he said. The UFW represents some 70 percent of coastal California mushroom workers and it has been tackling Tennessee-based Pictsweet, owner of United Foods, described as "a veritable veggie volcano."
Though Rodriguez, 53, does not generate the Chávez aura, he has the same type of likeable low-key, soft-voiced determination. And much to be determined about.
His four issues are raising pay rates, combating the worst effects of the production line methods shifting to the picking fields, building support for the movement, and trying to become a voice in state and national agricultural policy debate:
While agricultural workers in some states are covered by minimum wage laws and unemployment insurance, and there's a fight on for greater worker compensation coverage, "it's still money. In this county, Kern," Rodriguez said, "the countywide average wage is $18 an hour; for us the average is $7.50."
Some farm mechanization has been good, said Rodriguez. "We got rid of the short hoe and stooped [labor]," he said, referring to the backbreaking stooped labor the hoes required. But stooped labor is back: "In the strawberry fields these machines stretch out across the field," he said. "The machines use half the work force, set a fast pace for the workers who are again bent over the whole time. This is just devastating for the worker, their backs and everything else. At least beforehand you picked a crate of strawberries, carried it to the checker, he'd weigh it. It would give you enough of a break on your back, you could stretch out. We're going to fight the pace, to make sure it's humanly sensitive."
The movement doesn't support itself out of dues. The farm workers contribute 2 percent of their pay for the five to seven months they work. The UFW is into direct mail campaigns and telemarketing. But support builds in other ways. Twenty years ago Chávez told the Commonwealth Club of San Francisco that though the growers were still in control, it was only a matter of time until the demographic changes saw Latinos build up their political power base as they moved into the third- and fourth- generation. "It's happening," said Rodriguez, "and as Republican Latino politicians emerge -- well, we had Republicans support last year's legislation. First time ever. Culture goes beyond politics."
The question of a UFW "voice" in state and national, and even international, agricultural policy is still more a high hope than a near reality.
Rodriguez looks at the big issues: There are fewer U.S. agricultural jobs; land is being built over; the remaining farmlands face a water shortage. In California's valleys there is water waste plus well contamination from insecticides and herbicides. As land sources are pumped dry, seawater has moved in with increased salinity.
"There are major impacts, now and ahead," he said. "What we're trying to do is position ourselves. Agribusiness in this country has always operated on the premise that land is cheap, water is cheap, and there's a constant supply of cheap labor. And you can exploit it all as if there's no end to it.
"But because they've exploited so much of the land here, they're going into Mexico, South America, China. It's the strawberry harvest in Mexico right now. They get 50 cents an hour. They use all kind of chemicals. These Third World communities have growing deformities and birth defects. We're massacring them in such a horrible way. But as a farm worker movement we're still not in a position to do anything but sympathize.
"That's why we're trying to build strength and voice."
There are plans for La Paz, too. There are hopes for expanded facilities for a retreat center and more visitors.
A Chávez memorial garden will open later this year. "It's just for people who want to come and reflect," said Rodriguez, "who want to spend a little time with César."
In the mountain stillness, a world away from the harsh fields, hot sun and backbreaking work.
Arthur Jones is NCR editor at large. His e-mail address is arthurjones@attbi.com
National Catholic Reporter, April 18, 2003