Issue Date: April 18, 2003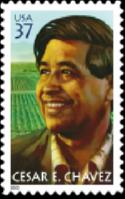 The U.S. Postal Service is issuing a stamp in April honoring civil rights and farm labor leader César Chávez.
-- CNS/U.S. Postal Service
César Chávez: Heart of a movement
Césario Estrada Chávez was born on his grandfather's small farm near Yuma, Ariz. His father, Librado, was forced from his farm. Chávez quit school in eighth grade to work in the fields full-time to help support the family. In 1944 he volunteered for the U.S. Navy and served in the Pacific. While waiting to be shipped out he was arrested in a Delano, Calif., movie house for sitting in the "whites only" section.
In 1948 he married Helen Fabela.
Chávez began studying the social teachings of the Catholic church and was working in the apricot orchards outside San Jose, Calif., when community organizer Fred Ross recruited him into the Community Service Organization.
On his birthday, March 31, 1962, Chávez resigned from the CSO to dedicate himself full-time to organizing farm workers. He moved his wife and eight young children to Delano, Calif., and would often be babysitting his youngest children in the car as he drove through dozens of farm worker towns trying to build up membership.
The first National Farm Workers Association convention was held Sept. 30, 1962, in Fresno, Calif.
On Sept. 16, 1965, Mexican Independence Day, the National Farm Workers Association (later the UFW), with 1,200 member families, voted to join a strike against Delano area grape growers already begun that month by the mostly Filipino-American members of the Agricultural Workers Organizing Committee.
It was the start of the five-year Delano Grape Strike.
It was the beginning of César Chávez's two-decade-long fasting, marching, picketing, pleading efforts, in the fields, streets and from jail, to better agricultural workers' lives.
-- Arthur Jones
National Catholic Reporter, April 18, 2003