Issue Date: April 18, 2003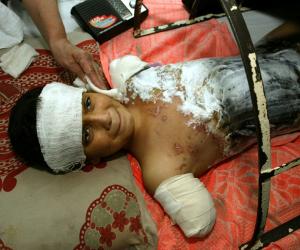 Ali Ismail Abbas, 12, lies wounded in a hospital bed in Baghdad April 6. According to staff at Kindi hospital, a missile strike obliterated his home and most of his family. The traumatized boy told Reuters that his father, brother and pregnant mother died when the missile fell as they slept. "Our neighbors pulled me out and brought me here. I was unconscious," he said.
-- CNS/Reuters
Policy experts warn of precedent set by 'preventive war' in Iraq
By JOE FEUERHERD
Washington
Even prior to the fall of Baghdad, senior Bush administration officials were citing the military success of their Iraqi war plan as a warning to other governments.
"I think a lot of countries, including Syria, will eventually get the message from this, that it's much better to come to terms peacefully with the international community, to not acquire these weapons of mass destruction, to not use terrorism as an instrument of national policy, and to take care of your own people," Deputy Defense Secretary Paul Wolfowitz said April 6 on "Meet the Press."
"We are hopeful that a number of regimes will draw the appropriate lesson from Iraq that the pursuit of weapons of mass destruction is not in their national interest," Undersecretary of State John Bolton told Vatican reporters following an April 9 meeting with Archbishop Jean-Louis Tauran, the Holy See's foreign minister.
It's just such talk that has those who opposed the U.S.-led war in Iraq worried.
The "preventive war" against Iraq "sets a dangerous precedent," said Jesuit Fr. G. Simon Harak, a part-time Fordham University professor and full-time activist against U.S. policy toward Iraq. "If North Korea feels they need to attack us because they feel that the United States is a far greater threat to them than Saddam Hussein ever was to the United States, is that OK?"
Fr. Frank Winters, professor at Georgetown University's School of Foreign Service, was even more blunt: "The policy of preemption is crazy." Bush administration officials, he said, are "out of their minds, but they are very successful at it. They've stolen Iraq and they're going to steal Syria."
But isn't there some good -- the removal of the brutal Saddam Hussein, or the destruction of weapons of mass destruction -- that could come from the war? Responded Winters: "The whole thing is evil. Whether it produces good is completely irrelevant. There is no excuse for invading a country that is not waging war with you. You can't invade and then find out [that Iraq had weapons of mass destruction] -- that's completely contrary to Catholic thought."
Meanwhile, Holy Cross Fr. Michael Baxter, an assistant theology professor at the University of Notre Dame, said an emboldened Bush administration does "not augur well at all for the people in those countries and for many of us who are going to have to make harder and harder choices about the extent that we can go along with what is becoming an imperial policy." Among those choices: refusing to pay taxes that support the military, removal of ROTC programs and Junior ROTC programs at Catholic colleges and high schools, and "stronger and stronger statements of support and pastoral action to work with people who are involved directly in the military to encourage them to act on their consciences."
Said Baxter: "The militarization of our society has to be resisted by all those who claim to be following Christ."
Stephen Zunes, University of San Francisco politics professor and the school's Peace and Justice Studies program coordinator, paints a different picture. "There are people [in Iraq] who will definitely see the United States as an occupying army and as a result any government is going to be seen as a collaborationist-puppet government, at least for some time by some people. So it's going to be harder to get the legitimacy needed to make a really stable situation." That lack of stability in Iraq, combined with U.S. domestic economic problems, predicted Zunes, "is going to be a deterrent from invading other countries."
How should Catholic church leaders respond to the policy of preemption?
"What they should do," recommended Baxter, "is remind [military] chaplains of their obligation to inform soldiers of the rights they have to be conscientious objectors and [tell soldiers] of their obligations of conscience not to follow orders that are immoral."
Baxter said the church's stance against war with Iraq "should obviously raise conscience qualms," but that soldiers who opposed the war "really feel alone out there without systematic support from the church. It's a failure in pastoral care."
Georgetown's Winters said church leaders "should continue to say what they have said: There is no right to do this." He is not, however, optimistic that such statements will have much effect.
"Priests can preach and teachers can teach, but I don't know what else can be done with these people [in the Bush administration]. They are completely out of control. We can continue to condemn them, but beyond that I don't see what you can do."
Joe Feuerherd is NCR Washington correspondent. His e-mail address is jfeuerherd@natcath.org
National Catholic Reporter, April 18, 2003