Issue Date: April 18, 2003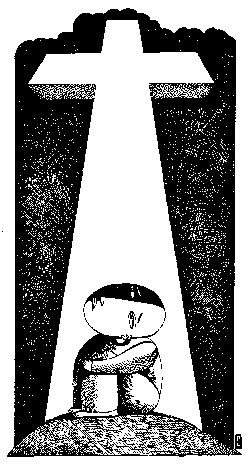 The expenses associated with child protection programs pale in comparison to the costs -- both financial and spiritual -- of dealing with even a single case of abuse.
Catholic church takes lead in child protection industry
Cost and control among issues as dioceses push to establish 'safe environments' for children
By JOE FEUERHERD
Washington
The child protection business is a growth industry -- and the U.S. Catholic church is leading the way.
In what some are terming the largest child abuse prevention program ever undertaken by a single organization, hundreds of thousands of Catholic clergy and lay people who interact with young people will be subject to criminal background checks and will receive training on how to identify and prevent abusive behavior by church workers.
The effort, says Monica Applewhite, represents "a tectonic plate shift" in how the church views child protection and is serving as a model for other groups and denominations that serve minors. Until now "no organization has ever set out a national standard for the protection of children," said Applewhite, vice president for religious services at Praesidium, Inc., a Texas-based risk management company that works with dioceses to implement "safe environment programs."
Those standards were established last June by the bishops in their Charter for the Protection of Children and Young People. Under the charter, dioceses must establish safe environment programs that include a written code of conduct signed by employees and volunteers who work with young people. In addition to background checks, the charter also requires "training of parents, ministers, educators, church personnel, volunteers and others regularly involved with minors" on child abuse issues.
Implementation of the safe environment programs will be monitored by the National Review Board established by the bishops. The board oversees compliance with diocesan child protection initiatives.
One early lesson: Child protection does not come cheap. The diocese of Austin, Texas, for example, has spent approximately $30,000 since last August to conduct criminal background checks on volunteers and others who work with children.
"It certainly is an unanticipated cost to the diocese for those [that did not have programs in place]," said National Review Board director Kathleen McChesney. "For some, it's a little more of a struggle than for others, but it's important, and they recognize it as a priority," said McChesney. The expenses associated with child protection programs, said McChesney and others, pale in comparison to the costs -- both financial and spiritual -- of dealing with even a single case of abuse.
Over the past nine months, the National Catholic Risk Retention Group, an Illinois-based insurance company with 59 diocesan "shareholders," has signed contracts totaling more than $625,000 with 25 dioceses to implement its Virtus program; an additional 17 contracts are pending, and the company has solid prospects for an additional 10 in the near term, says Michael J. Bemi, president of the risk retention group. Among the archdioceses and dioceses implementing the Virtus program: Detroit; Peoria, Ill.; Rockville Centre, N.Y.; and Manchester, N.H. (whose chancellor, Fr. Edward J. Arsenault, serves as chairman of the board of the risk retention company).
For their $32,700 (the risk group's shareholders receive a $7,700 discount) diocesan Virtus (Latin for "virtue") purchasers receive two training tapes ("A Time to Protect God's Children" and "A Plan to Protect God's Children"), model policies and procedures, a self-audit "tool kit," a victim advocacy program, and consulting services. Key to the program is the training component.
The initial step in the training process, explained Applewhite, is to educate diocesan leaders (such as Catholic Charities and youth ministry directors), who are presented with the Virtus material in a half-day session. Starting at the top, said Applewhite, opens doors for additional training down the church chain of command.
Next, diocesan department staff and parish leaders attend a training session. All the while, said Applewhite, Virtus presenters are teaching diocesan and parish personnel how to conduct additional training, with the goal of making the program self-sustaining over the long term.
The Austin diocese, an early advocate of the program, began implementation of Virtus in the fall of 2001, well before the most recent round of church sexual abuse scandals emerged. The response to the program, said diocesan communications director Helen Osman, has been "overwhelming." More than 9,000 diocesan staff and volunteers have been trained through the program since then, said Osman. This includes, she said, "anybody who has any kind of ministry with minors or vulnerable adults."
The Catholic-specific content of the Virtus program is appealing to dioceses.
The Virtus program, said National Review Board member Jane Chiles, "is geared specially to the Catholic church. It understands our culture and it uses our language. If you watch the videos you get the sense that they came to [your] parish to tape this."
Applewhite explained that Protestant groups "really want you to incorporate a lot of theology and talk about why you should do this as a Christian." By contrast, Catholic dioceses and parishes "bring their own theology to it, they don't want you to spell that out for them -- they want your information and they want your expertise."
Still, some express skepticism toward Virtus and its insurance company sponsor. Reacting to a critic who questioned whether an insurance company might be more interested in protecting the church's assets than its children, company president Bemi responded, "There is no conflict in an insurance company -- at least this one -- taking the lead in this regard." The company exists, said Bemi, "to help the church more efficiently and effectively address its insurance and risk management needs, by preventing losses before they can occur." When it comes to preventing child abuse, says Bemi, the result is a confluence of interests, not a conflict.
Trainers, meanwhile, deal with sensitive issues: the warning signs of child abuse, access to children (the videos include interviews with abuse perpetrators who describe the specific methods they used to ingratiate themselves with their victims), and how a third party can report those they suspect of abuse. Diocesanwide policies related to physical contact between adults and children are essential, said Applewhite.
"In the absence of standards for behavior in ministry a lot of things simply get overlooked," she said. "Publishing standards for behavior in ministry gives people a tool to say, 'Wrestling on the ground is something we don't do in ministry here,' instead of, 'Your wrestling on the ground is giving me the creeps.' If we use those [standards] properly, that's actually how we're going to prevent abuse."
At least one diocese implementing the Virtus program is reportedly considering placing windows in its confessionals -- a move based on program guidelines that call for adults to be in the presence of other adults when interacting with children. "Who is pushing for that?" asked Applewhite. "The priests -- they're scared to death [of false allegations]."
It's part of a larger trend, says Fr. Bill Bausch, an author and retired pastor in the diocese of Trenton, N.J. "Everybody is running scared of the lawyers. Everybody is gun-shy." Those who suffer most, said Baush, are the kids, particularly those with difficult home situations or real problems, "who need a hug or a pat on the back."
Priests, said Bausch, "understandably feel tainted and under suspicion and are out to protect themselves. It's a very artificial way to live."
While not commenting specifically on the desirability of transparent confessionals, Chiles said that a glass panel provides a "comfort level" for those in one-on-one counseling situations. "It provides a degree of safety that we have to have these days."
The National Review Board is in the process of hiring a firm to conduct audits of diocesan compliance with the bishops' charter, the results of which will be released in November, said McChesney.
Joe Feuerherd is NCR Washington correspondent. His e-mail address is jfeuerherd@natcath.org
National Catholic Reporter, April 18, 2003