Issue Date: April 25, 2003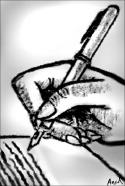 The diary of Ida Blatto
By JAMES STEPHEN BEHRENS
I used to go to used bookstores and rummage sales, looking for old diaries and photograph books. I wondered how such treasures ended up in places like that, being sold to strangers like me when they should have been kept in the family.
Karen, who worked for us in the monastery's bonsai barn, has such a book. It is a diary of a woman. Born not long after the Titanic went down, Ida Blatto faithfully kept a journal. A diary of a young girl. A fat book, in good condition. There are faded calling cards and letters, report cards, brittle, yellowed newspaper clippings, long dried flowers and corsages, words to Christmas carols and poems she wrote. There are notes in the margins highlighting special loves and hopes and the innocent delights of long ago evenings. She knew a good and happy life in her early years -- years of so much hope and promise, a life of waiting for love and growing up. But things did not turn out very well for Ida.
The day Karen brought the book in, I asked her what happened to Ida. She told me she remembered her as an old eccentric woman who lived alone in a big house. She never married and as she grew old, she was shunned by the neighborhood for her strange and perhaps mean ways.
She died and no one wanted to go through her belongings. Somehow Karen got the book and she treasures it. She takes loving care of it, keeping it in a box, wrapped in beautiful paper.
She has a soft spot for Ida. I do, too.
What happens in a life that starts out with such promise and hope and then somehow takes a turn down a long, painful road and never seems to come back? We all know people like Ida. The answer to such is the stuff of many a novel.
But the diary is telling in several ways. Little did Ida know that such tenderness would come from her pages almost 75 years after she fattened them with her hopes and her dreams. Little did she know that she would be loved and remembered and that her life would yet touch the lives of others.
Dorothy Day once said she believed that prayer could move God to change, to transform all things, even the past. Who is to say that is not so? For if all things are possible for God, might he not reach back and with love and goodness move hearts, heal hurts, change the direction of a life, of history? I like to believe that and hope in it.
Perhaps the miseries of the past are in some measure due to our not praying enough, not believing enough. And then, on the brighter side, perhaps there are movements of hearts and spirits that were born from prayers that have yet to be uttered. Maybe something wondrous will happen today because of a prayer to be said next year, or tomorrow, or tonight.
There is no limit to healing. Only our own blindness and our reliance on what we believe really works and really is worth praying for. God asks that we trust him enough to pray for all, that all may be healed and made whole -- the Idas of yesterday and today, and those who will fill the pages of tomorrow, pages in need of being filled with clippings of a life of goodness and peace.
Fr. James Stephen Behrens lives and writes in Covington, La.
National Catholic Reporter, April 25, 2003