Issue Date: April 25, 2003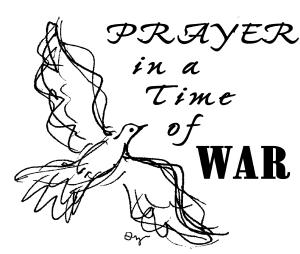 Prayer in a Time of War
Different Approach Needed
By LESLIE LUND
O my Sisters in Christ, help me beg these things of the Lord. This is why he has gathered you together here. This is your vocation. These must be the business matters you are engaged in. These must be the things you desire; the things you weep about. These must be the objects of your petitions.
I laugh and am even distressed about the things people come here to ask us to pray for… They are well intentioned, and in the end we pray for their intentions because of their devotion. Though for myself, I don't think the Lord ever hears me when I pray for such things …
The world is all in flames! This is not the time to be discussing with God matters that have little importance. I'd be happy only if people understood that many of their intentions are not the things they should be begging God for with so much care. … I want to speak of helping to remedy the great evils I have seen.
People try to see if with force of arms they could remedy all this evil that is making such progress. It has seemed to me that what is necessary is a different approach…
O my Redeemer, my heart cannot bear these thoughts without becoming terribly grieved. What is the matter with Christians nowadays? Must it always be that those who owe You the most afflict you?
-- St. Teresa of Avila, The Way of Perfection
Holy Spirit, pray in us from the heart of Love.
We can, and do pray for a "good" outcome to war -- for protection of innocents and sincere self-sacrificing soldiers and their families; for the destruction of weapons of mass destruction; for a short war; for surrender; for humanitarian aid; democracy and the restoration of a new civilization. These are the prayers and desires of our government.
Holy Spirit, pray in us from the heart of Love.
But what would You have us pray for?
You have desires for the good of all Your children, and You have assured us that You have also written them on our human hearts of flesh. If we but listen to Your Word, You are calling us to conversion, to be like Your Son, Jesus, who has begged us to love our enemies; to do good to those who hate us; to forgive 70 times 7; to bless and not curse and to pray for those who treat us badly.
We ask Your forgiveness for choosing death and not life; for ignoring Your commandment to love and lay down our lives for others; for doing evil in Your name and for turning the good news into harm, death, destruction and bad news, and so driving others away from the desire to know Jesus and his message. Forgive us for putting vain hope in the missile, tank, bomb, grenade and gun and for not trusting in You. Make us again your peace ambassadors in Christ.
Give us Your compassion, forgiveness and understanding. Help us to use all our energies, resources, wealth and talents to build up to the full human potential of all Your people.
Make us know the truth that our enemy shares our own humanity and dignity and is our very own sister and brother in Your family. May we once again be the people of whom it is said: "See how they love."
Sr. Leslie Lund is a member of the Carmelite Sisters of Mary, a laura, or small community of hermits, affiliated with the Discalced Carmelite Order. The sisters live on and care for 80 acres of forested land near Spokane, Wash. "The hermit life is not flight from the world, but a going apart to be more deeply involved in the heart of the world," Sr. Leslie writes, "because each person's inner spiritual struggle and transformation is connected to the transformation of the whole world. A native of Quantico, Va., where she grew up in a military family, she holds a master's degree in religious studies and is a published author. Currently she is a member of an advisory committee appointed by Bishop William Skylstad of Spokane to foster conversion in the church in response to the sex abuse scandal.
National Catholic Reporter, April 25, 2003