Issue Date: April 25, 2003
Conference presenter Ingrid Mattson, vice president of the Islamic Society of North America; Nour Akhras, a Muslim; and Louise Cainkar, a Catholic from Chicago, exchange ideas at the conference.-- Photos by Karen Callaway
Women leaders under the cross and crescent
Muslim and Christian women explore female leadership in their faith traditions
By HEIDI SCHLUMPF
Chicago
Talk about timing. Just hours before the first bombs fell on Baghdad in the Second Gulf War, a group of Muslim and Christian men and women gathered to imagine how the world might be different if leadership in churches, mosques and society were more open to women.
Speakers at the two-day conference, "Sisters: Women, Religion and Leadership in Christianity and Islam," at Catholic Theological Union in Chicago focused on the leadership positions in their respective faith traditions that are currently closed to women. They also discussed positive examples of past and current visionary women leaders and the need to create new ways of leading that better reflect women's contributions.
"The solution is not to take traditional roles and substitute the people who have been excluded into them," said Ingrid Mattson, associate professor of Islam at Hartford Seminary and vice president of the Islamic Society of North America, based in Plainfield, Ind.
That misguided thinking is exemplified by the question most frequently asked of Mattson by non-Muslims: Can a woman be an imam? The question itself, she says, is problematic because it assumes clergy are the most important leaders, which is not necessarily true in Islam. ("Imam" literally means "leader" in Arabic and refers to the formal leader of prayer in a mosque.)
"It's a very important position in the United States because in the American context the role of minister is very important," says Mattson. "But anyone can lead prayer, and there are other levels of religious authority."
Mattson instead suggested a functional approach to evaluating whether women have succeeded in exercising authority in the variety of political, scholarly and spiritual leadership roles in Islam, while continuing to recognize the relationship between power, politics and religion.
"We must understand that religious institutions are political institutions with political power," she said, noting that most American mosques are governed by the corporate model of a board of directors. "They write the job descriptions. They determine how space will be used. They make the decisions about money and priorities."
The Quran, in teaching that on the Day of Judgment people will be raised with their leaders, emphasizes the responsibility all people of faith have for their leadership, Mattson said. "We will have to answer for the leaders we have chosen to follow."
Going back to the roots
Although the subordination of women has long been part of both Christian and Muslim history, women from both faiths argued that oppression was not what their founders had in mind. "Natural law and scripture, especially Paul, has been used to support sexism, racism, classism and homophobia," said Georgetown University associate professor Diana Hayes. "However, this was not always so. Jesus called together a community of disciples who were equals."
Hayes, a Catholic womanist theologian, described how various groups, especially African-Americans, have been subjugated in the church. "Europeans and European-Americans have been transformed not into images of God, but into gods themselves," she said. "Women, persons of color and all others outside the norm have been relegated to the roles of passivity, even non-humanity."
Clearly, she argued, change is needed. "How long can an institution preach one thing but internally go against what it is preaching? It makes no sense to alienate half of a church . . . to satisfy a man-made agenda."
Rather than relegate women only to maternal roles, she demanded that the church "bring about a world into which we would want to bring children."
Yet Hayes cautioned against women merely stepping into already corrupted leadership roles, urging them instead to transform the whole idea of leadership. "For reform in the church, we who are women need to speak another language than the masculinized one that exists," she said. "We must look at how exclusive we are being even in our efforts to be inclusive."
Historian Mary Thurkill, assistant professor at Southern Arkansas University, also believes women could bring to the table new, experiential ways of exercising authority. "We have to stop comparing women with men," she said. "We need to pay more attention to shifting paradigms of authority."
To facilitate this shift, she and other scholars have taken up the task of reclaiming and reimagining women in the historical traditions of Islam and Christianity. Thurkill, who is Protestant, has studied both traditions, specifically looking at images of Mary, the mother of Jesus, and Fatima, the daughter of Muhammad--both of whom have been put on pedestals for their virginal purity.
"Most research [about them] has been used to reinforce women's place in the domestic sphere," she said. "But they have also been used as models of holiness, virtue and authority intended not only for women but also for men to imitate as well."
Role models for contemporary Islamic women also can be found among medieval women scholars who studied with and taught men hundreds of years ago. "These women challenge our monolithic and pessimistic view of women," said Asma Afsaruddin, assistant professor of Arabic and Islamic studies at the University of Notre Dame.
"There is this general perception that women disappeared from the academy or religious instruction because they were never granted public authority," said Afsaruddin, who went outside the traditional "religious canon" and found medieval Muslim women scholars in biographical literature.
Although the lack of written work attributed to these women intellectuals suggests their lack of public authority, the uncovering of their existence proves the precedent of women's scholarship, Afsaruddin said. "It establishes that this is not an anomaly but a persistent tradition," she said.
Women of the Book
Given the importance of sacred scripture in Christianity and Islam, it's not surprising that feminist scholars in both traditions have made it a high priority to critique patriarchal interpretations of the Bible and the Quran while also working to restore their original liberating messages.
Sr. Dianne Bergant, an Old Testament scholar, placed herself square in this "reformist" tradition. "I contend that the biblical tradition itself offers us a warrant to interpret it in new ways," said Bergant, a Sister of St. Agnes who teaches at Catholic Theological Union.
She held up the woman protagonist in the Song of Songs as a scriptural model for women's leadership today. Among her traits, she is assertive, committed to an ideal and not deterred by obstacles dictated by restrictive custom. "This assertive woman is in charge of her own life," Bergant said. "Unlike many of the other depictions of women found in Israel's literature, this woman does not serve the agendas of men."
She was, Bergant concluded, "a woman who might well have attended this conference, were she not occupied with other pursuits."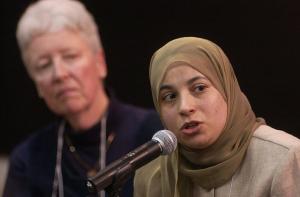 Benedictine Sr. Patricia Crowley, director of Deborah's Place, a women's shelter of Chicago, and Itedal Shalabi, founding co-director of Arab-American Family Service, answer questions during a discussion on social justice issues.
Although the Quran, like the Bible, has been used to subjugate women, it also contains many positive messages for women, said Amina Wadud, professor of Islamic Studies at Virginia Commonwealth University and author of Qur'an and Woman: Rereading the Sacred Text from a Woman's Perspective (Oxford, 1999).
Aiming for "a female-centered consideration of the Quran, a reading that validates the female voice and brings it out of the shadows," she highlighted, as an example, the birth story of Jesus, which emphasizes Mary's experience of pregnancy and delivery. "I think it's interesting that Mary is so sensitively treated in the Quran," she said. "And I'm befriended by that text, having done that five times myself."
She also pointed out that in Islam's creation story in the Quran, both Adam and Eve eat the forbidden fruit. "We don't lump evil onto women -- at least not from the text," she said.
Wadud identifies herself as "pro-faith and pro-feminist" and refutes the assumption by some that Islam is inherently repressive of women. "It is unacceptable that I would voluntarily choose to come into a religion that oppresses me," said the convert and daughter of a Methodist minister. "In Islam, the female person was intended to be a full human being."
Because women's full humanity has not always been a reality, many women of faith -- Muslims and Christian alike -- have dedicated their lives to serving poor, homeless, abused and otherwise disenfranchised women. Often, these social service and social justice organizations have been led by women.
A group of concerned women founded Deborah's Place in Chicago in 1991 to provide shelter, supportive housing and services to women who are homeless. The program is unique for its continuum of care. "Women who are homeless have been traumatized and often have many layers of woundedness," explained the center's executive director, Sr. Patricia Crowley.
As a Benedictine, Crowley finds inspiration in the Catholic tradition for her work, drawing especially on the theology of the mystical body that says all are one. Such solidarity, she said, was exemplified by a button she saw at an anti-war demonstration that read, "No war against my sisters in Iraq."
"As women, I think we have a great ability to imagine new realities and give birth to new realities," she said. "A mother isn't one who just gives birth to her own children but life to children everywhere."
Two young Muslim women in Chicago also have given birth to a project designed to help women and children in their community. "Arab-American Family Services addresses issues the community would rather not be brought up, like domestic violence, drugs, teen dating or divorce," said Itedal Shalabi, a social worker and cofounder of the organization in 2001.
"As women leaders in the community, many men fear us because we are opening the eyes of women who are oppressed," added cofounder Nareman Taha. "But every Muslim woman is a leader. Every wife, mother, daughter and sister is a leader. Every woman is a leader."
Heidi Schlumpf, who writes from Chicago, is an associate editor at U.S. Catholic magazine.
National Catholic Reporter, April 25, 2003