Issue Date: April 25, 2003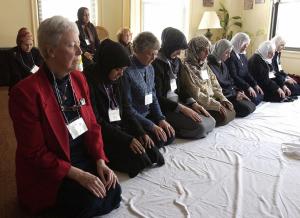 Christian and Muslim women join in noon prayer at the Catholic-Muslim Studies conference at Catholic Theological Union in Chicago March 20.
-- Photo by Karen Callaway
Hospitality helps open doors to interfaith dialogue
The signs in the bathroom stalls were the first clue something was going on at Catholic Theological Union. Worried that the seminary students might wonder about the watering cans that suddenly appeared in their restrooms, organizers posted signs explaining they were for Muslim ritual washings, or wudu in Arabic.
The watering cans were just one attempt at hospitality toward the Muslim men and women attending the third annual conference sponsored by CTU's Catholic-Muslim Studies Program, the only one of its kind in the United States.
"It's all part of our agenda of broadening the definition of interreligious dialogue," said Scott Alexander, the program's director and a professor of Islam at CTU. "It's not just about discussing doctrine. It's also about living with one another."
Other "meager attempts," as Alexander described them, at making Muslims feel at home included avoiding pork and addressing other dietary concerns in the meals, scheduling talks around prayer times and turning a fifth-floor faculty lounge into a temporary prayer center. Christian images were removed from the walls and replaced with Islamic calligraphy of verses from the Quran. Clean sheets were spread over the carpet for salat, the obligatory Muslim prayer five times a day.
"Both of our traditions call for hospitality to the stranger precisely because they are different," said Alexander. "We want to reduce some of the alienation, but not the sense of otherness. Dialogue is about exploring similarities and dignifying differences."
-- Heidi Schlumpf
National Catholic Reporter, April 25, 2003