Issue Date: April 25, 2003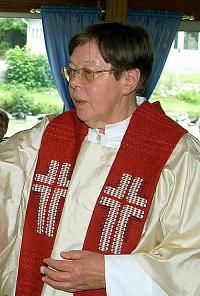 Ida Raming
Ida Raming: Pioneer in women's ordination movement
By TERESA MALCOLM
Even before German theologian Ida Raming, 71, was ordained with seven other women in June of last year, she was known as a pioneer of the women's ordination movement in the Catholic church. Together with Iris Müller, Raming published a submission to the Second Vatican Council in 1963, challenging the all-male priesthood.
She is also the author of The Exclusion of Women from the Priesthood: Divine Law or Sex Discrimination, originally published in 1976. It is to be republished, edited by Bernard Cooke and Gary Macy, as the second volume in a series on the history of women's ordination (see related story).
Raming argues that Canon 1024 in the church's Code of Canon Law, which restricts ordination to baptized males, is illegal and based on heresy, because it establishes two classes of baptism.
That argument was used as the basis of the ordination of Raming, Müller and five other women last June 29, 2002, in what they called a "valid, but illicit" ceremony. The ceremony, which took place on a boat on the Danube River between Germany and Austria, was performed by Archbishop Romulo Antonio Braschi, founder of the breakaway Catholic-Apostolic Charismatic Church of Jesus the King.
In August, the Vatican Congregation for the Doctrine of the Faith issued a decree of excommunication after the women did not give "any indication of amendment or repentance for the most serious offense they had committed," the decree said. Raming has filed a refutation on behalf of the women, who come from Germany, Austria and the United States.
The Vatican's repeated prohibitions against ordaining women "point to weakness and fear in the leadership," said Raming, who is currently on a U.S. speaking tour sponsored by Catholics Speak Out and the Women's Ordination Conference. "Only broad-based international uprising and protest movement by the people of the church, so it seems, can propel the necessary reforms in the church. That is why I draw hope from the popular movements now launched in more and more countries that God's Spirit is still stirring in this church and will bring forth new life."
Teresa Malcolm is NCR news editor. Her e-mail address is tmalcolm@natcath.org
National Catholic Reporter, April 25, 2003