Issue Date: April 25, 2003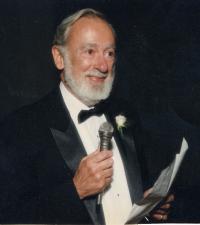 Robert Hoyt, founder of the National Catholic Reporter
Robert Hoyt, NCR founder, dies at 81
Sparked change in Catholic press by vigorous reporting
By TOM ROBERTS
National Catholic Reporter founder Robert G. Hoyt, who brought the professional standards of secular journalism to coverage of the Catholic church, died of a heart attack April 10 in Manhattan. He was 81.
From the beginning Hoyt, as founding editor, placed reporting at the core of the paper's mission. Reporting, he believed, was the missing element at the time in Catholic publishing, and it soon became the paper's distinctive trait.
In the first issue of National Catholic Reporter, published Oct. 28, 1964, Hoyt spelled out what have proven enduring guidelines under the heading, "Planks for a platform." In one paragraph, he stated: "This paper has been established 'to report the life of the church in the world,' a function further described in our prospectus as ' pressing for as much information as can be had about events and their meaning' and, just as importantly, constantly assessing the overall situation of the church, the quality of Catholic life and of particular aspects of Catholic life."
The founders also declared that NCR would be a paper "reasonably free of self-censorship as well as direct authoritarian control, a Catholic paper conceived as existing within the church-as-society but not as a department of the church-as-institution."
It was an approach, in the words of an April 12 obituary in The New York Times, "that substantially changed the way Roman Catholicism was covered and understood in the United States."
NCR was not the first involvement for Hoyt in the world of Catholic publishing, and it would not be his last. He was involved in Catholic publishing for more than 50 years. Following his tenure at NCR, he was executive editor and then editor in chief, 1977-85, of Christianity & Crisis, an ecumenical journal. From 1989 to 2001 he was a senior writer for Commonweal magazine, which, like NCR, is a lay publication.
In 1999 he received the St. Francis de Sales Award, the highest honor given by the Catholic Press Association. "His emphasis on creating a first-rate, independent Catholic newspaper set a standard which has had a profound impact on the character and professionalism of Catholic journalism," said the citation.
In hindsight, it might be difficult to imagine just how revolutionary it was to apply the newsgathering techniques of the general press to coverage of the church. There was no shortage of Catholic publishing at the time, with 420 Catholic magazines and 118 diocesan newspapers published in the 1950s and 1960s. But the publications "were so devoid of critical analysis or content relevant to the important issues of the day" that one prominent Catholic journalist at the time characterized them as containing "good advice on everything, factual and detailed reporting on nothing," according to a 1997 talk given by historian Scott Appleby of the University of Notre Dame at an event honoring Hoyt.
Chicago Catholic journalist Dan Herr in 1961 said of Catholic publishing: "There is nothing basically wrong with the Catholic press that an acute paper shortage would not cure."
An equal plane with leaders
Hoyt's son, Michael, who gave a reflection on his father's life during the April 14 funeral Mass in New York's Corpus Christi Church, said his father's ambition to have an independent church publication was abetted by the "new spirit" evident in the reforms issuing from the Second Vatican Council (1962-65). "My father, and many others like him, had the very American idea that the people should be on an equal plane with their leaders. And that they deserved to be in on the conversation about the religious and moral issues of the day. And that one way to do that was to give them real journalism."
Hoyt fleshed out his dream of an independent, professional newspaper by hiring bright and talented young writers including John Leo, currently a U.S. News columnist, and Robert Olmstead, an Associated Press reporter. The paper published commentary by Garry Wills, at the time a young conservative, and, in the spirit of budding ecumenism, by Martin Marty, a Protestant scholar, and by Rabbi Arthur Hertzberg.
One young journalist who came to Hoyt's attention in the early 1970s was Tom Fox, then reporting from Vietnam. Fox, currently traveling in Asia, e-mailed NCR when he learned of Hoyt's death, calling Hoyt "a giant in journalism."
"He transformed Catholic journalism as the founding editor of NCR," Fox wrote. "His death is a great loss to the church and all others who prize truth and excellence in journalism. It is also a great loss to me personally. Bob introduced me to NCR. He was my first editor. When I was a young volunteer working with refugees in Vietnam during the war years, Bob pressed me to write for NCR, and I quickly learned the value of working with a talented editor. May he rest in peace."
Fox was editor of NCR from 1980 to 1997, when he was named publisher, a post he holds today.
Under Hoyt's guidance from 1964 to 1971, the paper quickly became an influential voice in the Catholic world and beyond. For the first two years of its existence, the paper did extensive reporting on the Second Vatican Council, the worldwide gathering of bishops that adopted an array of reforms in the church and urged laity to take a new and expanded role in the life of the church. NCR's circulation surged over a few years from 11,000 to nearly 100,000.
During those years, the paper also gave extensive coverage to the race issue and to the Vietnam War.
In April 1967, NCR attracted national and international attention when it published the secret reports of the majority of a special commission appointed by Pope Paul VI to review the church's teaching that forbids the use of artificial means of contraception. The majority of the commission recommended revisions in the teaching. However, a year later, the pope rejected those recommendations and issued Humanae Vitae, commonly known as the birth control encyclical, which upheld traditional teaching.
Publication of the secret report was seen as scandalous in some circles and the action was among the reasons Bishop Charles H. Helmsing of Kansas City, Mo., who originally had encouraged the development of the paper, issued a condemnation of NCR and demanded that it remove the word Catholic from its name.
The paper largely ignored the condemnation. The Catholic Press Association said in a statement that the dispute arose out of a difference of opinion regarding the function of the press, while dozens of Catholic editors signed a statement disagreeing with the condemnation based on its "underlying definition of the legitimate boundaries of religious journalism in service to the church."
Those boundaries are still in dispute, or at least in flux, in some areas of Catholic journalism. But Hoyt and others were acting on an understanding of the role of the press as expressed in a talk given earlier by noted Jesuit theologian Fr. John Courtney Murray during a Rome symposium sponsored by the International Union of the Catholic Press.
Function of the press
A copy of the talk was published by NCR in August 1964 in advance of its first issue "to announce its own program and journalistic criteria." On its first anniversary, the Oct. 27, 1965, issue, NCR reprinted the text in its pages. Murray makes the case for unfettered access to information.

Hoyt in 1968
-- NCR Photo Archives
"Within the church, as within civil society, public information is a social necessity. The press performs a social function and this function is indispensable," he wrote. "The Catholic free press within the church is not some sort of luxury that is really to be frowned on. It is not a nuisance that has to be tolerated. … The church, for all her differences as over against civil society, remains a society. And the societal character of the church creates a public right to information about all that concerns the church … through the rights of the people the freedom of the press knows only one limitation, and that is the people's need to know. And I think within the church as within civil society, the need of the people to know is in principle unlimited."
With such words appropriated as their marching orders, the early editors and reporters of NCR had the widest latitude possible in the gathering of information.
It was that impulse that would continue to guide the paper in its decisions to publish groundbreaking stories from Latin America, to continue to press its coverage in Rome and to bring to a national audience in 1985 the shattering tales of the sexual abuse of children by priests when other larger media outlets would not deal with the story.
Hoyt was born Jan. 30, 1922, in Clinton, Iowa. Orphaned at age 12, he attended high school in Detroit and at St. Norbert High School and College in DePere, Wis., graduating from the college in 1942.
He joined the Norbertine order at St. Norbert's in 1940 but left two years later. He enlisted in the U.S. Army and served from September 1943 to February 1946.
While working at the Denver Catholic Register he met and married Bernadette Lyon in 1948.
They had six children: Michael, now living in New York City; Timothy, Eskridge, Kan.; Mary Teresa Durkin, Chicago; Jamie, New Orleans; Mary Jo Lundley, Maplewood, N.J.; and Anne, New York City.
The couple came to Kansas City, Mo., from Denver in 1949 at the invitation of Bishop Edwin V. O'Hara. According to Bernadette, who lives in Kansas City, Hoyt's longtime dream was to establish an independent daily Catholic newspaper. With O'Hara's encouragement, the Hoyts and several colleagues published a Catholic newspaper, the Sun-Herald, five days a week. The paper reached a circulation of 12,000 within six months but was unable to continue for financial reasons.
A paper of prominence
After several years in secular journalism, teaching and public relations, in 1957 Hoyt was made editor of The Catholic Register, the Kansas City edition of the national chain, under Bishop (later Chicago Cardinal) John P. Cody.
In 1959 Cody charged Hoyt with developing a diocesan newspaper independent of the Register chain. Kansas City's Catholic Reporter achieved national prominence during Hoyt's tenure, gaining several thousand subscribers from outside the diocese, and he began to see the possibility of an independent national weekly.
Hoyt and several colleagues started NCR in 1964 in the offices of the Catholic Reporter, the Kansas City-St. Joseph diocesan newspaper. Helmsing, who succeeded Cody, backed the venture and received his first issue while in Rome attending the third session of the Second Vatican Council. Helmsing had agreed to allow the fledgling national paper to be edited alongside the diocesan paper to save the new venture the expense of rent and overhead.
The other principals in the founding of NCR were Michael J. Greene, now living in Colorado, and the late Fr. Vincent J. Lovett, a priest on the diocesan newspaper staff.
In 1968, NCR's circulation began to fall. How to recover that circulation and restore financial stability became a source of dispute between Hoyt and Don Thorman, who had replaced Greene as publisher in 1966. The dispute culminated in 1971 when Hoyt was fired after he rejected the board's request for his resignation. There are hints that Hoyt's personal life also figured into his difficulties at NCR.
The Hoyts were divorced in 1970, and he married Mig Boyle of Oil City, Pa., also a Catholic journalist. They adopted a daughter, Sarah.
In his reflection, son Michael referred to his dad as one who loved to laugh, loved mystery books, loved good political argument and "could name the lineup of the Detroit Tigers through most of the 1940s."
In other respects, however, "some of his actions and choices were difficult for us. He was not one of those easy, uncomplicated people," he said, a reference to what must have been a tumultuous era for a high-profile Catholic family going through a divorce and remarriage at that time.
In an interview given to Peter Occhio-grosso for his 1987 book Once a Catholic, Hoyt said, "Ultimately, it was not a papal warning or a threat of excommunication that drove me out, but a good, old-fashioned power struggle. Circulation was falling, and our publisher, Donald Thorman, blamed it on me. Some of his criticisms may have had some merit -- I was tired and I was distracted by personal issues."
According to reports, the paper's circulation dropped to about 35,000 before rebounding. Today it stands at around 50,000 subscribers in more than 90 countries, a level that it has maintained for years.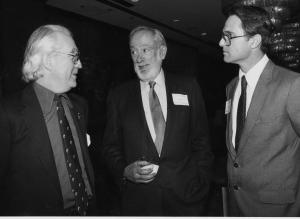 Hoyt (center) talks with former NCR editor Arthur Jones (left) and then-editor Tom Fox at the newspaper's 25th anniversary party in 1989.
-- Marcie Ryan
Time, as Michael pointed out at the funeral, has healed old wounds. In 1984, Hoyt wrote an extensive retrospective for the paper's 20th anniversary issue. He concluded the piece, "In case there's any doubt, I still think that the ideas [behind the paper's founding] were valid and significant and that they still animate this newspaper, for which I'm grateful."
Though apparently an advocate of "detached newspapering," in his phrase, he nonetheless was an activist, at times even when he was editor. His opposition to the war in Vietnam led him to work for the presidential campaign of Eugene McCarthy in 1968. He also worked for the presidential campaign of Sen. George McGovern in 1972.
He considered Jesuit Fr. Daniel Berrigan, noted antiwar activist, a friend and in late 1971 he served as press relations officer for the "Harrisburg Seven," a group of war opponents that included Berrigan and his brother, Philip.
In 1971, he was arrested and briefly jailed for joining a Washington protest against the war.
But his principal accomplishment was the establishment of NCR. Hoyt was fond of saying, in explaining the motive for independent reporting in the church, "If the mayor of a city owned its only newspaper, its citizens will not learn what they need and deserve to know about its affairs."
In that inaugural issue, the "Planks of a platform" ends:
"Our orientation, then, is toward reporting the news, toward enterprise and relevance, toward dialogue with practically everybody. We are a religious paper with worldly interests. We are committed to the church and secure enough in our commitment to keep wondering what the church is and will become. We think this kind of work can be a vocation; one reason it may be our vocation is that we like doing it and think it makes a difference in the world. We hope you will like the product."
Tom Roberts is NCR editor. His e-mail address is troberts@natcath.org
National Catholic Reporter, April 25, 2003