Issue Date: May 2, 2003
BRIEFS
NATION
Abuse suit filed by parents of man who committed suicide
Sexual abuse suits against Southern California dioceses continued to mount at the end of April. The plaintiffs in one case are the parents of a 36 year-old man they say hanged himself last year after years of attempting to deal with abuse that occurred when he was between the ages of 11 and 15. According to the Los Angeles Times, when the abuse began Richard Lukasiewicz was a student at John Bosco Technical Institute in Rosemead, Calif. The institute was run by the Salesians.
The San Diego diocese now faces three separate suits over alleged sexual molestations that occurred over a period of 26 years by the late Msgr. William Kraft, who died in 2001. Attorney John Manly told NCR he has seven more lawsuits yet to file in the Kraft case.
In the San Bernardino diocese, a pastor was charged April 22 with molesting two teenage boys 40 years ago. Msgr. Peter Hernandez Luque, former pastor of a Corona, Calif. church, faces up to eight years in prison if found guilty of abusing the boys between 1963 and 1969, according to the Times. Luque is not being held by police.
Meanwhile, in the Los Angeles archdiocese, two more molestation allegations have been added to 12 counts facing Fr. Carl Sutphin, who has been released on $200,000 bail.
-- Arthur Jones
Catholic campus ministers urged to step up staffing
Catholic campus ministry too often has been pushed to the fringes of both the church and the university. It needs to be brought back to the center, according to campus ministers at Chicago's Northwestern University to attend their 2003 National Advancement Forum April 4.
To bring a renewed focus on campus ministry, campus ministers will need to find ways to develop their own financial and staffing resources, said Fr. Vincent Krische, director of Catholic campus ministry at St. Lawrence Catholic Center at the University of Kansas.
Peter de Kerry, who wrote his master's thesis on ways Catholic campus ministries can raise funds to support themselves, said that of 1,700 formal campus ministry programs, most currently had fewer than three full-time staff members and fewer than 15 percent of them had anyone assigned to a development post to handle fundraising. He said that 80 percent had raised less than $100,000 in fiscal year 2000, even though three-quarters of those who responded to his survey thought they could offer more and better ministry with a better fundraising program.
---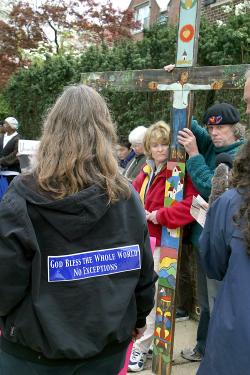 At Rumsfeld's house
About 100 members of the Atlantic Life Community and their supporters hold a Holy Saturday liturgy April 19 on the sidewalk in front of Secretary of Defense Donald Rumsfeld's house in Washington. They picketed and prayed for about an hour. There was no response from the home and no arrests were made. The action was one of several conducted during the community's Faith and Resistance retreat.
-- Rick Reinhard
---
Southern Baptist missionaries told to sign faith statement
The Southern Baptist Convention's International Mission Board has given its missionaries an ultimatum: Sign the denomination's faith statement or resign. Jerry Rankin, president of the board, sent an April 11 letter to 18 "missionary units," or 31 people, seeking a decision by May 5, the denomination announced. Rankin intends to ask board trustees to terminate the positions of those who "continue to refuse accountability to the beliefs of Southern Baptist churches."
Since his original request more than a year ago for affirmation of the 2000 version of the Baptist Faith and Message, 98.7 percent of the board's 5,500 workers overseas have supported the statement. Some missionaries who have not affirmed the statement believe the board is trying to coerce them into agreeing to something they consider to be a creedal statement that refers to "doctrinal accountability."
By the end of the summer, at least 42 missionaries are expected to have submitted letters of resignation that cite Rankin's request as a factor in their decisions. Rankin said in a statement, "If a missionary's disagreements are so great that he or she cannot in good conscience promise to work in harmony … we feel he or she has an obligation to Southern Baptists to tell them so."
Maryknoll priest, volunteers leave China to avoid SARS
Maryknoll has recalled 20 volunteers from China, and one priest has left Hong Kong because of fears over severe acute respiratory syndrome, which has killed at least 162 people worldwide. A 75-year-old priest returned to Maryknoll headquarters in Ossining, N.Y., from Hong Kong because of a preexisting respiratory condition, while the volunteers were recalled to limit their exposure to the lethal virus, said Howard Schwartz, spokesman for Maryknoll.
Maryknoll sent an internal memo in early April to its 180 members based in Asia, asking those with health ailments to consider leaving their posts. The decision to leave their mission areas was left up to Maryknoll's 27 community members in Hong Kong and 10 priests and brothers in China -- the two areas most affected by SARS, Schwartz said.
The 20 volunteers who were recalled worked mostly in China's Guangdong Province, where scientists believe the virus may have originated before spreading to Hong Kong and other places. Maryknoll said in a statement that its "first and foremost concern is the health of its people who work in areas where they might be exposed to SARS."
Religious leaders rally for rights of low-wage workers
Echoing the Passover theme of freedom from injustice and oppression, Southern California clergy and labor leaders released a "Statement of Principles" supporting the rights of low-wage workers during a special Passover Seder. Signed by some 165 area religious leaders, the brief statement says workers deserve "a living wage that allows them to meet the basic needs of their families."
Calling for laborers to receive full health care benefits and be treated with dignity, the statement also urges companies to respect the nation's laws affecting workers, including the legal right to form a union. The statement comes at a crucial time for Southern California janitors, whose current labor contracts expire April 30. The negotiations affect more than 11,000 janitors in Los Angeles, neighboring Orange County and San Diego, according to Elizabeth Brennan, spokesperson for Service Employees International Union, Local 1877, which represents the janitors.
The new contract talks follow an important labor victory by area janitors who successfully concluded a strike in 2000. Brennan said more than 300 workers attended the special Seder at Temple Judea in Tarzana, a community of Los Angeles.
U.S. bishops ask Cuba to release dissidents
The U.S. bishops asked the Cuban government to release scores of dissidents arrested during a March crackdown. The arrests took place after the Cuban government accused a U.S. diplomatic mission in Havana of increasing its contacts with dissidents and offering opposition groups places to meet. Many of the Cubans arrested were involved with the Varela Project, a petition drive seeking a national referendum on economic and political changes.
"While we are not in a position to judge individual cases, those arrested seem to fit the general category of human rights and democracy advocates, which only authoritarian regimes have reason to fear," said a statement issued by the U.S. bishops' Committee on International Policy.
The April 7 statement was signed by Bishop John Ricard of Pensacola-Tallahassee, Fla., committee chairman. It was issued the same day that about half of the 80 arrested dissidents were convicted of collaborating with the U.S. government and foreign-based opponents of Cuban President Fidel Castro to subvert the government. Those convicted received six- to 28-year sentences for "mercenary activities" against Cuban independence, said an April 9 Cuban government statement.
Report finds crisis in education of Hispanics
The final report of a presidential commission examining the status of U.S. schooling for Hispanics said there currently is a "crisis in the education of Hispanic children and youth." Hispanic students are far below national averages on educational achievement, said the report by President Bush's Advisory Commission on Educational Excellence for Hispanic Americans.
The report was released March 31 by the 24-member commission of educational, Hispanic, business, community and government leaders. It said that within the Hispanic community more attention must be given immigrants because their educational levels are much lower than those of U.S.-born Hispanics.
The report lists six general recommendations for improving education for Hispanics: Set higher expectations for students by helping parents work with the educational system and by creating community partnerships; challenge states and school districts to increase in five years the percentage of fourth-graders reading at or above accepted standards; attract more Hispanics to the teaching profession and better prepare teachers to deal with the needs of Hispanics; develop research on the progress of Hispanics from preschool to postsecondary education; challenge postsecondary institutions to graduate 10 percent more Hispanics annually over the next 10 years; increase the accountability of federal government programs in serving Hispanic students.
WORLD
Church officials praise apartheid reparations propos
SOUTH AFRICA: Church officials here welcomed President Thabo Mbeki's announcement of a one-time payment to apartheid victims. Mbeki said the government will pay about $3,900 each to more than 19,000 victims of apartheid identified by the Truth and Reconciliation Commission, which probed human rights abuses during the apartheid era. South Africa's system of apartheid lasted from 1948 until the country's first all-race elections in April 1994.
The $74 million payment that Mbeki announced in Parliament in Cape Town April 15 is substantially less than the $390 million recommended by the commission. Mbeki said the payments will be made within a year. "Although the amount is less than what was recommended, we are happy that the government has at last made a clear commitment to paying reparations, said Neville Gabriel, head of the justice and peace department of the Southern African Catholic Bishops' Conference in Pretoria.
The Truth and Reconciliation Commission started its work in April 1996. Its final report was handed to Mbeki in March. Among the recommendations in its report were payments to victims of human rights abuses, proper burial of the dead, and building memorials and monuments to commemorate victims and events from the apartheid era.
---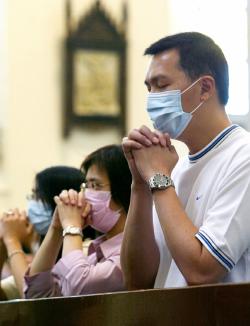 Feared disease
Catholics wear masks to protect themselves from catching the flu-like severe acute respiratory syndrome, or SARS, during Good Friday services at the cathedral in Hong Kong April 18. More than 60 deaths in the territory have been attributed to SARS. Churches in some areas with outbreaks of SARS -- including Hong Kong, Singapore and Toronto -- have taken precautions against the spread of the illness.
-- CNS/Reuters
---
Bishop's election to congress draws mixed reaction
CHINA: The election of a government-recognized bishop as the first Catholic in the leadership of China's top legislative body has drawn varying reactions from mainland church leaders and church watchers in Hong Kong. Bishop Michael Fu Tieshan of Beijing, 62, was elected as one of 15 vice chairmen of the Standing Committee of the 10th National People's Congress, China's legislature. The vice chairmen assist the chairman in handling the day-to-day work of the Standing Committee and can serve up to two five-year terms. Fu is chairman of the Chinese Catholic Patriotic Association and vice president of the bishops' Conference of the Catholic Church in China, the government-approved bishops' conference.
Anthony Liu Bainian, vice chairman of the Chinese Catholic Patriotic Association, said the bishop's election will raise the status of the church in China and will benefit evangelization because it will counter the impression that Catholicism is a foreign religion.
Anthony Lam Sui-ki, senior researcher at the Holy Spirit Study Center of the Hong Kong diocese, said the election may cause discord among religions in the country. He said that while the National People's Congress seems to incorporate people of various sectors, there is a question as to why such a high post as vice chairman needs to go to a church leader.
War was like a 'punch' to citizens, archbishop says
IRAQ: The war in Iraq was like a "punch" to the country's people and could lead to greater influence by extremist groups, said Latin-rite Archbishop Jean Sleiman of Baghdad, Iraq. Sleiman said it was wrong to try to impose democracy through force on a people who do not yet fully understand democratic concepts -- including the relationship between religion and government in a demcracy. "This war was like giving a punch to these people. It was an earthquake, after which reigns an anguished emptiness, not only for Christians, but for everyone," Sleiman told the Italian newspaper Avvenire.
He said the way to inspire change is through education, use of the mass media and good example, not by war. "Democracy is not something that can be created in a couple of weeks," Sleiman said.
The archbishop, a Lebanese Carmelite who was named Latin-rite archbishop of Baghdad in 2000, said, "I don't know what kind of future we'll have if there is a predictable increase in the influence and pressure of extremist groups, which are regaining strength. I certainly don't see democracy at the door."
Nun attacked for not naming applicants admitted to school
INDIA: Female members of the ruling Nationalist Congress Party in the western Indian state of Maharashtra attacked a Catholic nun and covered her in paint and powder for refusing to reveal the names of students admitted to her school April 10. Sr. Victoria Fernandes said that on that day the women left her office after she declined to tell them who would be admitted. She said the women later returned and "taking advantage of me talking over the phone, they caught hold of me, overpowered me and one-by-one began blackening me with black ink and powder."
Fernandes, 48, is principal of Holy Cross Convent High School in Thane, southwest of New Delhi. She said that someone from the party had met with another nun at the school April 9 and demanded that a group of students be admitted. A.L. Varma, joint commissioner of police for Thane, said April 11 that 10 of the accused women had been arrested and released on bail.
Fr. Gregory Lobo, secretary of the archdiocesan board of education, said that such local politicians have attempted to intimidate school administrators so that they could "make money" by selling admissions to the school. The high school, set up in 1964, is one of 130 in the Bombay archdiocese.
Churches unite in effort to end female genital mutilation
KENYA: The Kenyan bishops have joined other faith groups in forming a committee to help end the practice of female genital mutilation. The new committee, formed after a workshop on female genital mutilation in Nairobi in mid-March, represents one of the latest attempts to eradicate the practice and is long overdue from religious groups, said a statement the group released in early April. Also on the committee are the Anglican church of Kenya, the Methodist church, the African Independent Pentecostal churches and the Supreme Council of Muslims in Kenya.
"By being silent on the subject of female genital mutilation, faith-based organizations have propagated the continuation of [its existence]," said the statement. "This has given way to believers of those faiths using this silence to go on with this practice." The statement marks the first time that the Kenyan bishops have taken a public stand against female genital mutilation, said Everestus Okumu, executive secretary of Caritas Kenya, the Catholic bishops' office that signed the national plan for the clergy to outlaw the practice.
"The church is interested in promoting values and cultures that will enhance human life," said Okumu. He said female genital mutilation was "retrogressive," "degrades a woman's life" and must be stopped.
Community quarantined after SARS outbreak
CANADA: Nearly 500 members of an international Catholic charismatic community were quarantined after public health officials identified a cluster of SARS cases that spread during a Mass and a prayer meeting in Toronto, infecting 31 people, including three children and two doctors who treated them.
All the members of the Bukas Loob sa Diyos Covenant were placed in isolation. Ten members of the group, whose name means "Open in Spirit to God," are believed to have Severe Acute Respiratory Syndrome and another 19 are suspected of having the virus. Three of the cases are children under the age of 10 who are receiving medical care. They are reported in good health.
Bukas Loob sa Diyos was founded in the Philippines and has chapters throughout Canada and the United States. It is noted for spiritual programs focusing on marriage and youth. Health officials obtained mandatory quarantine orders against two members of the community who refused to isolate themselves. SARS spread to the community after several members attended a wake on April 3 for a person who, it was later learned, died of the illness.
Pope's letter on Eucharist sours relations, Lutherans say
SWITZERLAND: A leading global Protestant body said Pope John Paul II's new encyclical on the Eucharist threatens to delay progress in relations between Protestants and Catholics. The Geneva-based Lutheran World Federation said that the pope's 79-page document on Communion threatens to prolong "the status quo" in relations between the two churches, and could be "detrimental" for the ecumenical movement.
In his encyclical issued April 17, John Paul reiterated his position that non-Catholics may not be admitted to Catholic celebrations of the sacrament, and said such celebrations would be an "obstacle" to full unity by blurring differences between Protestant and Catholic theology (NCR, April 25).
The Rev. Ishmael Noko, general secretary of the 65 million-member church, said the encyclical shows no "new considerations" of how to broaden the unity with non-Catholics. "If no consequences for institutional church relations emerge, this can become detrimental to the strength of the ecumenical movement," Noko said.
Briefs, gathered from news services, correspondents and staff, are compiled and edited by Gill Donovan.
National Catholic Reporter, May 2, 2003