Issue Date: May 30, 2003

From the Editor's Desk
The themes of the debate over health care in this country echo for me like a bad dream that can't get beyond a certain point of indecision. You keep waking up in the middle of the quicksand scene that won't end. In the late 1970s and early 1980s, I covered health care in several communities in Eastern Pennsylvania. New equipment and procedures were arriving on the scene. Utilization Review Committees were getting their first tests. HMOs were beginning to gain notice beyond California, and health insurance companies (there weren't many at the time to compete with Blue Cross and Blue Shield) were making heroic attempts to contain costs.
None of it worked. Hospitals wouldn't cooperate. Doctors wouldn't cooperate. Patients wouldn't cooperate. Everyone wanted the best of everything, immediately and everywhere. Doctors wanted no constraints on fees, what tests and other procedures they ordered, length of hospital stays and on and on. Patients wanted the best care possible and didn't want to be bothered with talk about cost. Remember? "Insurance will cover it."
Health care in the United States has, in a sense, gone almost full cycle: from no health care coverage in the 1930s to '50s for tens of millions of Americans, through "health care for all" hopes, with matching federal programs, back to millions -- 41 million -- with no health coverage. That's on the national scene.
At one level of the Catholic scene, truth be known, history has also circled back. Catholic hospitals, hanging in to cope with the problems facing the poorest in cities or rural communities, are returning to their origins: begging for money.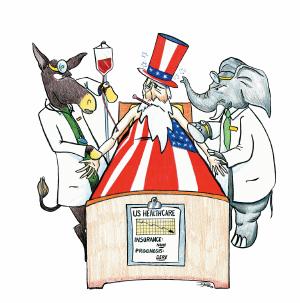 The hardest-pressed of the hard-pressed not-for-profit hospitals -- from Los Angeles and Detroit to Martin, Ky. -- may have big Catholic health systems backing them (the Daughters of Charity, Ascension Health and Catholic Health Initiatives, respectively), but those backers cannot and do not meet all of the costs.
Add in cutbacks in Medicare and Medicaid, rising costs all over the place, not least in insurance premiums, and the kind of health care coverage that 15 years ago was developing into an accepted U.S. standard has become seriously threatened for all.
There are exceptions, bright spots, if you will. Maine Gov. John Baldacci is pushing a complex scheme to provide health insurance for state residents within four years. The plan is on a fast track to the state legislature where a vote is expected before adjournment at the end of June. If that's the innovative side of things, one need only look to places like Montana and Indiana for another side. In those states, 19 percent are uninsured and the figures are rising.
So what's going on?
That's what NCR is making an ongoing commitment to explore. See Page 3.
Bear with us on this topic as we make our way into a highly complex field, but do join in the conversation.
Our reporting will go well beyond who's covered and who isn't, but that is a central issue.
Given that the workplace is one of the principal means for obtaining health insurance, it seems reasonable to say a brief word on this newspaper's policies toward its own employees. A few years ago, it was decided that if health care was more than a privilege, was indeed a right to which everyone was entitled, then the company should take whatever steps it could to make coverage possible. Simply said, apart from a nominal $10 (for singles) or $20 (for families) a month deducted from the paychecks, NCR covers all costs of HMO membership. That monthly fee includes dental coverage. Employees who want preferred provider coverage have to bear most of the costs themselves. Like our annual four-week vacation, it starts the day the new employee walks through the front door.
Even though we are only 32 full-time employees strong, such a benefit does not come cheap. Nonetheless, publisher Tom Fox and the NCR board are determined to honor the commitment to this level of health care coverage for as long as possible.
Health Beat opens with an overview of the national situation. Next week a second overview will consider the pressures on Catholic health care and other not-for-profits.
After that, every two weeks, we'll be there -- digging, interviewing, attempting to explain.
Meanwhile, stay healthy!
~ ~ ~
As I understand it, Dan Morris-Young spends much of his time these days somewhere beneath the surface of the Pacific Ocean off the coast of the Northwest United States, where the targets of his endeavors are sea urchins or some such creature. I don't know, really, what he does with them, but he says it's not a bad living.
However, knowing him also as an inveterate newsperson, I undertook to lure him with pots of money and promises of fame to surface long enough to do a story on the state of the Catholic diocesan press. The result of his considerable efforts begins on Page 14. The Catholic press is important, and in many places and many ways its role is changing. Morris-Young, it is safe to say, has laid out the major themes and questions facing this rather extensive communications undertaking in the church. I'll take this opportunity to tip the hat to all of our colleagues in the Catholic press. Many work under extremely difficult and demanding circumstances, as Morris-Young's story makes clear, in an attempt to bring readers the fullest picture possible of the local church.
Morris-Young knows the diocesan press arguably as well as anyone. He has spent more than 35 years kicking around the Catholic Press, including stints as editor at the Inland Register in Spokane, Wash. (1971-79); The Catholic Voice in Oakland, Calif. (1980-86); and Catholic San Francisco (1998-2000). He has been an interim editor in both Seattle (The Catholic Northwest Progress) and Little Rock (Arkansas Catholic). He has also authored a domestic humor column for Catholic News Service, as he put it, since Paul VI was supreme pontiff of the Roman Catholic church, and he has been a member of the Catholic Press Association board of directors.
In his spare time, he has also operated an insurance practice, owned a tavern, sold mobile homes and still runs Young Ocean Life Enterprises and employs himself as a diver.
Knowing well some of the risks involved in working for Catholic diocesan papers, he notes, "It is good to have alternative sources of income if one wants to have fun as an editor."
~ ~ ~
On Page 25, you will see a familiar face with a new name. Jeanette Batz has switched full-time jobs and is taking her husband's name, Cooperman. Same sparkling, provocative prose.

-- Tom Roberts
My e-mail address is troberts@natcath.org
National Catholic Reporter, May 30, 2003