Issue Date: May 30, 2003
NATION
Catholic Relief Services faces $16 million budget shortfall
A $16 million shortfall in revenue is forcing Catholic Relief Services to reduce programs and staff, the agency said. CRS offered a buyout package to its 630 employees, who have until May 30 to accept, said David Piraino, director of human resources. Baltimore-based CRS, the U.S. bishops' international relief and development agency, is seeking to eliminate 40 staff positions to help close the budget gap, he said.
The agency also is streamlining its overseas operations, where it employs about 3,300 people in countries of operation. Staffing levels in Europe, for example, are being reduced to 60 from 600, Piraino said. Cuts also have been made in the agency's travel and training budget, he said. In addition, salaries were frozen in 2003; senior staff have not received raises for two years, he said.
The $16 million shortfall was caused by a reduction in private donations and lost revenue from investments, said Michael Wiest, chief of staff. But he also said the current budget woes are a temporary setback and that the agency will be able to turn things around once the economy recovers.
Inhumane border policy killed migrants in trailer, bishop says
A "flawed and inhumane" border policy is at fault in the May 14 deaths of 18 illegal immigrants found in a trailer in Texas, according to the chairman of the U.S. bishops' Committee on Migration. "It is time for our elected officials to acknowledge that the border blockade strategy our nation has pursued since 1993 is a flawed and inhumane policy," Miami Auxiliary Bishop Thomas G. Wenski said in a statement released May 19.
The bishops of the United States and Mexico issued a joint pastoral letter in January calling for reform of U.S. immigration laws to create legal ways of accommodating the flow of migrant labor into the United States. "Such reform would eliminate the current environment of desperation in which smugglers and traffickers flourish," Wenski said.
Police discovered as many as 100 illegal immigrants abandoned in an 18-wheel trailer at a truck stop in Victoria County, Texas. Seventeen were dead in the trailer. Another died later in the hospital. The truck driver, Tyrone Williams, 32, of Schenectady, N.Y., was being held on federal charges.
A few days later, authorities found another tractor-trailer outside Victoria with 18 undocumented immigrants and a railroad car near the Texas-New Mexico state line with 17 people. Houston-area law enforcement agents stopped a pickup carrying 10 illegal immigrants hidden under a sheet of plywood.
Students help return salmon to Vermont river waters
A project aimed at teaching seventh- and eighth-grade students at St. Michael's School in Brattleboro, Vt., about Atlantic salmon has spawned their interest in biodiversity, habitats and water quality. The students are helping to return the fish to local waters.
From February to early May, the 31 students participated in the Atlantic salmon rearing program, a partnership involving the U.S. Fish and Wildlife Service, the Massachusetts Division of Fisheries and Wildlife, and two Massachusetts and Vermont chapters of Trout Unlimited, a national organization that works to conserve, protect and restore North America's trout and salmon fisheries and their watersheds.
The students traveled to Bethel, Vt., in February to get 110 salmon eggs from the White River National Fish Hatchery, where the eggs were incubated. On May 2, they released 88 salmon fry, or young fish, into the Green River in Guilford, Vt.
---

-- CNS photos/Apostolate for Holy Relics
Traveling relic
A relic of St. Juan Diego is displayed on a 17th-century statue of Our Lady of Guadalupe. The statue and relic, a small bit of cloth from the tilma that bears the image of Our Lady of Gudalupe, will be on display for veneration in several U.S. dioceses through December. The Tilma of Tepeyac Tour begins in Denver May 30 and ends in New York, with stops in at least 14 other cities. The pope canonized Juan Diego last year.
---
Church must end 'culture of secrecy,' Brooklyn bishop says
Auxiliary Bishop Joseph M. Sullivan of Brooklyn said in a May 18 address that the church should deal with the sex abuse scandal by ending the "culture of secrecy" and giving a greater role to the laity in finances and in the selection of priests and bishops. The laity should be not only be informed but "part of the process," he said, speaking at St. John's University in Queens.
Sullivan said clerical child abuse "exposed the church to ridicule and charges of hypocrisy." The secrecy of the bishops "driven by the sincere -- but in retrospect misguided -- intention to avoid scandal of the faithful" brought a greater scandal, he said.
Only a few officials knew about the abuse, and most priests and bishops "had no idea that the sexual abuse of children was a serious problem," he said. "To many, this sounds incredible, but from personal experience this is true."
The first step in addressing the issue should be "radical change" in the personnel system dealing with recruitment, training and assignment of priests, the bishop said. "Faithful laity and experienced pastors" should be involved in the initial selection of priesthood candidates and in the final recommendation of bishop candidates, he said.
Supreme Court to hear religious scholarship case
The Supreme Court said May 19 it will hear the case of Washington state student Joshua Davey who lost a $1,125 state scholarship to attend Northwest College, which is affiliated with the Assemblies of God, when state officials revoked Davey's scholarship after they learned he was majoring in theology.
Public money, they said, could not be spent on religious instruction, but could be used for other majors. The San Francisco-based 9th U.S. Circuit Court of Appeals ruled last July in favor of Davey. The high court agreed to hear Washington's appeal during next year's term, which begins in October.
Davey's lawyers at the American Center for Law and Justice, a law firm founded by television evangelist Pat Robertson, said state officials violated Davey's constitutional rights to practice his religion.
Washington Attorney General Christine Gregoire told the high court that the state policy "does not impair Davey's free exercise of his religion. He is free to believe and practice his religion without restriction."
Poll shows strong ties in religious families
Teens who are members of religiously involved families are likely to have stronger family relationships than teens in families that are not religiously active, according to a report from the National Study of Youth and Religion, a four-year research project based at the University of North Carolina at Chapel Hill.
"All three dimensions of family and parental religious involvement analyzed here (family religious activity, parental religious service attendance and parental prayer) tend to be associated significantly with positive family relationship characteristics," reads the executive summary of the report.
Looking specifically at youth ages 12 to 14, the report found that those in families heavily involved in religious activities are more likely to have strong relationships with their parents and participate in family activities and less likely to run away from home.
New initiative seeks to rehabilitate child soldiers
The U.S. Department of Labor is funding a $13 million initiative through the global Christian aid agency World Vision to offer education and rehabilitation for former child soldiers. "The plight of child soldiers offends the world's sense of decency and the code of conduct of civilized nations," said Secretary of Labor Elaine Chao.
World Vision estimates that 300,000 children are fighting in more than 34 conflicts around the world. In the past 10 years, the agency estimates that 2 million children have been killed in armed conflicts, 6 million have been disabled and 20 million have been left homeless.
Children are recruited or often abducted to fight, serve as spies or guards, lay or clear land mines, or work in prostitution rings. Some are as young as 7 or 8, while most are between 10 and 15 years old. Advocates say the children are left physically and mentally devastated.
The $13 million program, which will help a variety of agencies, will spend $7 million to help former child soldiers in Burundi, the Democratic Republic of Congo, the Republic of Congo, Rwanda, Uganda, the Philippines, Sri Lanka and Colombia. An additional $3 million will go toward education for former child soldiers in northern Uganda, and $3 million for former child soldiers in Afghanistan.
WORLD
Vatican officials fear for future of Middle East
VATICAN CITY: In speeches, interviews and commentaries in mid-May, Vatican officials -- from Pope John Paul II down -- voiced apprehension about the fate of Israeli-Palestinian peace talks and the future of the region in the wake of the Iraqi war -- including the risk of increased terrorism from Muslim extremist groups.
In the Holy Land, church officials said, the U.S.-backed "road map" peace plan needs stronger international support if it is to overcome opposition by Israeli leaders and Palestinian militants. A series of attacks by Palestinian extremists was the latest threat to the road map plan, which envisages a series of parallel steps by Israeli and Palestinian officials, leading to the creation of a Palestinian state.
In meetings with Catholics from the Middle East and North Africa, the pope said it would take "fair and peaceful solutions" to bring harmony to the region. Vatican officials made clear that their opposition to the concept of "preventive war" had not changed, despite the relatively quick fall of Iraqi President Saddam Hussein's regime. They said unilateral action is not the way to stop terrorism and that the United Nations must be strengthened in the wake of the U.S.-led invasion of Iraq.
Genetically modified corn target of hunger strike
PHILIPPINES: Ten activists, including a Catholic priest, began a water-and-juice diet April 22 in a protest demanding a moratorium on the sale and propagation of genetically modified corn. They also urged a thorough investigation of the review and approval process for the seed.
During a meeting May 13 in Manila, presidential chief of staff Rigoberto Tiglao appealed to four strikers to end their fast as a gesture of "good faith" while the parties involved continue negotiations. The hunger strikers declined the appeal and continued the protest at their encampment outside the Department of Agriculture.
Bt corn has had the Bacillus thuringiensis (Bt) protein added to its genetic makeup to boost yield and pest resistance. A variety developed by the U.S.-based Monsanto Company is being used in the Philippines.
Monsanto Philippines began planting the corn in 2000 in a testing area 1,040 kilometers southeast of Manila in South Cotabato province. It is now also test planting in the northern Philippine provinces of Isabela and Pangasinan. While Bt corn has been shown to withstand the corn borer, critics warn that the pest will develop over time a resistance to the protein. Some also say Bt corn pollen could contaminate local varieties and lead to unexpected and irreversible mutations.
---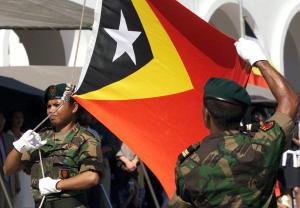 Marking independence
Soldiers raise the flag of East Timor during celebrations marking the first year of the nation's independence from Indonesia May 20 in the capital of Dili. President Xanana Gusmao delivered a sobering message to the tiny nation on the anniversary saying that East Timorese were enjoying freedom but not making good use of democracy. East Timor Bishop Basilio do Nascimento recently said in Washington that "democracy is a new concept to us. We have no idea of the duties of each other in this new society."
-- CNS/Reuters
---
Chinese nuns volunteer to care for SARS patients
CHINA: Some 30 nuns who serve as doctors and nurses in Hebei province, northern China, have signed up as voluntary health care workers for SARS patients. Meanwhile, other nuns in the province, which surrounds most of Beijing and has been hit by severe acute respiratory syndrome (SARS), have assisted the government in the fight against the disease by sewing protective gowns for medical use and in other ways.
Sr. Li Haiyan of Teresa Convent in Baoding diocese, a medical doctor said, "Though our numbers may be small, we are willing to help when the nation is going through a difficult time." She acknowledged that the infection rate among health care workers is high. "Of course we have fears, but we put our faith in God," she said.
Women religious without medical training also are helping. A dozen nuns of the Sisters of Help of All Souls in Cangzhou (Xianxian) diocese worked 14- to 15-hour days for a week sewing protective gowns at the request of local health authorities. The convent refused to charge for the work.
Papal response to European synod to be published in June
VATICAN CITY: In the midst of a debate over a new constitution for the European Union, Pope John Paul II will issue an apostolic exhortation on the Catholic church on the continent, the pope's response to the discussion and proposals raised by the 1999 Synod of Bishops for Europe. It is to be published June 28. A draft of the European constitution is expected to be released a few weeks before the papal document.
Pope John Paul, Catholic bishops across Europe and other Christian leaders have called on politicians to acknowledge Europe's Judeo-Christian roots in the preamble and to make provisions in the text for protecting the continent's Christian identity.
The 1999 European synod looked at the social and economic implications of the union process, but also at the growing number of non-Catholic immigrants to Europe, the decreasing number of priests and the falling rates of church attendance by Catholics. The bishops defended priestly celibacy, encouraged greater participation by women in the life of the church, and warned that the traditional models of the family and marriage were under attack on the continent.
Orthodox call Kazak dioceses 'blow' to Vatican relations
RUSSIA: The Russian Orthodox church said the Vatican's creation of an archdiocese in the former Soviet republic of Kazakstan was a "serious blow" to Catholic-Orthodox relations. "The Russian Orthodox church categorically rejects the decision to establish new Catholic dioceses in Kazakstan and considers this step to be another serious blow on the entire complex of Orthodox-Catholic relations," read a statement released May 19.
The 80-million-member Russian Orthodox church considers mostly Muslim Kazakstan part of its traditional territory. The wording of the Orthodox statement echoed Orthodox complaints last year, when the Vatican created four new dioceses for Russia. That administrative move by the Vatican severely strained Orthodox-Catholic relations and prompted the Russian government to expel five foreign clergy, including a bishop.
Also on May 19, the Russian Orthodox church released a separate statement on a potential papal visit to Russia this year. The Vatican had floated the idea of the pope going to Kazan, Russia, to return a Kazan Mother of God icon that currently hangs in his apartment. The Orthodox statement called the icon an "18th-century copy made by a provincial icon-painter" and said it was a poor excuse for a papal visit.
Briefs, gathered from news services, correspondents and staff, are compiled and edited by Dennis Coday.
National Catholic Reporter, May 30, 2003