Issue Date: May 30, 2003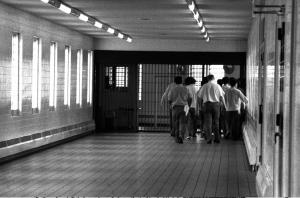 A group of inmates return to a cell block at the Southern Ohio Correctional Facility, also known as Lucasville Prison.
-- Zuma Press/Ken Stewart
Restorative justice: Mending the fabric of society
Advocates point to a better way to give victims a voice and prevent offenders' return to crime
Third in a series
By LILI LeGARDEUR
New Orleans
"The adversary system discourages defendants from being active and outspoken. It dissuades them from expressing remorse or meeting with the victim. Often it creates in the defendant the feeling that he/she is the real victim, which is altogether accurate in a minority of cases, but feeds into many offenders' tendency to deny the seriousness of the harm they've done their victims. Little wonder that many in both groups -- victims and offenders alike -- feel that the court process is not about them, but, rather, that it is run for the convenience and interests of lawyers and judges." -- Harmon L. Wray, Restorative Justice: Moving Beyond Punishment
If longer prison sentences, mandatory sentencing and truth in sentencing are all part of being tough on crime and getting justice for victims, it stands to reason that "alternative sentencing" programs like restorative justice are soft on crime and place victims' rights above those of the victims they've offended.
On the contrary, says Lou Furman, a specialist in restorative justice. The traditional, or "retributive," justice system, he says, revictimizes crime victims by taking away their voice and their wishes in framing redress to the crime. A lawyer may eventually ask questions of the victims, but their ability to speak is limited to answering the questions lawyers ask to prove or disprove a legal charge. At no point in the process, says Furman, does the retributive legal system ask the victim what he or she needs to restore the damage done.
Restorative justice, once an alternative concept, is becoming mainstream thanks to federal mandates. While advocates welcome the acceptance of this approach to justice, they also worry that inadequate programs are being put in place to fulfill government requirements.
"If anonymity is the strength of the system and the system's not working, there's a problem," says Furman. "We want the harm to be made right for the person who has received harm. We are not an advocate for the person who did the harm. We are an advocate for healing. We are about restoring relationships."
Furman and Jean Handley run New Orleans-based Turning Point Partners, a nonprofit organization devoted to community building, restorative justice and "resilience education, " a kind of training that promotes the ability to adapt to change. The group is one of approximately 1,400 known restorative justice initiatives across the country that are putting a different vision of justice into practice. Most of the programs, like Turning Point Partners, are operating in local juvenile justice systems, though some, like the state-supported restorative probation in Vermont, bring restorative justice practices to bear on adult corrections.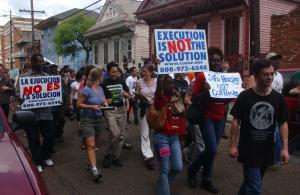 Many of the 2,000 participants in the Critical Resistance South conference, held in New Orleans April 4-6, took to the streets to call for prison reform, the end of the death penalty and a halt to the growing prison industrial complex. Above, participants march through New Orleans' historic Treme district, "second lining" behind a New Orleans jazz band that led the parade.
-- David Rae Morris
Furman and Handley spoke on the topic of restorative justice at a workshop at Critical Resistance South, a conference in New Orleans in early April to discuss the expanding prison industry. "What the restorative philosophy does is it enables a human being to take responsibility for what they've done," said Handley, "and it allows the victim to tell them, 'This is how your decision affected me.' "
The key tools of restorative justice are the victim-offender conference, which can involve support people for both the victim and the offender, and a mediated negotiation in which the offender proposes some type of repayment to the victim and to society. The result of both meetings is a contract that becomes part of the offender's sentence. In the case of a suspended sentence, breaking that contract can be grounds for sending the offender to jail.
"Ninety-two percent of restitution agreements [arrived at in victim-offender conferences] are fulfilled because the person who's trying to make things right [the offender] has a voice in the process," said Handley.
The origins of restorative justice can be variously traced to Anglo-Saxon tribal law, Native American practices, the customs of aboriginal New Zealanders, and the Bible. Whatever its origin, the premise of restorative justice is beautifully simple. If society is a fabric of relationships and interdependencies, an offense, in the restorative justice view, is an action that rends that fabric. The best way to repair such a rent is to bring all the parties with a stake in the offense -- including the victim -- together in a situation where everyone can be heard. The goal is to reintegrate the offender into society and allow him or her to repair the damage done. Instead of emphasizing punishment and labeling an offender as "bad" and an outcast, the approach gives priority to restoring the community and incorporating the offender back into it.
How it works
Handley and Furman showed a film in which Thomas Ann Hines confronts the man who murdered her 21-year-old son. The meeting took place in 1998 in the Texas penitentiary where the offender, Charles White, is serving a 40-year term for intentional murder. In a halting conversation, Hines tells White how the 1985 murder affected her. "If you knew how much I loved him I know you wouldn't have killed him," said Hines on tape, crying. White, who was 17 at the time of the murder, hesitates, looks away, tries to recount the events of the night or the murder, and finally cries too. Whatever Paul Hines was to White on the night of the killing, by the end of the interview he seems to have become palpable to White; no longer was Paul Hines just a faceless victim, but a human being, whose life White now realized he had stolen. It's hard not to credit the pain and regret in White's face as genuine. "He didn't hate Paul. He didn't hate me," said Hines in the tape's closing segment. "He was just walking around with a loaded gun."
Victim-offender mediation reduces recidivism by 33 percent, said Handley. It also saves countless dollars. The average mediation costs a few hundred dollars, as compared to the thousands of dollars required to house, feed, clothe and guard an inmate. Most important, it restores an individual to society, while numerous studies have shown that incarceration "prisonizes" offenders by indoctrinating them into a dog-eat-dog society whose rules are at odds with those of the outside world. The findings of research conducted by sociologist Donald Clemmer in the 1940s on the effects of prisonization still apply. "Once prisoners are assimilated this way ... they are completely immune to all reform efforts, and worse, many will actually begin to exhibit additional criminal behaviors," wrote author Joel Dyer in The Perpetual Prisoner Machine, published in 2000.
Turning Point Partners has forged a relationship with Orleans Parish Juvenile Judge Mark Doherty, who allows them to attend his courtroom and approach offenders who seem to be good candidates for restorative justice. The first thing, said Furman, is to find out if an offender is taking responsibility for his or her action. "Did you do it?" asks Furman. "If yes, that is our bottom line criteria. If they take responsibility, it's 90 percent likely we'll go to the public defender and ask if we can take over the case."
An admission of guilt guarantees that the victim won't be revictimized by sitting through the offender's denials. It also lays the groundwork for the legal proceeding, since the defendant then pleads guilty to the judge and submits to the terms of the contract to be worked out with Turning Point Partners as a condition of probation.
The next step, said Furman, is to get in touch with the victim to offer the option of being a part of the proceedings. "We explain that our intent is for them to have a voice in the process," said Furman. "When you think about it, if someone has, say, come into your house and robbed you, that's such a threatening experience that they need healing -- and they're not going to get it through traditional punishment [of the offender]," he said. "If the person who was harmed can understand why this happened to them, it's no longer a frightening thing."
An intervention-style encounter
The team that ultimately assembles may or may not include the victim. It does, however, include everyone in the juvenile's immediate community who was directly affected by the offense. The group may include parents, teachers, clergy, far-flung uncles or godparents -- everyone who feels they have a role in the young person's development. Everyone in the room takes a turn to say how the offense has hurt them. It's important at that point, said Furman, that everyone tell the young person how the action made them feel, as opposed to telling the offender what to do. It's also essential that each speak directly to the offender.
The next step is to shift the tone by asking each person present to describe something that the young offender does very well. Often this step takes the young person by surprise. Finally, the group pieces together a plan of action that will allow the youth to make reparations, which may include money, work or some specific service. The youth offers his or her ideas first and retains veto power over the suggestions of others. The last part is key, said Furman. Often the young person is harder on himself than others are willing to be, but it's important that the young person retain a sense of control over the process.
"We believe it is the community and the family and the youth who best know how this particular youth can develop his or her potential, and that if they were to develop a plan of action for that youth that it would be the best plan of action. The youth is part of this, and that's what makes it work," said Furman.
With their potential for saving taxpayer dollars and their emphasis on rescuing young people who might otherwise be lost to "prisonization," restorative justice programs have become very popular. The U.S. Department of Justice now requires every juvenile program it funds to have a restorative justice component, a requirement that has given the term terrific buzz in justice circles. But practitioners like Furman and Handley worry that such a push might cause too many people to adopt programs that are poorly thought out and label them "restorative" in an effort to fall in step with the trend. "Then in five years they can say, 'Ah, restorative justice! We tried that. It doesn't work,' " said Handley.
"Already people are calling restorative justice all kinds of things that aren't restorative justice," said Harmon Wray, who ran the restorative justice office of the United Methodist church until earlier this year and also designed a comprehensive guide to restorative justice practices. "Churches do it, agencies do it, governments do it. It's a hot term that sells."
At the same time, restorative justice programs -- with their potential to cut both prison costs and recidivism -- are currently falling prey to budget cuts. Wray's position at the United Methodist church was cut and responsibilities for restorative justice initiatives folded into the existing Office of Human Rights. Minnesota, whose state-supported restorative justice training initiative was regarded as a national model, has scaled back from three staff members to one, though Minnesota's commissioner of corrections, Joan Fabian, has stated that she remains committed to restorative justice efforts.
Kay Pranis, who worked as a trainer with Minnesota's program for nine years, thinks that the move toward restorative justice is so basic and widespread that it will survive program and budget cuts. "Restorative justice work in general is so grassroots that it's hard to keep track of what's really going on," said Pranis. The most progressive statewide movements, said Pranis, are in Vermont, Pennsylvania, Illinois and Ohio -- states far from the geographic and punitive culture of the 12 Southern states chosen as a regional focus for Critical Resistance South.
"One of the things that's very interesting about this movement," Pranis continued, "is that there's no central leadership, no central coordinating place or force, but at the same time its a very coherent movement. I think what that means is we've hit on something very universal."
Lili LeGardeur writes from New Orleans.
Citizens United for Rehabilitation of Errants
www.curenational.org/new

Critical Resistance
www.criticalresistance.org

Not With Our Money
www.notwithourmoney.org

Public Safety & Justice Campaign
www.stoppriveteprisons.org

Restorative Justice Online
www.restorativejustice.org

Turning Point Partners
www.turningpointpartners.com
National Catholic Reporter, May 30, 2003