Issue Date: May 30, 2003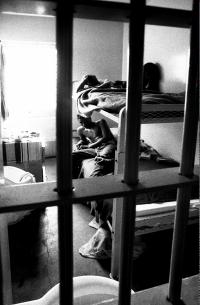 Two unidentified prisoners share a small cell in Ohio's Lucasville prison.
-- Zuma Press/Ken Stewart
Shifting the dialogue to create a safe, close-knit society
Rose Braz, executive director of the Critical Resistance national office in Oakland Calif., doesn't envision shutting down the U.S. prison system tomorrow. She does envision a reallocation of resources, however, to create a society where prisons won't be necessary.
"We're trying to eliminate the need for prisons by looking at alternative means of creating public safety," said Braz. "What we need is the political will to invest in front-end solutions rather than back-end solutions."
Braz said the United States needs to invest in education, health care, quality housing, child care and supportive services such as job training and mental health services instead of investing in prisons. "We have a vision of society that arrests the root causes of what we call crime."
Melissa Burch, conference coordinator Critical Resistance South, agrees. "The obvious things are to redirect resources and political will into providing things that people need instead of spending money on constructing more prisons and the military," says Burch. "We should spend it on education, on providing affordable housing and on creating strong local economies."
Burch believes that the United States also needs to take a good hard look at all the people currently in prison. At least half of them, she thinks, should probably be let out today. "So many people are behind bars for ridiculous things, like drug abuse, violating parole," she said. "I think the vast majority of people in prison right now pose absolutely no risk to society, and they don't have needs that couldn't be met by society right now."
The key for both women is to shift the dialogue from putting away criminals to creating a safe, close-knit society.
"The prison industrial complex is a manifestation of underlying assumptions in our culture that show up in schools and institutions," says Kay Pranis, formerly Restorative Justice trainer for the state of Minnesota. "We have to come to a new understanding of how we deal with mistakes and transgressions. In our program, we always saw restorative justice as more than just how you stopped crime."
-- Lili LeGardeur
National Catholic Reporter, May 30, 2003