Issue Date: May 30, 2003
Milwaukee archdiocesan newspaper faces shaky future
Church watchers playing connect the dots with recent events swirling around the Milwaukee archdiocese's newspaper are drawing different pictures, many of them pointing to a dire end for the newspaper. The events illustrate both the tenuous nature of diocesan newspapers and the kinds of boundaries a new bishop can draw around coverage of events in the local church.
Whatever the final picture, there are ample dots:
Rumors circulated, fueled by the archbishop's words, that the Catholic Herald was targeted for closure.
A tempest broke out in the newsroom in the wake of coverage in the April 3 issue of a World Day of Prayer for Women's Ordination service at a local parish.
An editorial in the next issue reaffirmed church teaching on ordination, along with a letter of apology from the pastor of the parish where the event took place.
The associate publisher/executive editor announced her resignation effective May 1.
On May 2 the diocese appointed a local priest with thin journalism credentials to head the newspaper.
On May 8 Archbishop Timothy M. Dolan wrote a column underlining his "commitment to communications" at the same time stating, "I would sure hate to see ours [the Catholic Herald] go, but have to be realistic about the challenges we face."
In his "Herald of Hope" column, Dolan said he had appointed Fr. Thomas Brundage to the newspaper's top position on an interim basis because he felt it wrong to "embark on a search for a full-time new executive editor, for I could not promise he/she would have a paper to put out in the future."
The archbishop's comments on the tenuous future of the 134-year-old publishing venture drew mixed reactions from staff members and the Milwaukee community.
"While understanding we're in a precarious position, the staff morale is definitely improved because we now know where we stand," said Sam Lucero, associate managing editor. "I think the staff was a little taken aback by Archbishop Dolan's remarks about the newspaper's shaky future, which he described at a meeting with us on May 2.
"It was the first time anyone had been so candid with us," Lucero said. "While it was bad news, it was refreshing being told where things stand. Under earlier direction, the staff was left to speculate on the paper's future."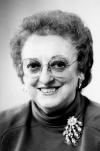 Ethel Gintoft
"Under earlier direction" would include the two-year term of Laurel Nelson-Rowe, who in April 2001 succeeded long-time Herald leader Ethel Gintoft as associate publisher and executive editor of the newspaper and its parent organization, the Milwaukee Catholic Press Apostolate, Inc.
Nelson-Rowe's resignation and the flap about the March 25 women's ordination prayer service are connected only by the calendar and not by circumstances, according to both Nelson-Rowe and archdiocesan officials.
It is well known that Nelson-Rowe and managing editor Maryangela Layman Roman were summoned to Dolan's office to discuss the story after it appeared. Roman had written the article.
"My resignation is not related to any changes that the archbishop initiated," said Nelson-Rowe. "It was a case where an opportunity came to me, locally, and it was something I could not pass up."
With most of her career in corporate communications, Nelson-Rowe became managing director at the Milwaukee-based American Society for Quality, a trade organization for quality improvement, on May 5.
Nelson-Rowe, who worked as a reporter at Catholic New York for a brief time in its earliest days, defended the Herald's decision to cover the women's ordination prayer service. "We covered it because it was an important development and something held within one of our own parish churches."
St. Matthias was one of the few Catholic parishes in the United States to host an event for the seventh annual World Day of Prayer for Women's Ordination.
During their meeting, Nelson-Rowe said, the archbishop "made it clear that we need to be clear" that women's ordination is not a negotiable teaching. The April 10 editorial written by Roman did. It also said, "The Herald regrets any misperceptions or erroneous conclusions drawn from inclusion of this story."
Adjacent to the editorial was the text of a letter from St. Matthias pastor, Fr. David Cooper. In it he apologized to the archbishop for causing him embarrassment, said the archbishop had been "very wise and compassionate" in their conversations, described the "definitive assent" Catholics must give to ordination being reserved for men, and pledged "not to engage in such activities in the future."
In the April 3 story, Cooper is reported as saying he consulted widely with parish staff and parishioners before giving the event a go-ahead. It also quotes the priest as stating, "St. Matthias was only a host for the prayer service. The parish has no official or unofficial position on the question of the ordination of women."
Quoting diocesan spokesperson Jerry Topczewski, the story reports the archbishop was "surprised an organization that was in direct opposition to defined teachings of the church would be welcome at one of our parishes."

Archbishop Timothy Dolan
As a reader, Gintoft said she "thought the story was done well and was nicely sensitive to Archbishop Dolan. I think the readers need to know what is going on." As an editor, she said she would have covered the event, but "I probably would not have put it on the front page."
Roman said the editorial was "recommended" and then reviewed prior to publication by Dolan.
Dolan succeeded now-retired Archbishop Rembert Weakland last summer.
The appointment of a cleric for the first time in more than two decades to head the paper coupled with the "corrective" editorial and letter of apology have raised eyebrows.
According to Gintoft, Weakland did not take part in news decisions, even though he would send along feedback. "He never asked to see copy prior to publication nor did he ask for apology," Gintoft said, adding, "I recall once when he did not like what was printed and he wrote a letter to the editor about it, signed 'Archbishop Rembert Weakland.' We ran it in the Mailbag column."

Still, she lauded Brundage's appointment. "I'm afraid too much negative is being read into Archbishop Dolan's action or non-action regarding the Catholic Herald. To his credit … he has consulted widely and he has not made impulsive decisions. He has taken a wait-and-see or let-me-think-about-it attitude despite pressure from some diocesan officials to take control of the newspaper's content or to dissolve the paper."
Herald staffers seem buoyed by Brundage's arrival. "I can honestly say I have a renewed sense of enthusiasm," Roman said. "There is an honesty now we did not have in the past. … And in no sense do I feel we are being watched over our shoulders" by Brundage as a proxy for the archbishop, she said.
-- Dan Morris-Young
National Catholic Reporter, May 30, 2003