Issue Date: July 4, 2003
JESUS IN THE NEW UNIVERSE STORY
By Cletus Wessels
Orbis Books, 240 pages, $25
Book merges faith in Jesus, reality of new universe
Reviewed by MICHAEL MORWOOD
The real importance of Jesus in the New Universe Story is not just that it will be informative and nourishing for its readers. Its real importance is the challenge to how we theologize about Jesus. Dominican Fr. Cletus Wessels rightly points out that the church has never defined its understanding of salvation, yet we all know from official documentation issued in the past 20 years just what the magisterium thinks is the only correct understanding and where it is prepared to draw the line for anyone daring to step outside the parameters of its thinking. Dominus Iesus, following the understanding of "salvation" enshrined in the Catechism of the Catholic Church, totally disregarded data that any educated person would have today about how life developed on this planet and issued severe warning that its understanding of salvation "must be believed and taught."
The magisterium has effectively decreed: You may have a new universe story but we have a packaged, "orthodox" understanding of Jesus' role; we will not consider your data, nor will we allow you to discuss publicly how that data impinges on Catholics' understanding of Jesus; your task is to bring our understanding of salvation to your data and to preserve this understanding in whatever you present.
The time has come -- and we all know it -- to change the approach. We have to make our faith statements about Jesus compatible with what we know about reality. We have to break the hold that restraint and censorship born of fear and intellectual dishonesty have on our theologians. We have to do what the church community has been prepared to do in the past: bring the story of Jesus to this age, in the thought patterns and accepted view of reality this age has.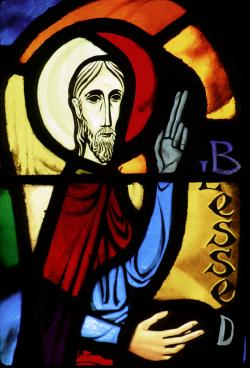 A church window depicts Jesus giving his Sermon on the Mount.
-- CNS/Crosiers
Jesus in the New Universe Story is a fine, respectful example of how we can and should do this. Wessels takes the open and honest approach: Here is pertinent data from the new universe story; here is how we can bring our understanding of Jesus to it. The tone of the book is calm, measured and engaging. He writes that he hopes "the believing community will surround my ideas, examine them openly and honestly, and if they are compatible, embrace them. If they are found to be incompatible, the community will reject them." The style is non-academic: "I am much more a teacher, a preacher and a seeker of wisdom … who tries to stimulate people by presenting ideas that are soundly based." The content is excellent with very good use of quotations from many sources. I particularly appreciated the first section on "The Human Story in Three Stages." The chapter on "The Emerging Universe" gives a good summary of the context in which we are being challenged to theologize today. The central ideas of revelation, salvation and resurrection are then outlined in the context of an emerging universe and will have readers, pencil in hand jotting notes: "Yes, but … Yes, Yes, Yes! … Yes, and …" And some question marks as well. Doesn't that sound like the sort of book you'd like to read and discuss?
Does the human race need a savior? Yes, no and yes is Wessels' response. Yes, because God is always present in an emerging universe and we need to engage this presence in the tasks of restoration, healing, connectedness, transformation and renewal -- individually and collectively -- if the reign of God is to be more evident than it is in our world. No, we do not need someone to come from another place to repair the faults from a supposed "original sin" and a fallen nature resulting from that sin. And yes, we do need Jesus as savior because he reveals who we really are, sets us free and calls us to conversion.
The book concludes with "The Journey to a High Christology," a valuable chapter for further discussion on conclusions drawn from an old and a new story. We have much to discuss in this time of transition between stories, and this book will help the discussion considerably.
Michael Morwood is a former priest who lives in Australia. He is the author of Is Jesus God?
National Catholic Reporter, July 4, 2003