Issue Date: July 4, 2003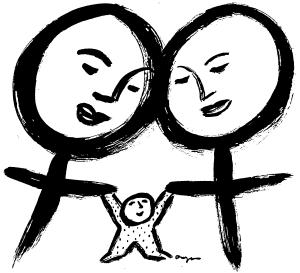 Role model mom isn't picture perfect
By KRIS BERGGREN
This is the story of a nice, middle-aged mom who teaches Sunday school. Okay, it's a little more complex than that. This is the story of a nice, lesbian, middle-aged mom who works as elementary faith formation director at St. Joan of Arc Parish in Minneapolis.
Still not quite right.
This is the story of how Kathy Itzin, a 14-year staff member at St. Joan of Arc, almost received an "Excellence in Catechesis" award from the St. Paul-Minneapolis archdiocese until someone pointed out the nature of her family life -- she lives with her partner and their four children -- to Archbishop Harry Flynn, who subsequently withdrew the award. Flynn was notified on Sunday, May 18; on Monday, May 19, Itzin got a call rescinding the award, which was to have been presented at a dinner on May 21. (It is remarkable how a chancery can hustle when somebody lights a fire under a bishop's nose -- especially a bishop who is on everybody's short list for heading up the political hotbed in Boston.)
Sorry, where was I?
No, I still haven't got it right. Okay, here goes. This is the story of the Catholic church looking at itself in the mirror, and being very, very uncomfortable with the image that is reflected. This is a church whose gay and lesbian presence is finally being revealed, like the wrinkles and distinguished gray of middle age that add character and convey a depth of experience that the unlined face of youth -- as beautiful as it seems -- doesn't possess. I urge you to think for a moment about the gay or lesbian pastoral ministers, priests, vowed religious and fellow parishioners you know, and contemplate their contributions to our Catholic life, liturgy and identity. Think you don't know any? I own a lapel button that reads: "Someone you care about is lesbian or gay." I know that holds true for you too.
The group that prompted Flynn's rapid response on the Itzin matter is called Catholic Parents OnLine. These self-appointed watchdogs claim to represent the interests of contemporary Catholic parents and say they are ensuring "the authentic teaching and protection of our Catholic Faith," according to its mission statement. Its president, Colleen Perfect, sounds like a pleasant, reasonable woman on the phone, although, come to think of it, she evaded my question about how many -- or how few -- members her group has.
Perfect must have some kind of interesting lighting at her house, because her mirror reflects only what she wants to see. And she doesn't want to see gay or lesbian people in church, except those who choose a life of celibacy. Last month Catholic Parents OnLine also contacted the archbishop regarding a gay activist scheduled to speak at St. Joan's, resulting in pressure on the pastor to nix the speaker, which he did. The group keeps a hit list -- of course they don't call it that -- of Twin Cities parishes, including my own, that welcome gay and lesbian members and their families.
Now, I could be wrong, but I don't think the Perfect cohort is about to stick their necks out to encourage their fellow Catholic parents to toe the doctrinal line in other areas such as opposition to capital punishment or Bush's backsliding environmental policies, or to rally for a just wage for workers or better prison conditions. It seems they only want to point fingers at a family like Itzin's -- a family that looks like mine in every way but one.
"Don't misconstrue my meaning," urged Perfect in a telephone interview. "It's not about Kathy, but about following church teachings and being a role model for children."
What does being a role model for children look like? Might it include adopting children, including a hard-to-place teenager and a child with special needs? How about welcoming seven foster children into one's home? Perhaps volunteering at your child's school library or taking your daughter to Special Olympics competitions or volunteering at a homeless shelter? Serving the parish community with innovative programs such as a family camp, adoption ministry and religious education classes for children with special needs? If so, Itzin fits the bill.
Itzin has lived a life of faithfulness to the paramount Catholic values of justice and charity. She earned two degrees, including a master's in pastoral ministry, from Catholic colleges. She is described as "compassionate," "collaborative," a woman with "a great sense of humor" and "great energy and fun" in a May 15 article in The Catholic Spirit, the archdiocesan newspaper. Those sound like pretty good qualities for a pastoral minister of any kind, and certainly for someone working with children. She described her Catholic roots to me: "I grew up with Bishop Paul Anderson in Duluth as a neighbor. He is one of the great mentors of my life. I had several Franciscan sisters as mentors whom I deeply loved and respected."
Itzin has ironically experienced the rewards of being "un-awarded." Dozens of parishioners, priests, other diocesan colleagues and strangers alike have contacted her in support. A 1998 winner of the Excellence in Catechesis award has returned her plaque to the archbishop in protest. "I am returning it," Richelle Pearl-Koller wrote to Flynn, "because I do not want to be affiliated with any award that is linked to practices of unfairness and discrimination. I find your action scandalous, discriminatory and contrary to the values of Jesus and the gospel."
I know as well as anybody that the church is not a democracy -- but neither is it a police state. The bottom line for Catholics, as we all may rest assured, is the primacy of human conscience. There, in that interstitial space where faith and knowledge meet, wisdom is informed by both ancient and traditional gospel values and new advances in human understanding and knowledge. Each one of our consciences ideally mirrors the Holy Spirit alive in communities of faith and family. She lies in patient wait to lead us toward a vision of truth -- absolute, sure enough, but never static.
When Kathy Itzin looks in the mirror, her conscience confirms that she belongs where she is, despite the shadowy discomfort of Perfect and others. "I think it's really important for someone to follow God where they're called," said Itzin. "And you know this by where you are nurtured, challenged and growing spiritually. For me that is the Catholic church."
Kris Berggren lives in Minneapolis.
National Catholic Reporter, July 4, 2003