National Catholic Reporter
Subscribers only section
July 4, 2003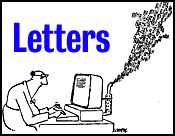 Feminine images of God
Jeanette Cooperman, in her May 30 article, wrote of how difficult it is to imagine a truly feminine image of God because the existing metaphors for female identity all derive from male metaphors. She concluded that new metaphors from women's experience could give us a way to see God as internal rather than as the singular, celibate and perfect model God external to the world he created.
Present metaphors of male/female complementarity are based on the physical complementarity implied in the Genesis creation narrative commanding procreation -- a complementarity we have in common with other species. Yet the research of renowned neuroscientist Antonio Damasio has revealed the importance of emotions in our rational behavior and the role of feelings in explaining the basis for the self. If our self-identity depends on internal feelings and emotions, then masculine and feminine identities also depend on differences in emotions and feelings. Further research can, in time, reveal the whole continuum of humankind's emotional makeup and give us a scientific understanding of these differences.
Using the first Genesis creation account to define male and female ignores the second Genesis creation narrative that reveals the creation of the uniquely human psychosocial relationship of mutual supportiveness. This narrative describes God's response when he recognized the essential aloneness of humans -- an emotional, not a physical state. Realizing that no other creature could fill this emotional void, God divided humankind into two emotional entities, each with its own strengths, weaknesses and needs -- entities that fulfill each other by responding to the weaknesses and needs of others. Entities that when bonded together through committed loving restore the wholeness of human nature -- a wholeness that images God.
MARILYN M. KRAMER
Wausau, Wis.
* * *
In the quest for fresh metaphors for the divine, I wish Cheryl Lawler had gone beyond the built-in traps of unitary monotheism and explored possible images suggested by the Christian believe in triune monotheism.
Trinity gives birth to relatedness, mutual love and community within the mystical body of Christ, and its Spirit moves us to act on behalf of freedom and justice, the environment, and the marginalized.
GREG GUITERAS
Brooklyn, N.Y.
* * *
Ms. Lawler says that there are no feminine images of God. I must disagree with her. The Book of Wisdom, also known as the Wisdom of Solomon, is quite generous in using "she" as the identifying pronoun for Wisdom. Wisdom is considered to be the personification of the Holy Spirit. Wisdom translated from the Greek (I believe) is Sophia, a definitely female name. Wisdom 6:12-13: "Resplendent and unfading is Wisdom, and she is readily perceived by those who love her, and found by those who seek her. She hastens to make herself known in anticipation of men's desire."
Also, Ms. Lawler is incorrect to say that the Magdalene was a prostitute. She is not identified in scripture as a prostitute but as a woman who was cured of seven demons. However, the church has allowed the prostitute story to be the predominant myth of the Magdalene. Assuming that is the true story, since it is popular legend, is an easy mistake to make.
Many female images can be extracted from the Book of Wisdom as well as several other books. Joyce Rupp has done exhaustive study of the Book of Wisdom and female imagery. Her best work is The Star in My Heart: Experiencing Sophia, Inner Wisdom. Also, Joan Chittister has written profoundly on the feminine in our religious consciousness. In Search of Belief has excellent explanations of where the feminine images of God are implied and should be applied in our thought.
I admit that public knowledge of the feminine God is almost invisible, but there is a great body of knowledge available for anyone interested in delving more completely into their faith. If we are to wait for the ordained to make those images more public, we will wait in vain. So the only way for us to learn about this feminine God is to educate ourselves about her existence. To say that this information is nonexistent is a disservice to the faithful.
DANA HLUSKO
Virginia Beach, Va.
I am among those to be included on Dan Morris-Young's (NCR, May 30) list of those who would advocate that diocesan press outlets cease being referred to as newspapers. Our own Boston The Pilot fails miserably to provide transparent and open reporting on issues related to the ongoing scandal stemming from the sexual abuse perpetrated by of some of our priests. Efforts by this writer and others since January 2002 to have the archdiocesan paper report accurately the counsel that some of us priests were offering to our cardinal archbishop have fallen on deaf ears.
The editor has not utilized his prized position to obtain direct and clear responses from Cardinal Law about his actions prior to and following The Boston Globe's exposures. The paper continues to take the personal source of a syndicated columnist as sufficient evidence that Cardinal Law submitted his resignation in April 2002, something which the then-archbishop flatly denied to a group of priests meeting with him last fall. It is unfortunate for the whole Catholic press that folks at the The Pilot fail to step up to the plate and provide journalism marked by integrity and accuracy. The editor and staff appear satisfied to be merely mascots for a failing team rather than the heavy hitters they could be.
(Fr.) ROBERT E. NEE
Boston
* * *
I read both "Catholic press strikes a precarious balance" in the May 30 issue of NCR and "Catholics in public life" in the May 23 issue with mixed feelings. Both articles fail to reflect the prophetic role Catholic Americans should be playing in our national politics. In both cases, I found it disappointing in that "the sign of the times" is not being recognized. Our Catholic politicians and diocesan newspapers should be aggressively challenging the insidious evil of our times, the neoconservative ideologues in Washington.
Neoconservative thought is devastating to our national and religious values and it is as evil and destructive to human life as abortion. However, as Catholics, we must learn to better appreciate how the single issue aspect of abortion in politics clouds our recognition of the distinct evil of economic neoconservatism. Diocesan newspapers have failed miserably in articulating this conflicting issue. The neoconservative movement in Washington has used the abortion issue quite effectively to win the support of the faithful. As Catholic Americans coming from a strong labor and social justice tradition, we have been sucker-punched by the conservative right.
STEPHEN V. RILEY
Sarasota, Fla.
* * *
As one of the handful of clerics editing a diocesan publication, I was surprised that none of us appeared to have been interviewed or our ideas solicited for Dan Morris-Young's article. I hope that no self-censoring was going on when he decided who to interview, or when the story was edited.
While it may have been true a generation ago that priests were appointed to serve as editors with no background in journalism, those of us serving today are, for the most part, professional journalists, well-qualified for our positions. Priests and deacons must compete for these jobs just as their lay colleagues do. We serve in the Catholic press because we want to, not just because we have been assigned to the task
Had Mr. Morris-Young contacted some of us, he may have been informed of an interesting problem, encountered only by clerics who serve as editors: how to balance your obligations as a professional journalist, with a promise of obedience to your publisher!
(Msgr.) TIMOTHY P. STEIN
Hollidaysburg, Pa.
Stein is editor of The Catholic Register in the diocese of Altoona-Johnstown.
---
I applaud Kris Berggren's honesty -- she is one of the few anti-Second Amendment folks who admit that this section of the Bill of Rights "preserves the individual's right to keep and bear arms" (NCR, June 6). The Constitution also provides the way -- in Article V -- that she can legitimately have this section amended rather than the course many anti-gunners take of trying to have a judge rule that people in the Second Amendment means government. The National Guard and the Army Reserves are not the "militia" referred to in the amendment. Before Ms. Berggren does proceed to have the amendment abolished, she may find interesting Professor John Lott's book, More Guns, Less Crime, and Richard Poe's The Seven Myths of Gun Control.
GUY McCLUNG
Spring, Texas
---
Thanks for the article in the issue of May 30, "The American-Vatican divide." It's high time U.S. Catholics realize their dichotomy. Yes, Cardinal Francis George hit the nail on the head when he declares that U.S. citizens are "culturally Calvinist, even those who profess the Catholic faith." G.K. Chesterton noted that the United States is "a Protestant country. Even the Catholics are Protestants."
Calvinism encourages private interpretations of God and scriptures, predestination up or down, faith over works, "Are you saved?" over "Do you keep the Golden Rule?" Evangelicals (with George Bush among them) are not concerned with philosophy but with the literal Bible.
Americans love dichotomies instead of Catholic complementarities, individualism instead of inter-relational communion.
JACK HOLTERMAN
West Glacier, Mont.
* * *
John Allen's analysis of "The American-Vatican divide" is interesting. The Vatican, he observes, sees this divide as a reflection of the differences between its Catholic outlook and America's so-called Calvinist perspective. The latter is seen as evident in the harsh and unforgiving attitude of the American public toward abusive priests as well as in the Iraqi war waged by the United States to combat "the forces of evil" as well as to exploit Iraqi oil.
Coincidentally, the May 30 NCR commented on the strong legal and popular reaction in Ireland to abusive priests. Ireland is hardly an "unforgiving" Calvinist bastion. Perhaps, the divide on this particular issue has to do with secrecy in a closed system as opposed to public accountability in an open one.
Also, by accusing the United States of being driven more by oil interests than by good intentions (whether well-founded or not) of a geopolitical nature only gives support to those who suspect Vatican policies are principally driven by the will-to-power than by the common good. Ascribing ulterior motives to those with whom one disagrees closes off communication and removes any real dialogue on the issues at hand.
The New Republic's senior editor John Judis provides a sounder basis for mutual understanding and discussion in the June issue of The American Prospect. He sees the divide not as between opposing Catholic (good) and Calvinistic (bad) views of sin and forgiveness, but as different moral philosophies at work among those across many religious and national stripes. In his view, the Bush administration is more utilitarian than it is Kantian. Rather than subscribing to universal standards of war, he writes, the president's team sees the great usefulness of a saner, more democratic and modernized Iraq for the Middle East and, eventually, for the world.
Although one may dispute Judis's belief that the U.S. victory in Iraq will ultimately undermine universal principles that protect the world's nations and lead to a worst fate than autocracy in the Middle East, his distinction between a universalistic ethics and a utilitarian one contributes more to the public discussion than does a pseudo-dichotomy between the Vatican's Catholicism and America's imagined Calvinism.
JAMES GAUGHAN
Bloomington, Minn.
---
Letters to the editor should be limited to 250 words and preferably typed. If a letter refers to a previous issue of NCR, please give us that issue's date. We reserve the right to edit all letters. Letters, National Catholic Reporter, P.O. Box 419281, Kansas City, MO 64141. Fax: (816) 968-2280. E-mail: letters@natcath.org Please be sure to include your street address, city, state, zip and daytime telephone number.
National Catholic Reporter, July 4, 2003