Issue Date: July 18, 2003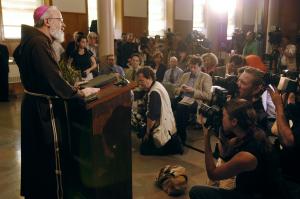 Bishop Sean Patrick O'Malley speaks to the media in Boston July 1 following the announcement of his appointment to head the Boston archdiocese.
-- CNS/Reuters
Analysis: Another fixer-upper for O'Malley
Franciscan bishop's appointment to Boston seen as a welcome surprise
By JOE FEUERHERD
Washington
Boston Archbishop-elect Sean O'Malley need not look beyond the tradition of his Franciscan religious order for a job description: "Go rebuild my church which, as you can see, is falling to ruin."
Francis of Assisi, it is said, received that mandate from the crucifix above him as he prayed in the Chapel of San Damiano early in the 13th century.
Nearly 800 years later, O'Malley's task appears no less daunting than that of Francis himself. He inherits a 2 million-member archdiocese fairly described as approaching ruin: Mass attendance at record lows, lay activists clamoring for a greater role in church affairs, contributions plummeting, a clergy unafraid to publicly question its leaders, and, not least, more than 500 pending sexual abuse claims against the archdiocese.
Since the December 2002 resignation of Cardinal Bernard Law, Boston Catholics viewed the selection of a new archbishop as a critical moment in the crisis facing their church. Still, in the six months leading up to O'Malley's selection, there was more fear than hope concerning the impending appointment. Few -- liberals or conservatives, traditionalists or modernizers -- believed the Vatican would, or could, name an archbishop in whom Bostonians could place their trust.
"No one sees a way out," lamented Fr. Walter Cuenin, pastor of Our Lady Help of Christians Parish in Newton, in early June.
And then, on July 1, came the O'Malley appointment. On several levels, not least that the 59-year-old O'Malley had been brought in to reform the scandal-plagued Palm Beach, Fla., diocese less than nine months earlier, the appointment was a surprise -- but by nearly all indications a welcome one.
Known for his capable handling of sex abuse scandals when he served as bishop of neighboring Fall River, Mass., from 1992-2002, O'Malley had instant credibility.
"It appears that they perceived the big need here to be someone who could come in and heal the situation and settle the cases -- someone who has a track record that people could have confidence in, and it sure looks like he has that," said Kennedy School of Government professor Mary Jo Bane, a frequent critic of the Boston hierarchy in the 19 months since the scandals became unrelenting front-page news.
O'Malley's commitment to Capuchin Franciscan ideals (the Capuchins, a branch of the Franciscans, were founded as a reform movement within the order in 1526) was well received in an archdiocese accustomed to imperious leadership.
As bishop of Palm Beach, O'Malley declined to move into the bishop's residence, living instead in a modest house in Palm Beach Gardens. Would the new archbishop, the media inquired at a July 1 news conference, live in the cardinal's Commonwealth Avenue mansion?
O'Malley's reluctance to be associated with the archdiocese's most visible symbol of hierarchical remoteness was unmistakable. "Obviously, as a Franciscan brother, I prefer to have the simplest quarters." O'Malley's garb -- he favors the traditional brown Capuchin habit and sandals -- provided yet another indication that the city was getting a different kind of archbishop.
Boston Catholics and those outside the archdiocese who view it as a bellwether welcomed the appointment.
"He seems to have a deep spiritual rooting, a centering, even though the task is daunting and his selection as archbishop was not expected," said Fr. Robert Bullock, pastor of Our Lady of Sorrows in Sharon, Mass., and a leader in the controversial Boston Priests Forum. Bullock was among the 57 priests who publicly called for Law to resign last year.
"O'Malley is a true Capuchin, a man of evangelical fervor, simplicity and deep prayer," said Milwaukee Archbishop Timothy Dolan, in an interview with NCR during a recent visit to Rome. (For the full account of the interview, see John L. Allen's Word from Rome column on NCRonline.org)
"To the degree that those who are eager to denigrate the church find it useful to depict prelates as spoiled princes living off the fat of the land … then obviously there's nothing more 'in your face' than the whole Capuchin tradition," Fr. Richard John Neuhaus, editor of First Things, told NCR.
"Today … is a day of hope for healing and unity for our troubled archdiocese and for the American Catholic church," said Steve Krueger, executive director of Voice of the Faithful, the organization that has called for greater accountability from church leaders.
One discordant note was sounded by some abuse victims (including those who say O'Malley's record in Fall River was less than stellar), though even that aggrieved community appears prepared to give O'Malley a chance. "Given the short list, I'm optimistic about this choice," said Bill Gately, New England co-coordinator for Survivors of those Abused by Priests, SNAP.
Following his news conference, O'Malley met with clerical abuse victims. "This was not Bernie Law, a big, egotistical guy, trying to con his way through it," abuse victim Thomas Fulchino told The Boston Globe.
Though central casting would have been hard-pressed to match the moment with the man any better, O'Malley, say those who know him, is the real thing.
In Washington, D.C., where O'Malley attended the Capuchin college in the mid-1960s, the Lakewood, Ohio, native is recalled both for his humility and his activism. Following his 1970 ordination, the polylingual O'Malley received a master's degree in religious education and doctorates in Spanish and Portuguese literature from Catholic University, where he also taught.
As director of the Washington archdiocese's Spanish Catholic Center from 1973-78, the low-key "Father Sean" was not afraid to take on powerful interests.
As the capital's Hispanic population ballooned, so did the programs of the Catholic Center: legal advice, English-as-a-second-language and high school equivalency classes, medical and dental clinics, and employment referrals. O'Malley organized ill-treated domestic workers -- the women who cleaned the homes of the city's rich and famous.
"To show his solidarity" with the largely Hispanic inhabitants of the dilapidated Kenesaw Building in the city's Adams Morgan neighborhood, recalled Deacon Alfredo Hidalgo, O'Malley moved into the rodent and rat infested apartments. The building's remaining tenants -- many had abandoned the un-air-conditioned, unheated structure -- faced eviction. O'Malley engineered the rehabilitation and tenant purchase of the building.
O'Malley launched El Pregonero, the first Spanish-language newspaper in the region. "We were beginning to meet the immediate needs of the people -- medical care, dental care and jobs," recalled Ramon Dominguez, who, with his wife Carmen, worked with O'Malley. "Then we realized that all this was just solving the immediate problem," said Dominguez. The newspaper was "a very good tool to keep the people informed and help them grow."
Washington Catholics who were close to the young priest recall his activism, yes, but the word that first comes to mind when they are asked about O'Malley is "humble."
"The most significant thing about him is that he is a very humble person, a person that is dedicated to service to the people," says Dominguez.
This humility and commitment to service comes directly from the Franciscan tradition, says his fellow Capuchin, Fr. Donald Lippert. "He has a horizontal approach to people, he's compassionate and approachable and he's able to speak with people in a very unassuming way," said Lippert.
O'Malley's commitment to social services and advocacy were evident in both the Virgin Islands, where he was appointed coadjutor to the St. Thomas diocese in 1984 and then bishop in 1985, and Fall River, where he served from 1992-2002. Under his leadership in St. Thomas, the diocese established additional soup kitchens and homeless shelters and launched the first diocesan newspaper.
In Fall River, recalled Congressman Barney Frank, D-Mass., O'Malley opposed restrictions on government benefits to legal immigrants and aggressive deportation procedures. O'Malley, Frank told NCR in a phone interview, did more than denounce the policies, "he put the resources of the diocese behind the effort" through establishment of legal clinics and other support services.
But O'Malley was not brought to Fall River primarily to advocate for that community's large immigrant community. Instead, it was his task to reform a diocese racked by allegations of clerical sexual abuse and cover-up. Within six months of assuming office, O'Malley agreed to a settlement with nearly 70 victims of former priest James Porter and instituted perhaps the toughest child protection policies of any diocese to that point.
If O'Malley was a hero to Fall River's large immigrant population and political liberals for his views on immigration and economics, orthodox Catholics and conservatives welcomed his outspokenness on doctrinal and social issues. O'Malley views legal abortion as a grave evil.
Writing in The Anchor, Fall River's diocesan paper, prior to the 2002 midterm elections, O'Malley said: "I will not vote for any politician who will promote abortion or the culture of death, no matter how appealing the rest of his or her program might be. They are wolves in sheep's garments, the KKK without the sheets, and sadly enough, they don't even know it."
His reputation as an abuse-scandal fixer solidified, O'Malley was tapped by the Vatican last year to head the embattled Palm Beach, Fla., diocese, where his two immediate predecessors acknowledged their personal involvement in sexual abuse and where financial scandals had shaken the confidence of contributors.
Early in his short tenure in Palm Beach, O'Malley met with Edward Ricci, a prominent local attorney and supporter of Catholic causes. Ricci had been publicly critical of the diocese's financial management.
"He volunteered to me that he was surprised to find that there were no audits in any of the parishes," said Ricci. "He said that more than half the parishes have no lay finance council and more than half have no parish council … and [he said] 'I've got to change all that.' "
Ricci's impressions: "The sense I have is that his administrative talents are not his strong suit. The man succeeds by strength of personal character. It's very hard to have a conversation and not have the sense that you're dealing with a very good, holy man."
That's just what the church needs more of, says Neuhaus. The O'Malley appointment is a "move away from a dominantly managerial model of the episcopal office, which I think is exactly the right move."
O'Malley will be installed as archbishop of Boston July 30.
Joe Feuerherd is NCR Washington correspondent. His e-mail address is jfeuerherd@natcath.org

Additional reporting for this story was done by John L. Allen Jr. in Rome and Chuck Colbert in Boston.
For current reactions and analysis of Bishop Sean O'Malley's appointment, visit the NCR Weblog on NCRonline.org. Read NCR coverage, including the report that broke the story June 30, and a comprehensive round up of other news media. Updated at least daily.
National Catholic Reporter, July 18, 2003