Issue Date: July 18, 2003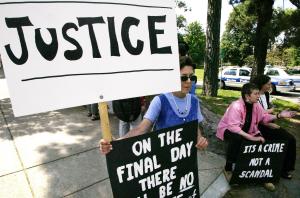 Laurie Lambert, co-founding member of the Coalition of Catholics and Survivors, protests outside the Boston archbishop's residence, as Bishop Sean Patrick O'Malley met with clergy sex abuse victims inside.
-- Reuters/Jim Bourg
O'Malley faces mountain of lawsuits, legacy of distrust
By JAMES G. McMANUS
Boston
Newly selected Archbishop Sean P. O'Malley faces a mountain of legal challenges that will determine the success or failure of his tenure here, observers say. While there is a fierce desire among many parishioners to move forward following resolution of the 520 legal claims against the archdiocese and individual priests, there is also a pervasive legacy of anger and distrust.
Lawyers representing abuse victims who are now plaintiffs suing the archdiocese in civil court note that the legal challenges will still take months, if not years, to resolve, despite what they hope is a new attitude emanating from the chancery. O'Malley spent much of the first day after his appointment was announced meeting with abuse victims and talking to reporters about the scandal. The archdiocese needs to "step up to the plate" and settle the suits, O'Malley said.
"He met with 10 of my clients, all of whom had a horrendous experience over the last year with the archdiocese," said Roderick MacLeish, an attorney who represents 270 people who claim priests sexually abused them.
By placing resolution of the sex abuse scandal at the top of his first-day agenda, O'Malley immediately signaled a departure from the church's posture toward victims. During the past 18 months, the archdiocese's legal strategy has struck many here as needlessly combative. Church lawyers have requested psychiatric records of abuse victims and asked the court to dismiss sexual abuse charges on First Amendment separation of church and state grounds. In a move that shocked victims and the public, the archdiocese reneged on a promise by former Cardinal Bernard Law to settle a group of claims for $30 million because the previously unheard of finance council opposed the settlement.
Dialogue between the plaintiffs and the archdiocese has broken down. "We don't have a speaking relationship with the lawyers for the archdiocese," said MacLeish. Several plaintiffs' attorneys have become household names after spending nearly as much time on television as in the courtroom. They contend the church has stalled requests for crucial records, and their only recourse is to publicly embarrass the archdiocese into cooperating.
Meanwhile, the archdiocese is reportedly negotiating with its insurers to secure funds to pay for a global settlement, which could exceed $100 million. Such a settlement, attorneys say, could be modeled on the Fall River agreement crafted under O'Malley a decade ago. It included creation of an arbitration panel of judges who could award victims monetary damages within an agreed-upon range. Payments to 100 victims who accepted the settlement agreement totaled more than $8 million. The plan also set up an abuse reporting system and a diocesan office of healing, staffed by lay social workers, to help victims resolve personal and spiritual problems resulting from the abuse.
On June 28, a voluntary moratorium on legal action by 400 abuse victims ended, and their attorneys refused the archdiocese's request for an extension. MacLeish's law firm last week sent out 100 deposition notices to potential witnesses, including Law and Bishop John McCormack of Manchester, N.H.
Also, on July 19, in the cases involving Fr. Paul Shanley, MacLeish is scheduled to file a lengthy document detailing evidence of a 40-year "pattern or practice" of archdiocesan complicity in the sexual abuse of minors. It promises to pull together many of the people, records of their activities and their supervisor's decisions, that enabled abusers to move from assignment to assignment in the archdiocese over a period of decades.
While the civil cases proceed -- the first trials may occur as early as mid-September, barring a settlement -- Massachusetts Attorney General Thomas Reilly plans to issue the results of his criminal investigation into the archdiocese's actions in the coming weeks. No one is yet predicting that criminal charges will be filed, but few would be surprised. Reilly has frequently bucked the establishment and he has painstakingly combed records of lawyers for both sides during his investigation, which began last year.
James G. McManus, former NCR news editor, is a lawyer and journalist in Boston.
National Catholic Reporter, July 18, 2003