Issue Date: July 18, 2003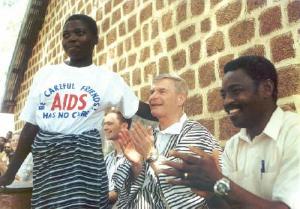 Archbishop Roger L. Schweitz of Anchorage, Alaska, and Hippolyt Pul, deputy country representative for Catholic Relief Services, applaud a cultural display by a pupil of the Paga Primary School in Ghana.
-- Francis Provencal/Catholic Relief Services
African Catholic church a vibrant force for change
Strengthened ties with U.S. Catholics aid attention to pressing problems
By ARTHUR JONES
The Catholic church has a critical eye on President George W. Bush regarding U.S. policy toward Africa.
As Bush made his way through five African countries beginning July 7, he was probably unaware that no world group was monitoring his activities and comments more closely than the Catholic church, including churches in Africa and the United States and officials in the Vatican.
With unprecedented boldness, the 21st-century African Catholic church in more than a half-dozen African nations has stepped to the fore in demanding accountability from ruling juntas, elites and democratic governments, as well as from international corporations doing business in their countries. Many African bishops are backed by the skills and support of U.S. Catholic church agencies, such as the U.S. Conference of Catholic Bishops and the Baltimore-based Catholic Relief Services. And the aid apparently is available whenever they request it.
Expert observers say the support and the long-term relationship between African and U.S. bishops have fostered some bold initiatives. During the past 12 months alone:
In Chad, the Catholic church was at the forefront in demanding transparency in plans for a transnational pipeline;
In Kenya, ruled by a corrupt regime, the Catholic bishops are a vibrant voice demanding that moral and ethical standards be applied to the government's actions;
In the failed state of the Democratic Republic of Congo, the church infrastructure has not only been holding the fragile nation together, it set a precedent by gathering in the bishops from Burundi and Rwanda for a public Mass of reconciliation in Kinshasa, televised throughout the region.
"This is the type of witness only the Catholic church in Africa is able to give," Franciscan Fr. Michael Perry, the U.S. bishops' point man on Africa, told NCR.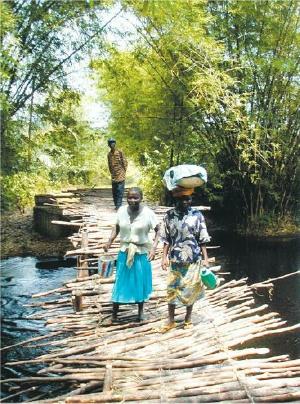 Women cross Lotembo bridge, which links the two towns of Tshumbe and Wembo-Nyama in central Congo in 2002. In June 2003, the Catholic church completed construction on a new bridge that replaced this old, unsafe one.
-- Dominique Morel/CRS/Congo
Said Catholic Relief Services executive director Ken Hackett, "When we look at what the bishops of Congo Brazzaville have done with their statement on extractive resources [see related story], knowing the extractive industries are not transparent, we see fruits of the past seven or eight years of the increasingly closer relationship between many African bishops' conferences and the U.S. conference."
Behind Perry and Hackett is a decade-long upsurge in U.S. Catholic collaboration with African bishops and church institutions, supplying technical assistance, a supporting moral voice on key policy issues, money and, periodically, personnel.
Visiting bishops
The relationship includes a steady stream of African bishops visiting the United States, and American bishops heading to Africa. At ground level, the commitment to Africa is apparent in the numbers: Two-thirds of all CRS U.S-citizen employees work in Africa. U.S. diocesan ties to Africa are strengthened as, for example, St. Cloud, Minn., twins with Homa Bay, Kenya, and Trenton, N.J., links up with Kasana-Luweero, Uganda.
Africa's political security needs are regional and local. Equally pressing are African nations' economic and health requirements. HIV/AIDS is pandemic; other diseases run rampant. Malnutrition in many places is a constant, and basic services are lacking almost everywhere.
The issues the Bush administration represents -- open markets, freer access to African oil and energy resources (already supplying 20 percent of U.S. needs), support of regimes and corporate practices that are not transparent -- are precisely those that African and U.S. Catholics have strong views on and fastened on to during the Bush tour.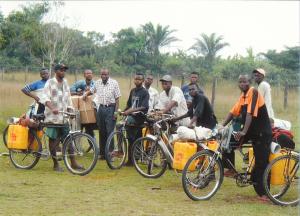 Catholic health workers in the town of Lodja, Democratic Republic of Congo, take off to deliver vaccines, kerosene and other supplies for the polio national immunization campaign to the Lomela health zone, over 200 km. away.
-- Dominique Morel/CRS/Congo
In the wake of the Bush trip -- to Senegal, South Africa, Botswana, Nigeria and Uganda -- the African churches were expected to look afresh to their U.S. counterpart, to ensure that the voice of the African people in need, and not just ruling elites and corporate interests, are heard in Washington's corridors of power.
In recent years, the U.S. bishops have tied the American church more tightly to the African churches' interests, and those concerns have been announced in key U.S. episcopal statements on Africa. The issues of greatest concern to both the African and U.S. conferences take on an immediate importance in light of the Bush trip to Africa.
Sharp shift since mid-1990s
Since the mid-1990s there has developed a sharp shift in the nature of the U.S. Catholic church's working model with its African counterparts.
The deepening relationship with the church of Africa has occurred through a number of individual and organizational activities. Bishops such as Pensacola-Tallahassee's bishop, John H. Ricard, six years head of the CRS board, and now chair of the U.S. bishops' International Policy Committee, and Ricard's predecessor in this office, former Boston Cardinal Bernard Law, made Africa a personal priority. The focus on Africa was also reinforced by others such as St. Cloud, Minn., Bishop John Kinney, Washington Cardinal Theodore McCarrick, and U.S. bishops' conference president Wilton Gregory, who made a trip to Africa prior to taking office. Such conference offices as the African American Affairs Secretariat, under Beverly Carroll, are helping to take the U.S. church deeper into African and African Catholic issues.
In the early 1990s, Ricard, at that time an auxiliary bishop in Baltimore, "as an African-American priest and bishop began to develop an interest in Africa." His travels took him to Togo in West Africa and to South Africa.
Subsequently, in six years a Catholic Relief Services board chairman he made a dozen African trips and "became aware of the many pastoral needs that were not being met," and that Africa's needs, "always immense, have gotten even more acute." He raised Africa's profile within the bishops' conference by involving them in pressing for African debt relief.
Two years ago Africa became part of the bishops' International Policy Committee agenda, and in 2001 the committee released "A Call to Solidarity with Africa." Ricard is now International Policy Committee chair, and promises to keep Africa on the front burner. He counts as an ally Perry, who joined the conference in 2000 as an African affairs policy adviser. Ricard continues to advance collaboration between the bishops' conference and CRS.
"Sadly," said Ricard, the 35-million-person African-American community, including 2 million black U.S. Catholics, "are grossly negligent" in their response to the needs of Africa, and I would think them a natural constituency."
But black Catholics are raising Africa's profile, he said. The recent National Black Catholics Congress in Chicago for the first time invited an African bishop, Bishop Charles Palmer-Buckle of Ghana, as a speaker.
Perry, the bishops' foreign policy adviser for African affairs in the Secretariat for Social Development and World Peace, is a man constantly on the road around the United States, giving Africa-linked homilies and talks. He said the bishops' statement on Africa has produced "a surprisingly strong if slow groundswell around the country."
That document bluntly laid out the "urgency" and "deep concern" in the need for Africa and its allies to tackle poverty, disease, debt burdens, conflicts, insecurity, and internal refugee calamities.
CRS similarly has staffers in the United States organizing local groups, explaining Africa to American Catholics. (In a related story, Kevin Hartigan, CRS regional director for Central Africa who has spent 11 years in Africa, provides insights in the difficulties close up.)
At the same time, the solidarity call alerted American Catholics to the sign of energetic hope that the Catholic church has become in many African nations.
Notre Dame's Institute for Church Life, in conjunction with Nigerian Catholic church institutions, will hold the first session of a two-part conference Sept. 21-24 to "battle the prevalent world cynicism about Africa," and to raise Africa's profile in the U.S. church, and to develop follow-through with African churches. The second session is in Nigeria, Jan. 4-11.
This fall, the same Catholic leaders from the Democratic Republic of the Congo, Burundi and Rwanda who brought about the reconciliation Mass will be in Washington meeting with key policymakers and lobbyists from the bishops' conference and CRS to plan the strategy.
Arthur Jones is NCR editor at large. His e-mail address is arthurjones@comcast.net
For an extended interview with Fr. Michael Perry, the U.S. bishops' foreign policy advisor on African affairs, click here

.
---
List of documents on Africa from the bishops' Secretariat for Social Development and World Peace, and their testimony before Congress on Africa issues:

The U.S. bishops' Secretariat for Social Development and World Peace, has produced a series of documents and testimony before Congress on Africa matters. They include:

June, 2000: Statement on the Situation in Sierra Leone

February, 2002: Development Assistance

June, 2002: Foreign Aid and the New Millennium Challenge Account (the title of the Bush foreign aid program)

August, 2002: Millennium Challenge Account

September, 2002: Sudan Update

December, 2002: Catholic Relief Services (CRS) letter to Office of Management and Budget seeking an increase in the Millennium Challenge Account to $5 billion

February, 2003: Food Crisis in Africa

February, 2003: Global Health

April, 2003: testimony on "Foreign Aid and Human Development" before the House Appropriations Committee, Foreign Operations, Export Financing, and Related Programs subcommittee.

U.S. Conference of Catholic Bishops Web site:
http://www.nccbuscc.org/index.htm

Related Web Sites

Notre Dame's Institute for Church Life Africa conference
www.nd.edu/~icl/africa-conf.html

U.S. Conference of Catholic Bishops for "A Call to Solidarity with Africa" document
www.nccbuscc.org/sdwp/africa.htm

---

Africa At-a-Glance

Total population: 700 million
Christian: 350 million
Catholic: 116 million -- 10,000-plus parishes, 75,000 mission stations

Catholic concerns: Poverty, malnutrition, illiteracy, short life expectancy, armed conflicts, internal refugees and large orphan populations and child-headed families, child militias, disproportionate burden of poverty on women, deteriorating health and education infrastructures, HIV/AIDS pandemic, unstable and corrupt governments, enforced military conscription, heavy debt burdens and repayment obligations, multinational corporate resource exploitation exacerbating impoverishment and political disenfranchisement, U.S. responsibilities as the world's wealthiest nation.

Signs of hope: Nations in transition, potential for dynamic growth, rich resources, energized churches, and a high level of ecumenical and interfaith cooperation.

U.S. government priorities: HIV/AIDS as a national security issue, terrorism, "economic freedom" -- open access for U.S. corporations, oil, Liberian unrest.

African trade concerns: Lack of access to Western, including U.S., markets for non-energy goods, lack of capital, corruption, poor infrastructure, low labor productivity.

Varied sources, including "A Call to Solidarity With Africa" USCCB, 2001
National Catholic Reporter, July 18, 2003