Issue Date: July 18, 2003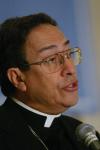 Cardinal Oscar Rodriguez Maradiaga
-- CNS/Nancy Wiechec
Cardinal calls for some perspective
Global problems more pressing than scandal, says Honduran papabile
By JOHN L. ALLEN JR.
Rome
One year ago, Cardinal Oscar Rodriguez Maradiaga of Honduras, a rising star in the Catholic hierarchy and a man widely viewed as a candidate to be the next pope, asserted that media "persecution" of the Catholic church was driving the American sex abuse crisis. In fiery language that shocked and angered many Americans, he compared the media's treatment of the church to anti-Christian crackdowns under Nero, Diocletian, Hitler and Stalin.
Those remarks, given in a June 2002 interview with the Italian magazine 30 Giorni, helped cement popular American images of church leaders abroad as "in denial," as "blaming the messenger," and treating sex abuse as "an American problem."
Fallout was swift. American Catholic writer Fr. Andrew Greeley called Rodriguez "clueless," and that was among the more generous reactions. Rodriguez said he got a flood of mail, much of it "insulting and terrible." Consequently, in recent months he had refused to discuss the issue publicly but agreed to an exclusive interview with NCR July 7 in Rome.
Looking back, Rodriguez said that despite the upheaval, he'd do it again.
"I don't repent," Rodriguez told NCR. "Maybe I was a little strong, but sometimes it's necessary to shake things up."
It's important to grasp that Rodriguez is not a crusty, aging foreign prelate out of touch with America. He's a dynamic 60-year-old, whose near-flawless English reflects years of study, lecturing and travel in the United States. Neither is he a defensive cultural warrior who sees enemies of the church under every rock; he studied with the German liberal theologian Fr. Bernard Häring in Rome after the Second Vatican Council (1962-65), and is generally located on the church's moderate-to-progressive wing.
So what point was he trying to make?
In its most provocative form, Rodriguez's challenge to the American press is this: In a world of massive poverty, racism and environmental degradation, in which drug trafficking is choking off democracy in Latin America and HIV/AIDS threatens to wipe out a generation of Africans, in which 1.2 billion people don't have access to safe drinking water, in which the combined annual income of 12,000 laborers at a Nike factory in Indonesia is less than one American basketball player is paid for wearing their shoes, does the sexual abuse of minors by perhaps 2 percent of Catholic priests in the United States really merit saturation coverage? In a world increasingly dominated by the profit motive and the pleasure principle, is the Catholic church really public enemy number one?
Rodriguez's perspective thus offers American Catholics a rare opportunity to see their crisis from the outside, putting it in the context of other global dramas. It illustrates the frustration many in the Third World feel with the invisibility of their struggles -- because Rodriguez's remarks are best understood not as a sober content analysis of the American press, but a cri de coeur.
To understand Rodriguez's perspective, one has to start with the challenges he faces in Honduras, starting with simply staying alive. In recent months, Rodriguez has received death threats from Colombia-based drug cartels that use Honduras as a conduit. Rodriguez has denounced them, and threats have been called in to both his office and his residence. In February the doorman at the chancery in Tegucigalpa was kidnapped, manhandled and told to tell his boss that the cartel was coming.
This is not idle chatter. Cardinal Juan Posadas Ocampo of Guadalajara was murdered in May 1993 by gunmen hired by Colombia's Arellano-Felix narcotics syndicate. Rodriguez said that he lives daily with the possibility that something similar could happen to him, but is not willing to let that compromise his witness.
"I am not afraid," he said. "I am at peace with whatever might come."
Rodriguez is involved in campaigning against human trafficking and the indignities suffered by illegal immigrants. Few prelates speak more frequently or more ferociously against the inequities of globalization. Rodriguez has led the charge for debt relief for the Third World, showing up routinely at protests directed at the G8 and the International Monetary Fund.
"Economic globalization without the globalization of solidarity is suicide for the poor and thus for the majority of humanity," he told the Caritas International General Assembly in a July 7 keynote address in Rome. "What is morally false cannot be economically correct."
Rodriguez says things are getting worse, not better. He told NCR that the number one source of income in Honduras today is not traditional industries such as coffee or bananas, which have been devastated by shifts in the global economy, but currency sent home from illegal Honduran immigrants in the United States. He said he worries about the dependence this creates. At the same time, he said, he watched the U.S. government pressure Honduras into sending troops to take part in the Iraq war, and he wonders when the United States will show the same interest in economic and social development.
"We have been forgotten," Rodriguez said. "We were noticed for a few minutes after Hurricane Mitch, and then we disappeared."
That forgetfulness is what Rodriguez said he wanted to shake up when he went after the American press.
"Many people said that I am against the media, but this isn't true at all," Rodriguez said. "Sexual abuse is heartbreaking and victims deserve compassion. What I'm against is the lack of global perspective."
His frustration with what he calls the American media's "obsession" with the Catholic church, Rodriguez said, reflects his belief that American Catholics should lead the charge for a foreign policy built on solidarity.
"The U.S. bishops have been hurt in terms of moral authority, and it's a tragedy," Rodriguez said. "We need them very much."
Does Rodriguez realize that to some extent this is the bishops' own fault?
"Of course," he said. "At the same time, poverty is an even greater scandal. Where's the media obsession with that?"
Rodriguez said he draws two other lessons from the American situation.
First, he said, he hopes the crisis is teaching the American bishops a new style of leadership.
"Bishops of the First World sometimes saw themselves as related to wealth, power and privilege," Rodriguez said. "I've even seen that in the Vatican, where First World bishops are sometimes treated with more respect than bishops from the Third World, because they are seen as VIPs.
"Perhaps this is calling the bishops to become servants, closer to the people," he said.
Second, Rodriguez said, the vast public reaction to his comments taught him something about the unique role he now plays as a papabile -- a papal candidate. While he says he has no ambition to be pope, he wants to use his high media profile to promote the cause of justice, especially for Latin America.
"God has given me this voice to speak for those who are forgotten. He's looking after the poor, the little ones," Rodriguez said.
John L. Allen Jr. is NCR Rome correspondent. His e-mail address is jallen@natcath.org
National Catholic Reporter, July 18, 2003