Issue Date: July 18, 2003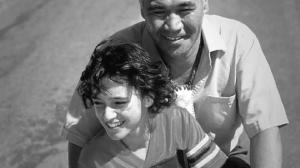 Keisha Castle-Hughes as Pai and Rawiri Paratene as Koro in "Whale Rider"
Youthful Tales
Maori girl, animated fish enliven summer
Reviewed by JOSEPH CUNNEEN
One of the great gifts of film is its ability to introduce us to widely different worlds, worlds we might otherwise never have a chance to experience. Last year brought "The Fast Runner," an authentic story of an Inuit tribe living on the edge of the Artic Ocean. As a counterweight to the mindless hulks and horrors of this summer movie season, Whale Rider shows us the beauties of New Zealand's east coast and the struggle of a contemporary 12-year-old girl to be accepted as leader of her demoralized Maori tribe.
Pai (Keisha Castle-Hughes) survives a difficult birth at the opening of the film, which takes the lives of her mother and twin brother. Her grandfather, Koro (Rawiri Paratene), the tribal chief, rejects her because he had looked forward to the grandson he could train as a successor. Nevertheless, Pai grows up with her grandparents while her father is abroad studying art. Once when he returns for a short visit, Pai starts to go off with him but, haunted by the voices of the ancients calling to her from the sea, she quickly returns to the village. There her grandmother, Nanny Flowers (Vicky Haughton), herself a survivor of male chauvinism, instills both patience and self-confidence.
Director Niki Caro avoids the potential mawkishness of the opening situation, and shows a genuine sympathy for the traditions of the conservative patriarchal society her film describes. As in the best-selling 1987 novel by Maori writer Witi Ihimaera, we come to appreciate the rhythms of village life; the card-playing older women are both dignified and humorous, and when Koro begins leadership training for the boys of the village, sympathy for the excluded Pai is leavened with the old man's comic grimaces and the efforts of the youngsters to imitate him.
The grandfather-Pai relationship is deep and complex. Karo is basically fond of the child and there are lovely images of his driving her to school on his bicycle, but he forgets to pick her up on the day he begins the program to prepare his successor.
The film's largely naturalistic style sometimes makes the tribal myth seem strained: Legend claims that more than a thousand years ago its founding father rode a whale in from the sea to their coast. But Pai's dark-eyed expressiveness and innate dignity easily overcome all audience resistance, especially when, after receiving a school award at a ceremony Koro fails to attend, she breaks down as she delivers a speech celebrating tribal traditions she learned from her grandfather's tales.
Cinematographer Leon Narbey's repeated shots of the ocean suggest a sense of mystery, preparing for an ending in which the whole village must work together to save a group of whales that have come too close to the shoreline.
Fortunately, Caro avoids melodramatic excess in the movie's climax; Pai remains calm as well as confident as she fulfills her destiny. "The Whale Rider" earns its ultimate sense of triumph; rather than simply offering another fashionable salute to "girl power," it celebrates a genuine community and widens everyone's horizons.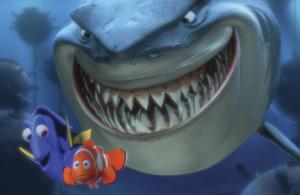 Bruce, the friendly great white shark, invites Dory and Marlin to a party in "Finding Nemo."
-- CNS/Disney/Pixar
If you think you're too old to enjoy an animated film, borrow a grandchild and let Finding Nemo prove you're wrong. This is a product of the Pixar Animation Studio (a collaborator with Disney), which startled happy moviegoers a few years ago with "Toy Story" and whose digital technology keeps reminding me how behind the times I am. Except for those convinced that fish are inherently uninteresting, "Finding Nemo" will prove itself both amusing and entrancing.
The movie is the directorial first effort of Andrew Stanton, who is also responsible for the original story and cowrote the screenplay with Bob Peterson and David Reynolds. Cynics will complain that the material is too sentimental, but this is hard to avoid when it's a matter of an overly protective father, Marlin (voiced by Albert Brooks), searching endlessly for his more adventuresome son, Nemo (9-year-old Alexander Gould). Since Nemo lost his mother (to a barracuda) at the start, the youngest members of the audience may be as worried as Marlin, a clown fish who can't tell his joke. Nemo's capture by a diver along Australia's Great Barrier Reef is genuinely frightening, but the captor turns out to be a dentist with an office fish tank, and the other fish soon offer reassurances. Although the movie shouldn't be picketed by dentists, watching them from inside a bowl filled with water makes their operations seem even more alarming than usual.
The rest of "Nemo" alternates between fragments of the father's search and vague plans for escape from the fish tank. Fortunately, Marlin is joined by Dory, a friendly type with poor short-term memory whose voice (that of Ellen DeGeneres) turns confusion into high comic art. The two encounter three sharks who have begun a 12-step recovery program (from eating fish), and finally meet up with some giant turtles that speed their way toward Sydney. There are a host of visual or voice gags for the underwater creatures encountered during the search, many coming too fast for this reviewer, who couldn't name all the varieties of fish in the dentist's tank and wasn't always sure whether he was observing anemones, rays, jellyfish or a previously unknown species called the anglerfish.
Even someone more sophisticated in computer technology couldn't do justice to the suggestive watery world conjured up by production designer Ralph Eggleston and his team of artists. Although the story line will seem pat to those over 8, "Finding Nemo" is filled with good humor, and the audience is relieved when poor Marlin is finally able to tell his bedraggled joke.
Joseph Cunneen, NCR's movie reviewer, can be contacted via e-mail at SCUNN24219@aol.com
National Catholic Reporter, July 18, 2003