Issue Date: August 1, 2003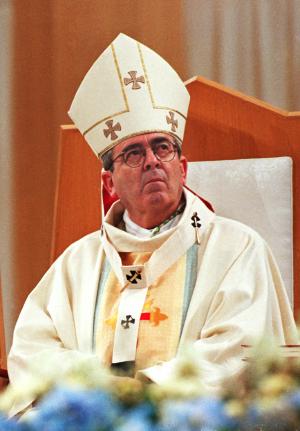 Archbishop Justin F. Rigali at a Mass celebrated by Pope John Paul II in St. Louis in 1999.
-- CNS/Nancy Wiechec
Rigali named to Philadelphia
St. Louis archbishop known as 'friend of Rome,' promoter of orthodoxy
By JOE FEUERHERD
Washington
Appointed to head the Philadelphia archdiocese July 15, Archbishop Justin Rigali promises few surprises -- which is probably one reason he got the job.
As St. Louis archbishop since March 1994, the 68-year-old California native was known for doctrinal orthodoxy and quality administration. On the former, he was meticulous in implementing the recent changes in the General Instruction on the Roman Missal ("It is fitting," Rigali wrote in his archdiocesan newspaper column, "that we limit [the sign of peace at Mass] to a few around us") and he strongly encouraged eucharistic adoration at every parish.
He is a prodigious fundraiser who put the St. Louis church on solid financial footing while implementing the archdiocese's first strategic plan.
Other highlights of his St. Louis tenure:
In 1998, Rigali tangled with Jesuit officials at St. Louis University over the sale of the school's teaching hospital to a for-profit non-Catholic health care provider. The Vatican ultimately approved the sale over Rigali's objections, though safeguards he promoted designed to maintain the Catholic nature of the hospital were included in the final agreement.
In January 1999, Rigali hosted Pope John Paul II in, according to the archdiocesan Web site, "the only such visit to a single diocese in the United States during John Paul's … pontificate." During that visit, Rigali worked behind the scenes to secure a death sentence commutation for convicted murderer Darrell Mease. In agreeing to forgo the death penalty for Mease, Missouri Gov. Mel Carnahan cited the pope's appeal.
While maintaining good relations with Catholic high school teachers ("He really respected the high school teachers association and we, in turn, respected the archbishop," said Vince Drake, formerly president of the union), Rigali has drawn the wrath of parish grade school teachers who seek to bargain collectively with the archdiocese. Rigali has refused to recognize a grade school teachers union, saying the teachers are employees of the individual parishes and thus must negotiate on a school-by-school basis.
"I'm happy to hear they [St. Louis high school teachers] had a good relationship with the archbishop and I'd like to see that continue in Philadelphia, but I know there are going to be some hard questions," said Rita Schwartz, president of the Philadelphia-based National Association of Catholic School Teachers. A potential early test: The contract for more than 1,000 Philadelphia Catholic high school teachers expires next month and the teachers are threatening to strike if a new agreement is not reached.
Meanwhile, victims of clerical sexual abuse and their advocates were critical of the appointment. Rigali is "among the least open and compassionate of bishops," said Barbara Dorris, leader of the St. Louis branch of the Survivors Network of those Abused by Priests, SNAP.
"Rigali has been inaccessible and unsympathetic toward victims," she said, and has "severely mishandled a number of cases."
On a personal level, said Robert Schutzius, a former St. Louis archdiocesan priest and secretary of the Association for the Rights of Catholics in the Church, Rigali is "very cordial, very helpful, very Christian." But he was "very reluctant" to meet with critics of the church or groups considered less than orthodox, including a group of former priests and nuns who had met with his two predecessors, Archbishop John May and Cardinal John Carberry. Likewise, said Dorris, "neither he nor anyone on his staff has met with our local SNAP chapter, despite repeated efforts on our part."
"Aloofness would probably best describe his methods, his modus operandi," said Drake, former teachers union president.
Rigali's appointment, said the Jesuit church historian Fr. Gerard Fogarty, "is an indication that Vatican officials are pleased with his handling of St. Louis." It is also an indication, said Fogarty, that Rigali -- who served as a Vatican official in numerous capacities over more than 30 years -- has friends in Rome.
In 1964, Rigali was awarded a doctorate in canon law from Rome's Pontifical Gregorian University, and then began studies at the Pontifical Ecclesiastical Academy (of which, in 1985, he became president), the training ground for Vatican diplomats.
In the late 1960s, he served as the apostolic nuncio in Madagascar, and then, beginning in February 1970, as director of the English language section of the Vatican Secretariat of State and as English language translator for Pope Paul VI.
Ordained a bishop in 1985, he continued his service in various Vatican departments, including the Council for Public Affairs of the Church, the Congregation for Bishops and the Pontifical Council for the Laity. In 1989 he was named secretary of the Congregation for Bishops.
He serves on the advisory board of Catholics United for the Faith, a conservative organization based in Steubenville, Ohio.
Rigali fits the Philadelphia episcopal mold. Among his predecessors was Cardinal Dennis Dougherty, of whom historian Charles R. Morris wrote: "Of all the American prelates, in an age when the American church's loyalty to Rome was at a high pitch, Dougherty was 'Romanissimus,' the most devoted of all, to the point of servility."
Rigali's two immediate predecessors -- Cardinals John Krol and Anthony Bevilaqua -- were likewise known for their doctrinal conservatism. Krol, for example, didn't allow Saturday vigil Masses until 1983, long after every other U.S. diocese adopted the practice, while Bevilaqua initially would not allow women to participate in the Holy Thursday ritual washing of the feet. Both had strong ties to Rome.
Rigali will be installed as Philadelphia archbishop Oct. 7. No successor has been named to the St. Louis position he is vacating.
Joe Feuerherd is NCR Washington correspondent. His e-mail address is jfeuerherd@natcath.org
National Catholic Reporter, August 1, 2003