Issue Date: August 1, 2003
WORLD
Edited by Dennis Coday
Mother Teresa® trademarked
ROME -- The Missionaries of Charity are seeking legal protection for the name of their founder, Mother Teresa of Calcutta, as well as the name of the order and the order's logo.
Sr. Nirmala Joshi, the superior general, said that Mother Teresa "expressed on a number of occasions her wish that her name not be used by any other individuals or organizations without her permission."
"Respecting her wish, we have made the same request many times since her death in 1997 and shall continue to do so," said the statement faxed from the order's motherhouse in Calcutta.
The Missionaries of Charity have prevailed on a number of entities to cease use of Mother Teresa's name, including the Mother Teresa Institute of Management, a secular school being built in Delhi, and a bank in Hyderabad.
Mother Teresa died in Calcutta at the age of 87. Pope John Paul II is to beatify her at the Vatican Oct. 19.
Philippine church challenges World Bank economic plans
MANILA -- The Philippine bishops' social action arm has taken exception to advice on economic growth that the World Bank has offered the government, saying a recommendation to liberalize the mining does not adequately address environmental and human health.
The World Bank country assistance strategy for 2003-2005, titled "Improving the Lives of the Poor Through Growth and Empowerment," urges the Philippine government to further explore the export potential of the mining sector.
"We fear that the … government's submission to the World Bank's prescriptions raises serious questions," reads a statement from the National Secretariat for Social Action-Justice & Peace.
Among the "serious questions" cited are: Will liberalizing the mining sector lift the poor from their sorry plight? Of what use is a healthy economy when the environment and, by extension, the people are sick?
(Read more about this issue on the secretariat's Web site: www.nassa.org.ph)
Pakistan violence condemned
LAHORE, Pakistan -- The Pakistani bishops' conference and the National Christian Action Forum jointly denounced the recent killing of a Catholic priest and an attack on a mosque that left more than 50 Shiite Muslims dead.
They described the July 5 killing of Fr. George Ibrahim, 36, as "religious terrorism" and demanded that the killers be arrested immediately. The day before, attackers killed 55 Shiite Muslims and injured 100 in Quetta, near the Afghan border. Shiite Muslims are a minority group in Pakistan.
These attacks come "hard on the heels of many previous savage attacks on Christians" and other religious minorities, said Archbishop Lawrence Saldanha of Lahore. "We condemn these acts of terrorism in the strongest possible terms."
Unknown masked assailants shot Ibrahim dead at about 2 a.m., while he was asleep in the courtyard of his parish residence.
Dictator can run for president
GUATEMALA CITY -- The Human Rights Office of the Guatemala City archdiocese has criticized the country's highest court for ruling that former military ruler Gen. Efraín Rios Montt can run for president.
Rios Montt's 1982-83 regime was marked by "a wave of repression and brutality against the Guatemalan population that left in its wake thousands of dead and missing people," the church office said. "A man accused of genocide is the least indicated to lead the destiny of a nation."
Rios Montt's brother is Auxiliary Bishop Mario Rios Mont of Guatemala City, who took over leadership of the Human Rights Office following the 1998 murder of Auxiliary Bishop Juan Gerardi Conedera of Guatemala City.
Rios Montt, 77, was overthrown in an August 1983 coup, but re-emerged in politics in the late 1990s and was elected to congress.
During his rule, Rios Montt frequently was at odds with church leaders, including Pope John Paul II. The Guatemalan bishops accused government troops of massacres in rural areas that were part of a planned "genocide" against the predominantly Indian population.
---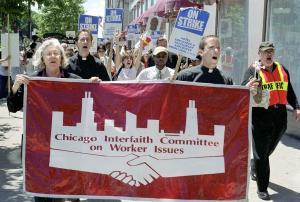 Walking the line
Members of the Chicago Interfaith Committee for Worker Justice march with some of the 130 Congress Plaza Hotel workers, who have been on strike since June 15 when hotel management offered the workers a new contract that includes a 7 percent wage cut, unlimited right to subcontract and no raise for four years. Under management's offer, a housekeeper at the Congress would earn $8.21 an hour; most Chicago hotels pay $10. For more information, visit www.congresshotelstrike.info
-- Garth Liebhaber/Chicago Indymedia
---
Community kitchens to open
MEXICO CITY -- Faced with 40,000 Mexican children dying from malnutrition every year, the Mexican bishop's conference is launching a campaign to set up community kitchens in poor neighborhoods across the country.
The National Solidarity Campaign, to be officially launched Aug. 20, will create community kitchens that will provide food for children between 1 and 12 years old in at least 16 dioceses.
"Making sure people don't go hungry is the duty of the government. But when the government doesn't do its job, the church has to act," said Sr. Ludmila Garcia Locon, an organizer.
In Mexico, 54 million people live below the poverty level and 20 million of them live in extreme poverty, according to official statistics.
The kitchens will be based on a model developed in Brazil -- a country with a similar culture and problems of poverty. The church will provide space and pots and pans, while mothers will be invited to cook one day a week at a cost of about $1 per day per child.
Same-sex marriages opposed
OTTAWA -- A coalition of religious groups is going to the Supreme Court of Canada in hopes of reversing an Ontario court's re-definition of marriage to include same-sex couples.
The Ontario Conference of Catholic Bishops, together with the Evangelical Fellowship of Canada, the Islamic Society of North America and the Catholic Civil Rights League, have asked the Supreme Court for leave to appeal the Ontario Court of Appeals' June 10 decision allowing gay and lesbian couples to obtain marriage licenses.
The Ontario court ruled the traditional definition of marriage as the union of a man and a woman was unconstitutional. Courts in British Columbia and Quebec have handed down similar decisions recently, but they gave governments a year to implement the necessary changes.
After last month's Ontario court ruling, Prime Minister Jean Chrétien said he will draft a bill giving legal recognition to same-sex marriages throughout Canada. But first, the proposed bill will be referred to the Supreme Court of Canada for its input.
Second German priest suspended
COLOGNE, Germany -- Fr. Gotthold Hasenhuettl of Trier in southwestern Germany has been suspended for giving Communion to non-Catholics during a high-profile Mass in a Lutheran church celebrating Kirchentag, an ecumenical church assembly May 29.
The Mass was dropped from the Kirchentag's official program after church officials voiced strong objections.
"For the sake of the credibility of the church, I cannot accept that a priest celebrates an open Eucharist which has been specifically prohibited by the pope in his recent encyclical," said Bishop Reinhard Marx of Trier, announcing the suspension.
Hasenhuettl, 69, said he acted within the guidelines of the April encyclical, Ecclesia de Eucharistia, which reiterated church teaching that Christians of other denominations may receive the Eucharist only in very limited and special circumstances. He said Kirchentag was a special circumstance.
Hasenhuettl is the second priest to be suspended in connection with Kirchentag. Fr. Bernhard Kroll (NCR, June 20), a parish priest from Bavaria, was suspended after receiving Communion from a Lutheran priest at a separate service.
Uganda archbishop calls for international intervention
KAMPALA, Uganda -- Archbishop John Baptist Odama of Gulu, Uganda, has called on U.S. President George W. Bush to help find a peaceful solution to the ongoing conflict in northern Uganda and to pressure the Sudanese government to stop supplying arms to the rebel Lord's Resistance Army.
The archbishop asked Bush to press the U.N. Security Council for a "peaceful solution to the crisis." The international community needs to be convinced "that the Ugandan situation is in need of an urgent solution," he said. The letter was sent to Bush in advance of his July 11 visit to Uganda.
The rebels have been fighting the Ugandan government since 1987 and are widely believed to be responsible for the abduction of children, the torture and mutilation of civilians, and the pillaging of villages in northern Uganda.
Odama serves as chairman of the Acholi Religious Leaders' Peace Initiative, an interfaith coalition of religious leaders seeking a peaceful solution to the 17-year-old conflict in northern Uganda.
USA
Head Start bill stalled in House
WASHINGTON -- House Democrats teamed with educators -- including religious sponsors of Head Start programs -- to stall Republican plans for the almost 40-year-old Head Start program.
Head Start provides educational, health and social services to low-income preschoolers, and it served more than 900,000 kids last year. The Bush administration wants to phase out direct funding of local Head Start agencies and transfer the power to the states.
"House Democrats were united against this bill," said Rep. Steny Hoyer, D-Md., the House minority whip. Had Republicans kept the scheduled vote on the bill for July 18, "the GOP very likely would have suffered a very embarrassing defeat."
It was not clear when House Speaker Dennis Hastert, R-Ill., would try to schedule another vote on the Head Start bill.
According to Sharon M. Daly, vice president for social policy at Catholic Charities USA, the administration's proposed changes would disrupt the nature of a program that has been functioning well since its inception.
States, she said, are already strapped for cash. Giving states another program to handle would add to their burden and detract attention and money from needs that currently are being met.
Church 'compelled' to aid migrants on U.S. borders
TUCSON, Ariz. -- The bishop of Tucson is asking Catholics in his diocese to donate cash and first-aid items to assist Latin American migrants attempting cross the U.S.-Mexican border. Bishop Gerald F. Kicanas said that recent deaths of migrants trying to cross the Arizona desert compelled the church to offer its assistance.
"I ask parishes to join me in supporting our sister archdiocese of Hermosillo, Mexico, as they provide humanitarian assistance to migrants at risk," the bishop said in a letter read in parishes during Masses July 12 and 13 and July 19 and 20. The Tucson diocese recently formed a border ministry team.
According to news reports, more than one illegal immigrant a day has died along the Arizona border since the beginning of July.
Officials from the Tucson and Phoenix dioceses and the Hermosillo archdiocese met last November to discuss border policies and ways of preventing deaths and other problems. The meeting resulted in a pledge of solidarity and mutual support, Kicanas said.
Africa trip reaffirms Bush's belief in partnerships with faith groups
WASHINGTON -- Fresh from a trip to Africa, President George Bush reiterated his support for partnerships between government and faith-based organizations.
Speaking of his five-year plan to spend $15 billion on global AIDS, the president told urban and religious leaders July 16 that he believes strategies are in place in Africa to receive and distribute new medical and other assistance from the United States.
"We saw good infrastructure," he said. "The Catholic church, for example, in Uganda is fully prepared to pave the way for distribution of anti-retrovirals [and] at the same time help with education and prevention."
He thanked religious leaders' for pushing Congress to fund the AIDS initiative, which faces lower first-year appropriations than he had hoped as Congress debates the budget.
For domestic faith-based organizations, Bush held up as examples faith-based after-school programs and low-income senior housing, which have received millions of dollars in funding.
Calling faith-based groups "neighborhood healers" the president said he hopes to expand the range of those organizations that receive funding.
---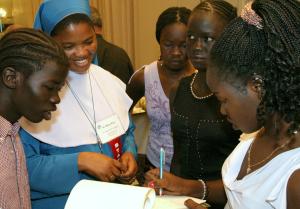 Lobbying Congress
Daughters of Divine Love Sr. MaryPaul Asoegwu of the U.S. bishops' Migration and Refugee Services helps youths register to speak at a lobbying session on Capitol Hill July 9. The group, now living in the United States, spent their early years in refugee camps fleeing the civil wars in Sudan and Ethiopia, before coming to the United States in 2000. They went to Congress to talk about their concerns about thousands of children who are victims of Sudan's civil war.
-- CNS/Paul Haring
---
Emergency contraception OK'd
ALBANY, N.Y. -- The New York State Catholic Conference withdrew its objections to legislation mandating that hospital emergency rooms provide "emergency contraception" drugs to survivors of rape, after the language was amended to resolve church concerns.
The bill, which was awaiting the signature of New York Gov. George Pataki, calls for such drugs as long as they "are not contraindicated, the woman is not pregnant, and it is within a medically appropriate amount of time from the attack," according to a statement from the conference, which represents the bishops of the state's eight Catholic dioceses.
The emergency-room bill was separate from another "emergency contraception" bill that the Catholic bishops of New York state had strongly opposed.
The second bill, which died during the legislative session, would have allowed over-the-counter distribution of emergency contraceptive drugs by pharmacies, schools and clinics without a doctor's prescription.
Catholic social teaching on video
WASHINGTON -- The U.S. bishops' conference is releasing a 28-minute video, "In the Footsteps of Jesus: Catholic Social Teaching at Work Today."
The central question in the program is "How does God call you to make a difference in the world?" It aims at introducing Catholic social teaching "in a wide variety of contexts and time frames," according to an announcement.
The video can be used as a resource for sacramental preparation, small study groups, and youth and adult religious education.
Part One provides an overview of the themes of Catholic social teaching and a brief scriptural and historical context. Part two highlights the themes by focusing on the lives of six individuals and a couple who discuss their own commitments to promoting justice and peace.
Californians pray for 'just budget'
SACRAMENTO, Calif. -- As California entered the third week of its fiscal year without a state budget, a coalition of religious leaders prayed together on the capitol steps July 15 exhorting their legislators to come up with, in the words of Sacramento Auxiliary Bishop Richard J. Garcia, "a just budget now -- right now."
Democrats and Republicans have fought over raising revenues and cutting expenditures.
Criticizing proposals to "slash" state services to "the most vulnerable among us," Lutheran pastor John Freesemann told a crowd of 100: "Slashing is what you do in horror movies, not in well-run governments. … We need vision, and we need leadership ... willing to compromise politically but never willing to compromise morally."
Freesemann, who heads California Church Impact, an arm of the California Council of Churches, said, "The budget of this state is more than a statement of our fiscal needs. ... It's a statement of our moral backbone. It is a statement of who and what we care about."
Family planning funds blocked
WASHINGTON -- Religious groups have called the U.S. House of Representatives' decision to withhold funding to the United Nations Population Fund a crippling blow against women's rights and the fight against AIDS.
"This decision will severely impact the well-being of thousands of women around the world, will increase the number of abortions and the spread of HIV/AIDS," said Jim Winkler, the general secretary of the United Methodist's General Board of Church and Society.
The House voted 216-211 to defeat an amendment to a State Department spending bill that would have restored $50 million in funding to the U.N. program.
Other religious leaders, however, supported the House's decision to block taxpayer money to the organization.
Gail Quinn, the executive director of the U.S. Catholic bishops' Secretariat for Pro-Life Activities, called the House decision a victory for women in developing nations.
Quinn said in a statement, "The House took the right action, and we hope the Senate will do so as well."
COMPILED FROM NEWS SERVICES, CORRESPONDENTS AND STAFF
National Catholic Reporter, August 1, 2003