Issue Date: August 1, 2003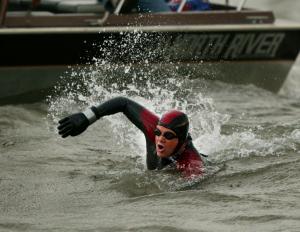 Christopher Swain swims the Columbia River.
-- Basil Childers
1,245-mile swim publicizes need to clean river
By DENNIS CODAY
A week after he ended a 1,243-mile swim from the headwaters to the mouth of the Columbia River, Christopher Swain was standing in the hall of St. Clare Parish in Portland, Ore., telling parishioners of his 13-month experience contending with toxins, bacteria and icy waters.
Swain, 35, a watersports enthusiast, began his journey a year ago in Canada. He swam to raise awareness of the danger the Columbia faces from toxic wastes, rising temperatures, rampant bacteria and the dwindling salmon population. He finished the swim July 1.
The peace and justice committee at St. Clare invited him to speak as part of its continuing efforts to implement the February 2001 pastoral letter "The Columbia River Watershed: Caring for Creation and the Common Good," released by the 12 bishops of Oregon, Washington, Idaho and British Columbia. More than 70 parishioners listened to Swain's talk between the Masses on Sunday morning June 8.
Swain said he undertook his swim as a quest to clean up the river. "Now, after swimming over flooded towns, past cultural sites, and through dioxins, pesticides, and nuclear waste, it is more than that," he said.
"I have come to realize that every challenge facing the river can be reduced to human terms," Swain said. His challenge now, he said, is "to stimulate a wide-ranging discussion about how to protect and restore specific stretches of the river, and mitigate the cultural damage done by man-made alterations to the river."
Swain's message resonates with St. Clare parishioner Tony Wawrukiewicz, chair of the peace and justice committee. "It is an incredibly complex issue, as the bishops point out in their letter. There are no trivial answers. … So many people live their lives around the river, whose economic activities depend on the river."
Development of the river produces power and irrigation for agriculture. But as Swain and the bishops pointed out, trouble is apparent: High levels of heavy metals and water run off from waste disposal, for example, are killing the river and making people sick.
"You don't change large complex issues with one huge action. It's a multi-step process," Wawrukiewicz said.
Gertrude Welsh, a videographer and another member of St. Clare's peace and justice committee, is working on a documentary about how well the bishops' pastoral is being implemented.
Dennis Coday is an NCR staff writer.
National Catholic Reporter, August 1, 2003