Issue Date: March 26, 2004
WORLD
Edited by Dennis Coday
Dirty war' draws to close
MEXICO CITY -- The arrest last month of Miguel Nazar Haro, former head of the now-defunct Federal Directorate of Security in the 1970s and '80s during the so-called "dirty war" against students and leftists, could mark the end of three decades of impunity, Human Rights Watch said. The war resulted in the deaths of more than 500 persons.
Nazar Haro, who was in hiding since last December when a judge issued an arrest order, is accused of having participated in 1975 in the forced disappearance of Jesús Piedra Ibarra, who allegedly was a member of a leftist guerrilla organization. Two others implicated in the case, former agents Luis de la Barreda Moreno and Juventino Romero Cisneros, are still being sought by police.
José Miguel Vivanco, executive director of the Americas Division of Human Rights Watch, said, "There is still a lot to do in order that the most important legal initiative of President [Vicente] Fox in human rights achieves significant results."
Miguel Fuentes, a special prosecutor for past social and political movements, revealed that his office is preparing requests for the arrests of more than 300 former police and military officers for human rights violations during the dirty war.
Canada bans cloning
OTTAWA --Parliament has approved a bill that would ban human cloning and regulate research on embryos. Canada's governor general was expected to approve the legislation by the end of March. The Assisted Human Reproduction Act bans human cloning, sex selection, commercial surrogate motherhood contracts, the sale of sperm and eggs, and sets out rules on human embryonic stem-cell research.
The Canadian bishops' conference did not take an official position on the bill. In testimony before the Senate, the conference's representative "recommended that senators consider the positive elements of the bill," such as provisions to protect the human embryo and regulate embryonic research, but reiterated the church's opposition to assisted human reproduction.
---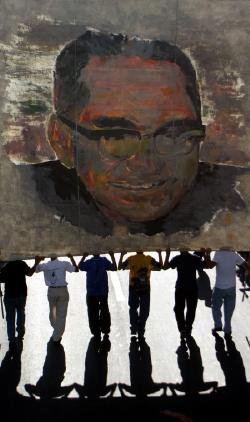 -- CNS/Reuters
Remembering Romero
Salvadoran youths carry an image in honor of Archbishop Oscar Romero during a memorial in San Salvador March 14. Romero, an outspoken advocate for the poor and strong opponent of violence in El Salvador, was assassinated on March 24, 1980, as he celebrated Mass.
---
Army officers acquitted
JAKARTA, Indonesia -- Indonesia's Supreme Court upheld an August 2002 lower court ruling that acquitted five Indonesian military officers implicated in the 1999 massacre of civilians in an East Timor church. The ruling "underscores the need for a United Nations mechanism to bring to justice those responsible for atrocities in East Timor," Human Rights Watch said.
The five were accused of involvement in the Sept. 6, 1999, Suai church massacre, during which up to 200 civilians, including three priests, were killed. Their cases were first heard in the Jakarta ad hoc court on East Timor. Of the 18 men that court has tried, 12 have been acquitted. The six convicted defendants received only modest or nominal sentences, and none have served a day in prison.
Rabbis strike over pay
JERUSALEM -- An open-ended strike by thousands of Israeli Orthodox rabbis is already being felt by many citizens. Since thousands of rabbis began to strike March 11, some couples have been unable to get divorced; some ritual baths, known as mikvehs, have been shuttered; and non-Jews awaiting conversion to Judaism have been unable to convert. The rabbis are also refusing to ritually slaughter animals, meaning there could soon be a shortage of kosher meat and poultry.
Despite the rabbis' vow to refrain from performing weddings, however, most, perhaps all, weddings have gone on as scheduled. Funerals are continuing, but cemeteries are often gated shut at other times. The striking rabbis are protesting the government's failure to pay the salaries of some 3,000 rabbis and other employees of local religious councils and municipal rabbinates for more than six months.
Reform and Conservative rabbis say they were ready to step in to fill the void left by the striking rabbis, but they have no official standing in Israel and the services they perform are not recognized by the state.
USA
Catholics, Buddhists dialogue
BURLINGAME, Calif. -- Representatives of the U.S. bishops and leading American Buddhists have completed two of a planned series of four dialogue sessions aimed at creating greater awareness of the two religious traditions. About 20 representatives met March 4-7 to pray, meditate and discuss the theme "Transformation of Hearts and Minds: Chan/Zen-Catholic Approaches to Precepts." Chan and Zen are the Chinese and Japanese terms, respectively, for the meditation school of Buddhism.
The U.S. bishops' conference, the Dharma Realm Buddhist Association and the San Francisco Zen Center cosponsored the event. It was held at the Mercy Center in Burlingame, a retreat center run by the Sisters of Mercy that is celebrating the 20th anniversary of its own East-West meditation program this year.
Each day began with an hourlong meditation in the Rose Room, a Zen-style meditation space in the Mercy Center. A Catholic liturgy was held in the afternoons. The next meeting in the series is to be held Jan. 20-23, 2005, in San Francisco.
Local churches bypass bishop
FAIRLAWN, Ohio -- Hundreds gathered to hear the Gospel, sing hymns, receive Communion and celebrate the confirmation of 110 people ranging from junior high students to people in their 70s. But one person was missing from the festive Episcopal gathering March 15 -- the bishop of the Episcopal diocese of Ohio.
Six area congregations unhappy with Bishop J. Clark Grew II's support for Gene Robinson, an openly gay bishop in New Hampshire, broke church protocol and brought in retired bishops from outside the diocese to conduct the confirmation service. They secretly planned the service and held it in an Orthodox church so that Grew could not stop it and so they could not be accused of having held an improper service in an Episcopal church.
"We don't know what repercussions there will be, but we certainly expect some," said Cynthia Brust, a spokeswoman for the conservative American Anglican Council, which helped arrange the service at Presentation of Our Lord Orthodox Church. Brust said about 800 people attended. A spokesman for the diocese said, "Bishop Grew will be working on some sort of response."
Chaplain for Planned Parenthood
LOS ANGELES -- Planned Parenthood Federation of America appointed as its first chaplain the Rev. Ignacio Castuera, a United Methodist minister from Los Angeles. Planned Parenthood described the new position as a national spokesperson who will "articulate the spiritual dimensions of sexuality and reproduction."
He will advise the organization's staff on moral and ethical issues and work to expand their relationships with religious leaders and organizations, said Gloria Feldt, president of the New York-based organization known for its abortion-rights stance. "His expertise in offering spiritual insight and guidance to the reproductive health movement is invaluable."
Castuera is the senior pastor of St. John's United Methodist Church in the Watts community of Los Angeles and leads the Latina Outreach Project of the Religious Coalition for Reproductive Choice.
Membership figures reported
NEW YORK -- The annual report of church membership figures compiled by the National Council of Churches shows the 10 largest churches in the United States, in order, are:
The Roman Catholic church: 66.4 million
The Southern Baptist Convention: 16.24 million
The United Methodist church: 8.25 million
The Church of God in Christ: 5.49 million
The Church of Jesus Christ of Latter-day Saints: 5.41 million
The Evangelical Lutheran Church in America: 5.03 million
The National Baptist Convention USA, Inc.: 5 million
The National Baptist Convention of America, Inc.: 3.5 million
Presbyterian Church (USA): 3.4 million
Assemblies of God: 2.68 million
The survey found 161 million adherents in some 215 different denominations.
Abuse claims due by Sept. 1
CINCINNATI -- Victims of clergy sex abuse in the Cincinnati archdiocese have until Sept. 1 to apply for financial compensation through a $3 million fund created in November as part of a plea deal between the archdiocese and Hamilton County prosecutors. In that deal, the archdiocese pleaded no contest to five counts of failing to tell authorities about sexual abuse allegations against priests.
Victims' advocates are recommending boycotting the fund because participation in it requires victims to drop pending lawsuits and agree to never file those suits again.
Claim forms became available March 1 and will be accepted for six months. The fund is administered by a three-member tribunal appointed jointly by the prosecutor's office and the archdiocese. The tribunal is devising a formula to calculate payments to victims.
People filing a claim will be asked to fill out a detailed form describing the abuse, the abuser, when it occurred and other relevant information. The tribunal will review the claim and give victims the option to speak directly to tribunal members. Tribunal decisions are final and cannot be appealed.
Lawsuit filed against Dupre
SPRINGFIELD, Mass. -- Two men who say they were sexually abused by retired Springfield Bishop Thomas L. Dupre filed a civil lawsuit against him March 11. The complaint by the men, now 39 and 40 years old, alleges that then-Fr. Dupre engaged in sexual activity with the men when they were minors in the late 1970s and '80s.
The plaintiffs are named in the lawsuit, but to protect their privacy their attorneys have asked the media not to publish their names.
In a surprise announcement Feb. 11, Dupre said he was retiring for health reasons. Within hours, the local daily newspaper, The Republican, reported that it had submitted detailed written questions to him Feb. 10 about the two men's allegations. Dupre entered a clergy treatment center in Maryland and has not been available for comment.
Care facility for victims planned
WASHINGTON -- The Farm, a temporary refuge for victims of sexual abuse, has won the support of Archbishop Harry J. Flynn of St. Paul-Minneapolis, chair of the U.S. bishops' Ad Hoc Committee on Sexual Abuse. Flynn wrote U.S. bishops in December urging them to "support this good work."
He said The Farm "is a very important and positive initiative for the healing of victims of clergy sex abuse" and provides an opportunity for victims and church leaders "to come together in a positive common endeavor."
Activities at The Farm will include helping victims seeking to get spiritually reconnected to their faith, said Susan Archibald, president of The Linkup, a victims' organization. The Farm is to offer traditional therapy programs such as seminars on anger management as well as nontraditional approaches stressing reconciliation and relaxation, such as baking bread, gardening and art.
The Linkup is sponsoring The Farm and is supporting it through private fundraising. It has leased land just outside Louisville, Ky., and plans to start operations before the end of April.
COMPILED FROM NEWS SERVICES, CORRESPONDENTS AND STAFF
National Catholic Reporter, March 26, 2004