Issue Date: March 26, 2004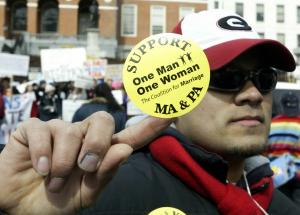 -- CNS/Reuters
Same-sex marriage opponent Melvin Reyes passes out stickers outside the Massachusetts Statehouse in Boston March 11. The Legislature again was debating a constitutional amendment banning marriage between gays.
Joining forces to battle same-sex marriage
Bishops' conference, religious right fund project that critics call an attack effort against gays
By JOE FEUERHERD
From his cluttered fourth floor office at Catholic University's Columbus School of Law, a half mile from the offices of the U.S. Conference of Catholic Bishops, Professor Robert Destro occupies a key post in the nation's culture wars. Destro, a controversial Reagan-appointee to the U.S. Civil Rights Commission in the 1980s, serves as principal investigator of the Catholic University of America-based Marriage Law Project, the core mission of which is to provide "legal assistance to church-related organizations" that support traditional marriage.
The Marriage Law Project came to the marriage debate relatively early. Founded in 1996, it worked with church-based groups to oppose same-sex marriage initiatives in Hawaii and Alaska and helped draft "defense of marriage acts" at the state and federal levels. Most recently, the project has been active in Massachusetts where it "coordinated submission of 15 amicus briefs" to the state's Supreme Court prior to the court's ruling in support of same-sex marriage.
Since its inception, the project has had support -- financial and otherwise -- from the U.S. bishops, the Mormon church (the project's director, William Duncan, is paid jointly by Brigham Young University's Law School and the Marriage Law Project), and a consortium of conservative evangelical ministries that have made opposition to same-sex marriage a top public policy goal. Over the next three years, for example, the Marriage Law Project will receive $260,000 from the Alliance Defense Fund -- a public policy advocacy group founded by such stalwarts of the religious right as Colorado Springs-based Focus on the Family, Campus Crusade for Christ, and Coral Ridge Ministries.
In the eight years since its founding, said Destro, the project has gained a reputation for quality research and analysis. "I'm a lawyer and I'm a scholar and that's what we do," said Destro. "People don't come to you and rely on you if you don't give them valuable stuff," he said. "People on the other side of this issue take us seriously because we're honest."
Not all of the group's opponents agree.
"Their role has been to try to give the veneer of scholarship and objectivity onto what is really an attack effort to cement discrimination against gay couples into the law," said Evan Wolfson, executive director of New York-based Freedom to Marry.
Destro scoffs at the notion that the Marriage Law Project is part of a "vast right-wing conspiracy."
The project's annual budget, said Destro, is "a lot less than you would think," but he declined to provide specifics and the numbers aren't publicly available. In addition to the Alliance Defense Fund contributions, the project is funded through a combination of private donations (some of which, said Destro, "have been very, very generous"), in-kind contributions from Catholic University (which provides rent-free space and use of its legal research facilities), support from the Mormon church, and annual grants from the bishops' conference.
Over the next three years, according to budget documents released at the bishops' November 2003 meeting, the bishops' conference will provide the Marriage Law Project with $60,000. A like amount appears to have been contributed by the conference over the previous three years, though documentation is fuzzy. The conference's 2001-02 audited financial statements note that $20,000 was provided annually to Catholic University, but does not specify its purpose. A conference spokesperson declined to clarify how much the bishops have provided to the project.
Project staff provided a heads up to the bishops about possible reaction to their work in a July 2003 report. "It can be expected that the location of the Marriage Law Project at [Catholic University of America] may become a controversial issue for some CUA faculty and staff members," said a July 2003 report to the bishops. "Careful attention needs to be given to the content and tenor of a public response should this situation arise." No such controversy has arisen.
Meanwhile, much of the Marriage Law Project's work takes place outside the high-profile same-sex marriage debates of Massachusetts, California and New York. A recent example: In February, at the request of New Hampshire's Focus on the Family affiliate, a Marriage Law Project researcher provided a six-page analysis of legislation that would clarify the state's right to reject same-sex marriages from other states. "New Hampshire sits in the eye of a storm, but sooner or later the winds from Massachusetts or Vermont or Canada will come sweeping across the Granite State to uproot your laws on marriage," wrote project researcher Lincoln Oliphant.
It is just such arguments that infuriate gay rights advocates, who seem to hold a special contempt for the role the Catholic hierarchy has played in the same-sex marriage debate. Last year, the bishops' conference endorsed a constitutional amendment that would define marriage as between a man and a woman, while the bishops of Massachusetts have taken the lead (and spent more than $1 million) in calling for the legislature to overturn, through an amendment to the state constitution, the Massachusetts Supreme Court ruling on gay marriage.
"Many church leaders and the church hierarchy have poured a huge amount of resources into opposing legal rights for gay people," said Wolfson. "Ironically, I don't see the bishops calling for a constitutional amendment to prohibit divorce or for a constitutional amendment to prohibit the death penalty. There are many things the bishops say they stand for, but the only attack campaign they seem to be putting their money and reputation on the line for is this campaign against gay families."
Wolfson's views are widely shared among gay rights advocates.
"Among all of our opponents, and there are many on the right, the Catholic church's pronouncements … are among the most hurtful because they are so couched in the notion of 'intrinsic disorder' and layered on with all of this 'theological analysis' and moral law analysis," said Matt Foreman, executive director of the National Gay and Lesbian Task Force. "It's one thing to hear this stuff from Pat Robertson and the Family Research Council and those kinds of people," continued Foreman, "but it's a whole other thing to hear it come from the Catholic church, which has not only so much power but also demonstrates its human compassion in so many amazing ways in feeding the poor, in education and advocating on critical social issues. It's this dichotomy … that is just stunning."
"It is surprising," said Dignity USA executive director Matthew Gallagher, "the amount of energy they are spending and the vehement language they are using to work against same-sex marriage laws, yet they would not spend a $1 million to protect the children in the pews during the abuse sandals by the their priests."
Destro argues that the church's position is not anti-gay, but pro-children and pro-woman.
"What is marriage really for? I'd say it's less about the spouses then it is about the social structures of raising children and protecting women," said Destro.
"What we're really talking about is the redefinition of family and family structure," said Destro, and the burden of proof as to whether that is a good idea lies on those who would alter the centuries-old understanding that marriage is reserved for one man and one woman. "We're talking about the redefinition of a major social contract."
That's a case, no doubt, that Destro will have ample opportunity to make in the months and years to come.
Joe Feuerherd is NCR Washington correspondent. His e-mail address is jfeuerherd@natcath.org.
National Catholic Reporter, March 26, 2004