Issue Date: March 26, 2004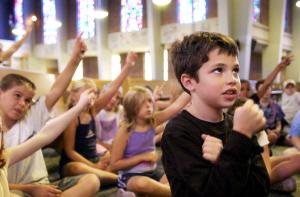 -- CNS/Karin von Voigtlander
Joe Scardino sings with fellow second- and third-grade students during a music lesson in summer religious education at St. Ambrose Church in Rochester, N.Y.
Setting hearts on fire
Passing on the Catholic faith requires more than mere academics -- more than dry communication of facts and teachings. It requires engaging both "the head and the heart of the faith," as Diana Dudoit Raiche of the National Catholic Educational Association tells NCR in this Catholic Education special section focusing on religious education.
It can be a tall order, one that catechists often have to meet with limits of time -- the proverbial "30 hours" a year that the religious educator has on average with a student in a typical, once-a-week class. The growing movement for a more holistic catechesis, incorporated with the wider community, runs up against other limits of funding and available staff, reports NCR staff writer Dennis Coday (see story).
Writers Deborah Halter and Kris Berggren talk to catechists who are working to meet these challenges at the parish level. At a religious education conference in New Orleans, Halter spoke with catechists in the American South, where the region's dearth of parishes for its small but growing Catholic population presents extra difficulties (see story).
Berggren looks at U.S. parishes practicing the "whole community catechesis" model, which strives to integrate religious education with family and parish life, placing an emphasis on liturgy and the faith formation of adults (see story). That formation especially extends to volunteer catechists, grounding their ministry with training and opportunities for spiritual growth.
What catechists hope will happen is that Catholics -- whether children or adults -- will connect the message with everyday life. In the words of Christopher Weber of the Baltimore archdiocese, "The object is really less about the classroom and more walking on the road to Emmaus, where hearts are set on fire."
-- Teresa Malcolm
National Catholic Reporter, March 26, 2004