Issue Date: March 26, 2004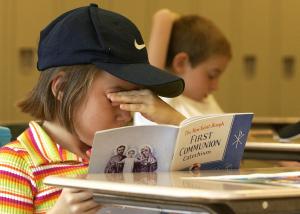 -- CNS/Karen Callaway
A religious education class takes its toll on Kelsey Conway and Jacob Chapman at St. Patrick Church in Chesterton, Ind. The children were learning about the Eucharist during the last of their two-and-a-half hour summer sessions.
Community and collaboration
Successful religious education integrates classes with parish, family life
By KRIS BERGGREN
Sunday school. CCD. Catechism. Religious education. Faith formation. Whatever we call it, parishes and parents have long accepted the classroom model of passing on the faith, whether through Catholic schools, Wednesday night or Sunday morning programs. Many parents, catechists and religious education experts have seen the failure of that model to inspire children with a love of Christ or a love of the church.
"Religious education as is can be a great program for kids to learn facts, but not so great at keeping kids committed to the Catholic faith," said Doris Murphy, director of religious education at St. Bridget Parish in River Falls, Wis. "I think some of how we are presenting religious education from K-12 is part of the problem."
At its worst, religious education classes are little more than glorified babysitting. At best, they are integrated into the scope of parish life and generate energy among participating families. "The object is really less about the classroom and more walking on the road to Emmaus, where hearts are set on fire," said Christopher Weber, director of Catholic Education Ministries for the Central Maryland region of the Baltimore archdiocese. "Of course knowledge is part of that, but it comes after that real faith connection, where they see the message is real in my life."
Catechetical leaders believe parishes can create and sustain effective religious education programs by combining solid volunteer management principles with opportunities for ongoing adult faith formation in a climate of collaboration and relationship building.
Doris Murphy's program at St. Bridget, a parish of about 1,500 households, is lively and well attended despite the competition from kids' athletics and parental work commutes to jobs in the Twin Cities of St. Paul and Minneapolis. "We have to be sensitive to the parents' reality. We give out our schedule right away [at the beginning of the school year] and I say, 'Write it on your sports schedule!' They do not like it if we change anything because they really plan to come."
Like a cook who peruses several cookbooks, combining recipes, Murphy reviews "all the textbooks" before she writes her own four-year curriculum for each level: grades 1-4, 5 and 6 and 7-11, focused on monthly themes and activities and learning opportunities that "reach out in different ways to hear about God," including interactive, artistic, musical, prayerful, academic, dramatic and discussion-based classes. "Religious education is about more than intellect. I believe it is about how to 'know, love and serve God,' " Murphy said, using the old Baltimore Catechism phrase. "There is no question about that in my mind. But it is how you learn. The what is a given."
Murphy's high expectations produce results. The hour-long classes begin and end right on time, avoiding the typical "10 minutes you don't do diddlysquat," as Murphy puts it. Parents must attend classes with their children through fourth grade and are invited to do so through sixth grade. Although parents may balk at first, they soon realize it's worth it -- and not just for the kids.
Enthusiasm for the faith
Parent evaluations reflect their satisfaction: "We like the extra exposure to religious education … the group involvement … the parent-child bonding," said some recent evaluations.
"They all say they learn something as well," Murphy said, "and our parents are pretty sophisticated. It's a college town." One recent example was a catechist's simple metaphor of blowing up balloons to illustrate the Holy Spirit as the breath of God that keeps us going as the air keeps the balloon inflated. "Afterwards, several parents told me they had never figured out a way to talk about the Holy Spirit," Murphy said. "We think they know all that: wrong."
Children's faith formation begins with adult formation and enthusiasm for the faith. Nancy Lawlor, a catechist with an education degree and five years' experience at St. Thomas the Apostle Parish in Minneapolis, said her parish's embrace of whole community catechesis has slowly transformed its religious education programs for children. "It is more satisfying and more organized. A lot of parents stay and go to the adult sessions," she says. "Before, lots would drop off their kids and leave."
The parish sets aside each Wednesday night for a meal, large group assembly and smaller, age-group based faith formation classes or sacramental preparation. After the meal -- something like pizza or chicken or a "hot dish" (known as a casserole to non-Minnesotans) -- everyone assembles in the church for a prayer service, song, and announcements with a personal touch such as news about a birth or death in the community. Then people break into age groups for their class or a speaker.
"It is becoming clear that Wednesday night is not just 'CCD,' " Lawlor said. "To really be part of this parish you need to come on Wednesday nights."
Patience is a virtue when it comes to building a program that works, said Murphy. After four years at St. Bridget, "this is the first year I am feeling real success," she said. "It takes that long."
High expectations are important not only when it comes to parent participation but when it comes to recruiting volunteers. "Not everyone who's free Wednesday night at 7:00 has the gift of teaching," said Bill Huebsch, a former diocesan administrator in New Ulm and Crookston, Minn., and a former parish director of religious education.
"We've got to stop begging," said Kathy Hendricks, a consultant and contributing writer to religion textbook publisher William H. Sadlier Inc. "You can't get up in front of the congregation and say, 'Please, we need a fifth grade teacher.' If I'm in fifth grade, I'm going to ask myself, 'Are we so bad nobody wants to teach us?' "
According to Hendricks, parishes should take a fresh approach to marketing the benefits of volunteering as catechists by sharing the success stories and the personal and spiritual growth that can flourish with good training and a creative, collaborative environment.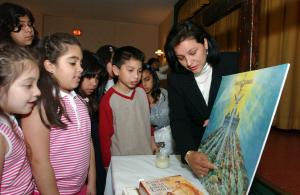 -- CNS/Michael Hoyt
Dora Tobar explains the sacraments to a group of children at St. Catherine Laboure Parish in Wheaton, Md.
Parents of enrolled children are the conventional volunteer pool for catechists. Some directors of religious education like Murphy prefer to recruit professional teachers as catechists since they have the skills and experience with groups of kids. But non-teachers -- and non-parents -- can become good catechists with the proper training and formation. Parish directors of religious education often hesitate to ask parents to make a substantial time commitment in training or preparation, but this concern may be misplaced.
"When I was the director of religious education in the diocese of Colorado Springs," said Hendricks, "the main complaint of the [parish] DREs was, 'I can't ask volunteers to take time for training; they're already giving time from their busy lives to teach.' But the main complaint of volunteers was when they were given a book and no preparation. Catechists want to feel competent and confident."
According to Patricia Rogers, director of religious education at St. Ann Parish in Hagerstown, Md., "One of my responsibilities as a DRE is not only to encourage [catechists] to become more confident in sharing the faith with children but to grow in their faith as well."
Effective training is not about anesthetizing volunteers for two hours on a Saturday afternoon with the minutiae of the doctrine of transubstantiation or what happened at the Council of Trent, say religious education experts. Rather, Weber said, it is about energizing them for the amorphous but essential task of motivating hearts and minds.
"If their last formal catechesis was in grade school, they might have a very young person's understanding of, say, the sacrament of Eucharist or reconciliation," he said. "When they have a chance to teach it, they can 'taste them again for the very first time,' just like the Kellogg's Corn Flakes ad says."
Spiritual growth for catechists
Many dioceses offer days of formation with nationally known speakers, great music and opportunities to share ideas and network. Parishes with enough resources might offer their own formation events. Murphy coordinated a summer speaker series with local college professors. Retreat days or evenings of reflection focus on the catechists' own spiritual growth.
Rogers might give catechists one Sunday morning off and offer training featuring applicable topics like different styles of prayer, how children learn, learning disabilities or storytelling. Each catechist at St. Ann receives a subscription to Catechist magazine. "I figure if they are sitting in the doctor's office or waiting for their kid at soccer practice," she said, "they can read an article. We have to figure out ways to catch them in the middle of their schedule."
Some parishes are exploring different models of organizing volunteers like team teaching; recruiting teams to work with children in media, the arts or music; and creative scheduling by breaking tasks into manageable units.
Lawlor enjoys team teaching with another volunteer who has a master's degree in theology. Her co-teacher "has the knowledge, we have the themes the parish is focusing on, and I know how to entertain them," said Lawlor, a mother of three, ages 9, 11 and 14.
One Alaska parish Hendricks worked with organized Sunday volunteers into A, B and C teams, with each responsible for one extended Sunday class time a month. On the fourth Sunday, all three teams met to prepare lessons, share stories and brainstorm. "I had no trouble recruiting volunteers," Hendricks recalled, since each volunteer committed to two days a month instead of four, and some training and preparation time was built into their schedule. Another parish, Hendricks said, recruited a media team and an art team to help with projects. "It created a lot of excitement," she said. "Especially in smaller parishes, it can be isolating when you're on your own. It is also an opportunity to mine the gifts of others."
Cross-fertilization of religious education staff and volunteers with other ministries such as youth, family life or social justice programs can be fruitful. Successful catechesis is about building relationships at many levels -- between diocese and parish, parish and household, parents and teachers.
It may seem obvious, but most people respond very well to a simple thank you. A kind word from the pastor, the parents or parish staff can make a catechist's day. "They need to hear they are doing a good job," Hendricks said.
And don't forget the significance of good food. When Rogers offers Saturday training, she provides a nice lunch. "There is a saying in parish work: If you feed them, they will come," she said.
That goes for all kinds of food -- the chicken, pizza and hot dish, to be sure, but also the food for the spirit, for the community, for the family.
Kris Berggren is the author of Strategies for Stay-at-Home Parents (Meadowbrook Press, 2003) and an NCR columnist.
National Catholic Reporter, March 26, 2004