Issue Date: March 26, 2004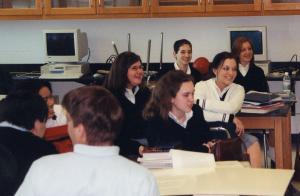 -- Photos by Gill Donovan
Students at Kapaun Mount Carmel High School in Wichita, Kan., attend a physics class in February.
Diocese offers tuition-free education
By GILL DONOVAN
Wichita, Kan.
While many families struggle to pay the rising cost of sending their children to Catholic schools, parishioners in one U.S. diocese don't worry about tuition -- including the high cost of tuition for Catholic high schools.
The children of active parishioners in the Wichita diocese attend Catholic schools tuition-free.
A model of stewardship was initiated in Wichita diocese-wide in 1985 by Bishop Eugene Gerber (see accompanying story). Parishioners embraced that model, which called for them to give generously of their time and their talents and to give as high a percentage of their income to the church as they could. The bishop wanted to offer free tuition at the diocese's 33 elementary schools. Once the people of the diocese were well on the way to that goal, Gerber extended the plan to the diocese's four high schools.
"It took a little time, a number of years," Gerber told NCR, "but as soon as the parishioners had experienced tuition free at the elementary schools, it became a natural sequence to look at tuition free in high schools." By 1993, the schools charged no tuition for children of active parishioners.
Gerber, who retired as bishop of the Wichita diocese in 2001 at age 70 after experiencing serious heart problems, was asked to again help run the diocese after his successor, Bishop Thomas Olmsted, was transferred to head the Phoenix diocese in 2003.
Many U.S. parishes finance a parochial school. However, diocesan officials in Wichita said they know of no other U.S. diocese to eliminate tuition for parish families in all its schools.

Dan Loughman
Dan Loughman, Wichita's director of stewardship and finance, told NCR that stewardship began "as a process to get individuals and families to understand that discipleship should be a way of life." Stewardship, he said, does not begin and end with finances. Rather, through prayer and through strong leadership, people in the diocese have come to understand that "all we have is a gift, whatever it is -- time, our talents and treasure -- and we are to give generously of all of that back through our parishes."
Parishes that don't run an elementary school pay to have their children attend neighboring parish parishes. Parishes that cannot afford to send their children to school without aid receive assistance from wealthier parishes.
"The schools cost about $33 million a year," said Bob Voboril, superintendent of Catholic schools in Wichita. "To start a school year knowing that most of that money is going to come from the pockets of parishioners and it's not in hand, it takes a great act of faith."
Voboril said he is confident that Wichita's Catholics will continue to rise to meet the need. He said the percentage of giving in the Wichita diocese far exceeds the national average. "We have some of our parishes that are over 5 percent of individual family income." He said the national average for Catholics is about 1 percent.
He admitted that other parishes "are not anywhere near 5 percent. But we have some that are about that high." Many are between 3.5 and 4.5 percent, he said.
He said one result of stewardship is the schools are growing larger. Since free tuition was first offered, school enrollment has risen about 30 percent, from 8,000 to 10,400.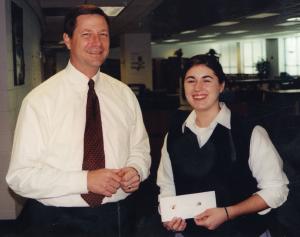 Mike Burris, president of Kapaun Mount Carmel High School, with student Tiffany Smith.
To meet the need at the four high schools, some 50 new classrooms have been built, including new laboratories, computer classes and three new libraries. Voboril said that to pay the $15 million for the additions, a diocesan fundraising campaign raised about $6.5 million, and the high schools raised some money through their development programs. "And some we had to borrow," he said, "although we've got all of it paid off now except a little bit less than a million."
Voboril said that parishioners pay about 80 percent of the high schools' budgets. According to Mike Burris, president of the Kapaun Mount Carmel High School, the diocese has stayed away from most fundraising campaigns in the form of chocolate sales and "event-type fundraising."
He said they make up 20 percent of costs through "an annual appeal, which will go to our parents and alumnus and grandparents and other friends of the school." Burris said that last year faculty and staff were asked to contribute as well. They had 100 percent participation. This year, for the first time, students also contributed. They were asked to make a gift of $5 or more from their allowance or a part-time job. "We had almost 60 percent participate. We were very pleased with that."
Equal access to education
Voboril said that one of the great advantages of providing free education is that it allows equal access to all Catholic families, regardless of income.
"I think we in the Catholic school community in this country face a very stark decision here in the next 10 years," he said. "That is, are we going to become a system of private schools as they are in Europe or Latin America and many other places that are really only available to the well-off, or are we going to remain a system of Catholic schools that are open to the full range of income levels? There is some research out there that says 40 percent of Catholic school students today come from the upper quartile of income and only 5 percent from the bottom quartile. And that would suggest that we have a school system that was essentially built for poor immigrants 100 years ago that now is pricing itself out of the market for the very people it tries to serve."
According to Leticia Palacioz Nielsen, president and principal at Bishop Carroll High School in Wichita, "I think 25 percent of our students qualify for free or reduced lunch." She said that the school also has families that are very affluent, and that at school and in after-school activities, such as sporting events, students associate freely with people they otherwise perhaps wouldn't.
Voboril said that between 15 and 20 percent of students in the diocese are ethnic minorities, which reflects the state population. "The advantage in our system is that you have more kids from diverse ethnic backgrounds in the schools because money is not the primary issue." He said that the schools try hard to teach racial tolerance and respect in the classroom, although he noted that racial lines do still exist in some parishes and schools.
At least one inner-city school, St. Patrick's, is "probably 30 to 40 percent Anglo, the rest Spanish-speaking or Vietnamese, kids coming to preschool that don't speak English. For those students, volunteers from the parish community help to overcome any language barrier."
A common concern in many Catholic parishes is that once students enroll at Catholic schools they may be less likely to involve themselves actively in parish life. In the Wichita diocese, however, a student who was not active in parish life would have little chance of being allowed to attend Catholic school.
Parish family agreements
Before a student can gain admittance, he or she must have a parish family agreement, signed by the student, by a parent, and by the family's pastor. The agreement promises that the family will be active stewards in the parish. Weekly Sunday Mass attendance is expected, as well as participation in religious education classes and other parish life activities. On rare occasions, when a student or a student's parents stop participating in parish life, a pastor will withdraw the agreement, and the student will be removed from the school.
According to Voboril, many of the schools are filled to capacity, and it can be very difficult for a family to enroll children without a parish family agreement.
It happens, infrequently, according to Burris, that a family may drop out of a parish "from the standpoint of being active stewards, and not be actively involved in time, talent and treasure commitments." Under those circumstances, a student may be asked to leave the school. "It's a sad day for us at the school," he said.
Nielsen said, "I've had examples where parents have said, 'Well, I can't get a parish family agreement because I'm not going to church.' Yet, they want their child to receive Catholic education, and they might say, 'Well, I'll pay you $8,000 in cash.' " (Tuition at Bishop Carroll High School for those without the parish family agreement is approximately $7,000 per year.)
"I would put them on the waiting list. They say, 'Well, can I just pay $8,000? That's not a problem.' And I would say, 'That's not what's important here. What's important is that you are an active Catholic member.' "
In that situation, she said, "You feel bad and wonder, Are you punishing the child?"
According to Msgr. Tom McGread, who was instrumental in the founding of stewardship in the diocese, "The big question is, What good would Catholic education do for them if they don't get support at home? That's the big problem."
Many parents in Wichita and elsewhere want their children educated in Catholic schools because, according to Voboril, "they're stronger academically, better disciplined, and they're safer. Now I think all that is true of our schools, but people here know that if you are going to get into our schools, whatever reason you come for, our schools exist to form disciples of Jesus Christ."
The students in the schools, according to Voboril, are an astounding 98 percent Catholic. The non-Catholic students are often the children of teachers. The great majority of teachers are also Catholic.
Catholic atmosphere
For Greg Davidson, math teacher and computer network administrator at Bishop Carroll High School, it is the Catholic atmosphere that attracts him most. "The environment is totally Catholic. It is a real joy. I wake up looking forward to coming into work here," he said.
He said that a stereotype of Catholic schools is that "that we are an elite school, that we only attract the top athletes, the top academic kids. But the reality is we attract Catholic kids. That's the only narrowing that we have here."
Burris, who graduated in 1973 from Kapaun Mount Carmel where he is now president, said the level of parental involvement at his school has grown over the years following Gerber's call to stewardship. "There's not a thing that we need done around here that we can't call a parent to ask for help," he said.
One story "comes to mind that talks about the character of the school more than anything," he said: A couple of years ago, an office worker at the school wanted to donate a kidney to her brother-in-law. In order to do it, she would have to miss several weeks of work during the school year. "And she came to us and she said, 'Is this something that I'm going to be able to do?' and we said, 'We'll figure out a way to make it happen.' "
The woman hadn't accumulated enough excused sick leave for such an extended period of time. "So we went to our faculty and said, 'You know, most of us don't use all the sick leave that we have. Would you be willing to donate some of your sick leave to this lady?' And it just came in. The hours and days that we had available to her allowed her to be able to go forward."
He said that to fill in for the woman, they looked for parent volunteers. "We asked parents to sign up for a half day at a time. And again we had many more parents sign up than we could ever use."
Gill Donovan is a freelance writer who lives in Minneapolis.
National Catholic Reporter, March 26, 2004