National Catholic Reporter
Subscribers only section
September 10, 2004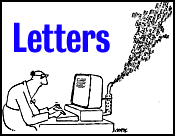 Regarding panentheism
I love Jeanette Cooperman's stuff and have been reading her articles in NCR for many years. May I suggest she change the word pantheism to panentheism in her article "Compassion is for the birds" (NCR, Aug, 13). Small word change, big difference in meaning.
For me pantheism means a belief that God and the whole universe are one and the same thing and that God does not exist as a separate Spirit. Panentheism, on the other hand, for me at least, means that God is everywhere, as I learned in childhood catechism classes. It means that everything that has existence is permeated with the presence of a divine reality, sustaining all life, being the Source of all that exists. It means living energy within everything, like our hearts pulsing within our bodies, so to speak.
I am smiling as I write this and hope Jeannette will, too. I just had to do it. Thank you.
ARNIE MESSING
Brighton, Mich.
Editor's note: Cooperman originally did use the word panentheism in her article. It was changed to pantheism by an NCR editor.
---
I was distressed and perturbed by Stephen Zunes' negative article on Kerry ("Kerry's foreign policy looks much like Bush's," NCR, Aug. 27). However, even if all that Zunes writes is true, I will still vote for Kerry. Things have gotten so out of whack with Bush et al. that I no longer believe the proverb about the devil you know ...
(Fr.) DAVID DELICH, O.P.
St. Louis
---
I find myself somewhat ambivalent about Joe Feuerherd's article on Deal Hudson (NCR, Aug. 27).
I recognize that Dr. Hudson's private conduct, at least in the case of Cara Poppas, is very much at odds with his public remarks, not to mention his political activities. I also understand that "outing" him in this way calls his hand and forces him to confront his hypocrisy.
However, the fact that Dr. Hudson resigned his tenured position at Fordham and settled with Ms. Poppas, whom, I recognize, he victimized as a highly vulnerable teenager in a horribly callous manner, cannot be dismissed too easily. As it pertains to Hudson's call for President Clinton's resignation, he arguably maintains the moral high ground.
My ambivalence arises from the fact that Hudson went from Fordham to Crisis without missing a beat. It is further aggravated by the fact that he wishes to quickly dismiss his behavior toward Ms. Poppas while lecturing other church members, including our bishops, on moral laxity. As a professor and a person that a very vulnerable Cara Poppas thought she could trust, Dr. Hudson's behavior is more akin to many instances of priestly sexual abuse than he cares to admit.
Ideally, NCR's article will result in Deal Hudson recognizing publicly (as his preferred reading indicates he does privately) that reality -- especially as it bears on morality and behavior -- is more complex than he publicly allows. Sadly, Hudson's preemptive response (in the Aug. 18 National Review online) indicates this will not be the case.
SCOTT S. DODGE
Salt Lake City
* * *
I was saddened to see that Joe Feuerherd wrote such a transparently nasty article on Deal Hudson, and NCR tripped over itself to excuse why it published the article.
NCR still holds to a "Roman Catholic tradition," does it not? This article is a fine example of "detraction," that terrible sin by which one reveals the fault of another without due reason. Detraction is generally regarded as a mortal sin.
There was no due reason for revealing Hudson's pathetic sins of 10 years ago. There is no hint that Hudson is a predator. There is no hint that Hudson's 1994 sins have anything at all to do with 2004. The reason for writing and publishing the story was clear: Hudson is a political enemy of NCR. What a sad excuse for detraction.
Before you ignore my protest, let me say that I am one of Deal Hudson's many critics. He appears to confuse his faith with secular politics and tends to ignore Catholic tradition when it does not fit the talking points of the GOP.
But that is no excuse for me, or NCR, to engage in detraction and thereby sin against Hudson, his wife, family, friends, and, indeed, everyone else you exposed to this scandal.
I suggest that you immediately issue an apology to Hudson and all others you injured with your decision. And then get to confession.
PETER D. FAVORITE
New Ulm, Minn.
* * *
Thank you for writing this story. I was in Cara's class at Fordham, and her account of what happened with Deal Hudson (as told by a mutual friend) has remained with me until today. Had Cara stayed at Fordham, we would have graduated together in 1997, and I regret that it wasn't the case. Knowing of her story as a peer makes it doubly offensive to read her second victimization at the hands of William Donohue in his Aug. 19 Catholic League news release. His choice to use a press release from his organization to defend his friend and defame Cara's character as "a drunken female [Hudson] met in a bar" is untrue, as she was an underage student who was there at Hudson's invitation, and un-Christian, to put it mildly. It is upsetting to see that Deal Hudson and Donohue are Catholics who will, under the guise of acting "for [the] religious and civil rights" of our faith, defend each other's activities at the expense of basic Christian tenets like justice and mercy.
Thank you for writing and publishing a story that allows this young woman's voice to be heard above the din of Hudson and Donohue's moralizing. If Deal Hudson is uncomfortable with the truth coming back to haunt him, perhaps he ought to stop casting stones and ask his friends to lay down the rocks as well.
FRANCES O'CONNOR
Great Neck, N.Y.
* * *
I just read your article about Deal Hudson, and I wanted to let you and the author of the article know that I find this type of character assassination reprehensible. It is impossible for me to believe that the motive for writing this article was anything but political. I have always heard that the NCR pandered to the political left, but I never expected you to stoop this low, and I sincerely hope that you will be given the grace to regret this article and seek forgiveness.
FLOYD NEWMAN
Glen Allen, Va.
* * *
I read all of the related stories concerning Deal Hudson. In my personal opinion, you did an outstanding job in unmasking a person who purported to speak for Catholics with the White House. I am a libertarian-conservative who has many differences with the Bush administration, especially in areas of concern to the Catholic church such as preemptive war and the culture of death. Although the Bush administration gives lip service to the abortion issue, we all know that is only political glue to keep Catholics "on board" and the rabid Old Testament evangelicals together in an electoral coalition. It bothered me that in representing Catholics, Deal Hudson presented his views as the only truthful point of view, although you noted in the article that he ignored the pope's denunciation of many American political and economic policies.
I could go on for pages but let me say that Bush is the antithesis of the traditional Catholic viewpoint in that he ignores the "commonweal of nations" political philosophy that originated in medieval Europe. We have an obligation as the richest and most powerful country in the world to do good, not evil. As our Lord said, "You will know them by their works." Outside the abortion issue (the motives and results here are very questionable), this administration is very un-Christian in many, many ways. That a man like Deal Hudson would give legitimacy to its leadership to further his own career is cause enough to repudiate him even without the Fordham incident from 10 years ago.
Once again, thank you for your great work.
PATRICK MULVEY
San Diego
* * *
Regarding "The Real Deal" by Joe Feuerherd: I found it ironic that Bishop Wilton Gregory has chosen to characterize Catholic laity who support victims of clergy sexual abuse, who support priests of integrity and who support structural change in the church as "wolves in sheep's clothing," while he has never bothered to identify the threat to politicize the church in the service of an administration based on lies and deception from right-wing political hacks like Deal Hudson.
It seems to those of us in the pews that the bishops have a special affinity for well-connected, well-off, politically conservative Catholics who have a hard time respecting the dignity and personal boundaries of the most vulnerable among us.
JAMES JENKINS
Kensington, Calif.
---
Bishops respond to Sudan crisis
Joan Leslie's recent letter (NCR, Aug. 27) contrasting the arrest of Rev. Bob Edgar, general secretary of the National Council of Churches, in front of the Sudanese embassy with the "Catholic bishops protecting their assets and what's left of their reputations" is so outrageously wrong that it requires our immediate response.
Without denigrating Bob Edgar's gesture, it should be noted that at the same moment Bishop John Ricard (Pensacola-Tallahassee), chair of the bishops' Committee on International Policy, was on his sixth visit to Sudan, including the refugee camps in Darfur. Appalled by the desperate situation he saw, he telephoned Bishop Wilton Gregory, president of the U.S. Conference of Catholic Bishops, and secured authorization for a day of prayer and solidarity and a special collection for the people of Sudan. Immediately upon his return, he met with Acting Secretary of State Richard Armitage to plead for urgent action to alleviate the crisis in Darfur. Our Web site, USCCB.org, provides many other examples of the bishops' advocacy on behalf of the people of Sudan.
I suggest to your correspondent that these are genuine examples of practical and pastoral moral leadership.
(Fr.) MICHAEL PERRY, OFM
Washington
Perry is foreign policy adviser in the Office of International Justice and Peace for the United States Conference of Catholic Bishops.
---
Perhaps I am an old fogy, but I was disappointed in John Allen's commentary on Pope John Paul's plea for hope at Lourdes (NCR, Aug, 27), as if it were inappropriately simplistic in the face of the momentous problems of our day. I wonder what he would have remarked about the crucifixion of Jesus. Hope is not optimism. Hope is not even practical. It is a state of spirit. It is a fact that arises from our connection with the transcendent. When we lose that connection, we lose our hope.
Obviously, John Paul has not lost that connection and yes, he does stand as an icon for our world, which has reached the apex of powerlessness to "fix" things. When we look at who we are and who God is we see the idiocy of being brilliant or busy or bold enough to run like little messiahs to save the day. The icon of John Paul is the icon of the three days of Jesus' own dereliction. It is the icon of one who hopes against hope. It is the icon of one who realizes his leadership is nothing if it is not yoked to Christ on the cross. It is only through this suffering that spiritual energy will be released. That, Mr. Allen, is the unmitigated vision of hope that I see in the Gospels.
JUDITH OBERHAUSER
St. Paul, Minn.
---
James Stephen Behrens' reflection on the newly ordained priests in England who marched out of the cathedral's open doors into a torrential downpour really touched a nerve with me (NCR, Aug. 13). The thousands of us practicing Catholics active in Call To Action and other reform movements have long learned to be dry people and stay out of the rain. But when and how will our sisters and brothers who choose to stay out in the rain realize that they need not stay drenched and storm-beaten for the sake of following a tradition? There is the tradition of Jesus' teachings and then there is the one from Tevye in "The Fiddler on the Roof." The late Bishop Raymond Lucker from Minnesota hit the nail on the head when he said, "We must distinguish between essentials and nonessentials on our faith journey." Click on to www.cta-usa.org and march in the sunshine with the people who are committed to conserving the Catholic essentials in Jesus' tradition.
EVI QUINN
Carlsbad, Calif.
Quinn is founder and past president of Call To Action San Diego.
* * *
In his "Starting Point" regarding the eight newly ordained priests and six deacons who marched through the open doors of the cathedral into the rain, perhaps Fr. Behrens was too intent on satisfying his e-mail correspondent in England.
Referring to the going-forth decision of the newly ordained as "what many of us lower folk might say [is] stupidity," Fr. Behrens decides: "I am sure it was a sunny day when Jesus sent his disciples forth."
Jesus did quite a few things that the worldly wise and the "lower folk" deemed not simply stupidity; his own relatives thought he was out of his mind. Peter vehemently protested against Jesus' intent to take up the cross, and yet Jesus rebuked Peter and tells us to take up our cross.
People are willing to stand in the rain for hours to meet a celebrity, to view the corpse of a famous or saintly person or to participate in the Mass celebrated by the pope or any other priest.
I hope that in hindsight and even in empathy, especially as a contemplative religious, Fr. Behrens will be able to acknowledge that being overcome by the ecstasy of the glorious moment of ordination, and being overwhelmed by the transforming love of God for having answered his call in one of the most challenging and dissuasive times in the history of the church, the newly ordained had little choice other than to march into the torrential downpour: "Jesus, we are willing to take up our cross and follow you in good weather or bad! Beautiful people of God, no matter what the challenge, we will be there for you to lay down our lives, just as Jesus has done for us!"
May those of us who have grown old in the ministry not grow cynical, but, rather, take some time apart to contemplate the incomparable thrill of our own ordination that prompted us to want to be "fools for Christ's sake."
(Fr.) CHARLES VAN WINKLE, CSC
Copperas Cove, Texas
---
As a new subscriber to NCR, I was pleased and enchanted by Sr. Joan Chittister's oxymoron "clear confusion" (NCR, Aug. 13) regarding the Vatican's document on men and women.
MARY CROW
La Habra, Calif.
* * *
In Joan Chittister's commentary on the letter "On the Collaboration of Men and Women in the Church and in the World," she does exactly what the letter condemns -- she once again subordinates women, thus causing antagonism. Her whole commentary reads like us against them, causing opposition.
Chittister's comments fail to point out that the letter is about our salvation and our relationship with God. The letter is a positive one that acknowledges the differences between men and women. She can downplay the words "radical feminism," but in my opinion, Joan Chittister is the queen of radical feminism.
(Fr.) CHRISTOPHER LIGUORI
Ponte Vedra Beach, Fla.
* * *
I agree with Joan Chittister that the Vatican document written by men about women argues about things that are no longer part of current feminist thought.
At the same time, I would like to offer some thoughts that I find interesting. So much attention has been given to the differences between men and women, yet in scripture we learn that "the two shall become one." God wants unity.
An article at ourworld.compuserve.com/homepages/dp5/sex2.htm says, "The early ancestors of the human race were androgynous." It continues to remind us that "even today, 100 percent maleness or femaleness does not exist as each sex contains the rudimentary organs of the opposite sex … From a theosophical standpoint, hermaphroditism can also be seen as a foreshadowing of what is to come."
I am no scientist. But the author indicates that at one time we were not divided into male and female. The Vatican seems to constantly think about reproductive organs instead of personhood. I am more than my sexual organs. I am a person.
I found the last paragraph of this article to be particularly interesting. "In the future, male and female bodies will probably grow more alike, and the incidence of both pseudo- and true hermaphroditism will increase, until hermaphrodites are finally in the majority and single-sexed individuals begin to be looked upon as abnormal. Cross-fertilization will eventually be replaced by self-generation."
We see the course of evolution. Life is not static, and women are not the sum of their biology. Neither are men.
MARY F. HAZLETT
Akron, Ohio
---
Letters to the editor should be limited to 250 words and preferably typed. If a letter refers to a previous issue of NCR, please give us that issue's date. We reserve the right to edit all letters. Letters, National Catholic Reporter, P.O. Box 419281, Kansas City, MO 64141. Fax: (816) 968-2280. E-mail: letters@natcath.org Please be sure to include your street address, city, state, zip and daytime telephone number.
National Catholic Reporter, September 10, 2004