Issue Date: October 29, 2004
Haitian priest, advocate of the poor, is imprisoned
Human rights activists say arrest was illegal, no evidence for allegations
By CLAIRE SCHAEFFER-DUFFY
Human rights activists in Haiti and the United States have strongly criticized what they claim is the illegal arrest of Fr. Gerard Jean-Juste, a Haitian Catholic priest and well-known advocate of the poor. The priest was seized last month while serving a midday meal to hundreds of hungry children in his parish in Port-au-Prince, Haiti's capital.
On Oct. 13, Haitian police, accompanied by masked gunmen, entered the compound of St. Claire Church, where Jean-Juste is pastor, and pulled him from the rectory. According to eyewitnesses, the police refused to produce a warrant, and when asked what the charge was, replied that the priest "was a threat to public order."
Jean-Juste's arrest occurred as turmoil grows in the Haitian capital. Reportedly more than 40 people have died as a result of the unrest within a two-week period. Amid the chaos, demonstrators have gathered, calling for the return of the country's former president, Jean Bertrand Aristide. The popularly elected leader was removed from office last February -- Aristide and his supporters say he was kidnapped by U.S. Marines -- and he currently resides as a guest of the Republic of South Africa.
The Haiti interim government and the U.S. government have laid sole blame for the violence on armed factions of Lavalas Family, Aristide's political party, accusing them of mounting an insurgency similar to the one in Iraq.
But pro-democracy activists in Haiti say the violence, which began Sept. 30, was initiated when Haitian police fired on a peaceful demonstration. The activists admit armed supporters of Aristide -- one observer described them as "militant defenders" of the former president -- have engaged in retaliatory violence; but much of the violence, they say, is due to members of the former Haitian military who have returned to the capital and are roaming the streets unchecked.
Haiti's interim government has accused Jean-Juste, an outspoken supporter of Aristide, of financing acts of violence in Port-au-Prince and said the raid on St. Claire Church was a preemptive strike based on intelligence linking the priest to the current turmoil, charges he flatly denies.
The human rights organization Amnesty International reports that the interim government has so far offered no evidence for its allegations against the priest.
Shocked by the priest's arrest, supporters of Jean-Juste, known to many as Fr. Gerry, describe him as a man who "has spoken out forcefully against all forms of violence." They regard his detention as yet another example of the deteriorating human rights situation in this impoverished Caribbean country.
In an action alert to its constituents, Pax Christi USA expressed concern over the safety of the imprisoned priest and wrote that his arrest "continues a month-long wave of systematic attacks against civil society, including unions, radio stations, lawyers and members of parliament as well as lethal police raids on poor neighborhoods."
Friends and coworkers describe the 57-year-old priest as a relentless champion of democracy and the underprivileged who, from his pulpit and popular radio show, evenhandedly denounced the state-sponsored violence of the government and military and the retaliatory violence of victims and opposition parties.
"He was a real voice of the grass-roots people, handsome, charismatic, a man totally committed to peace -- peace with justice," said Loyola law professor Bill Quigley, who met Jean-Juste while on a recent tour of Haiti sponsored by Pax Christi USA. Quigley said the priest criticized the recent outburst of violence, and believed it was time for Haitians to "kneel down, ask forgiveness and start over."
"Jean-Juste is also very clear that the current people in power are illegitimate," added Quigley, who, after learning of the priest's arrest, immediately returned to Haiti to assist in seeking his release and publicizing his case.
On Oct. 18, Quigley visited St. Claire Church to assess damages done to the building during the arrest and to interview eyewitnesses. He said parishioners told him that police, many of them masked and armed with rifles, ripped the protective grating off a rectory window and smashed its pane. Jean-Juste, who was in the rectory, was beaten and dragged through the window, cutting his arms and leg on the broken glass, Quigley said.
Two boys and a girl who were inside the church compound for the biweekly meal program were shot during the melee, though not fatally, Quigley said.
The Haitian police have said they initially intended only to question the Catholic priest about the violence taking place in Port-au-Prince and did not decide to arrest him until local residents became violent.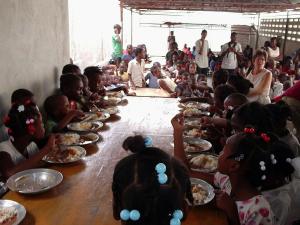 -- Bob DellaValla-Rauth
Children are served beans and rice at St. Claire Church Sept. 29.
Kevin Pina, an American radio journalist who said he was standing just outside the St. Claire Church compound during the arrest, contested the police's version of events.
"The police have changed their story," he said. "First they said they had just come to question [Jean-Juste]. But what an odd way to question someone, to have 20 guys with masks and guns come into the presbytery." Pina said neighborhood residents began throwing rocks and bottles after the priest was seized.
As he was being taken away, Jean-Juste was interviewed by Pina's radio station KPFA, which is broadcast out of Berkeley, Calif. In a transcript of that interview the Catholic pastor is quoted as saying, "If you can, call the nuncio for me, or the pope to say that … [inaudible] … that they are taking one of their priests to jail."
Fr. Jean Hansens, director of the National Justice and Peace Commission, and Archbishop Serge Miot, coadjutor in Port-au-Prince, joined human rights advocates Oct. 18 in publicly condemning the Haitian government's treatment of the priest. According to stories from Agence France Presse, Hansens charged that "the arrest was made without a warrant and with brutality," and Miot protested that after five days of imprisonment, Jean-Juste had yet to see a judge. Haitian law requires that a person appear before a judge within 48 hours of being detained.
Miot also told Agence France Presse that the reaction of parishioners and people in the area did not justify the police response. "It is entirely normal for them to show support for a person who has only done good things for them," he said.
The archbishop denounced "what he called the gratuitous and thoughtless accusations brought against the Catholic church with regard to the recent violence," Agence France Presse reported.
Jean-Juste spent the first six days of his imprisonment in the Petion-Ville Jail, a holding facility in Port-au-Prince. According to Quigley, who visited the jail several times, Jean-Juste was sharing a mice-infested cell with 18 men. Quigley said Jean-Juste was in good spirits and spent much of his time assisting fellow prisoners.
"While I was visiting him in jail, he had a constant stream of parishioners coming up to him with rosaries and prayer beads asking for his blessing," Quigley said.
Jean-Juste has since been moved to the nearby state penitentiary and as of this writing had yet to appear before a judge.
On Oct. 19, the Haiti interim government, perhaps in response to international attention on the case, formally charged Jean-Juste with disturbing the peace. Quigley said the penalty for the crime, which is comparable to a traffic violation, is a maximum fine of 40 cents. "The whole arrest was a sham," he said.
Quigley could not say whether the minimal charge given to the priest would result in an early release from prison.
Robert Zimmerman, a spokesperson for the U.S. State Department, said a human rights officer from the American Embassy in Port-au-Prince had visited Jean-Juste in prison and reported "that he was being well-treated." Zimmerman said Jean-Juste "continues to be lawfully held" and that he is accused "of aiding and abetting the uprising in Port-au-Prince."
"We have made it clear to the interim government that Fr. Jean-Juste's rights are to be respected and we will continue to monitor his situation." Zimmerman said.
When asked if the lack of a warrant and the court's likely refusal to hear the priest's case didn't signify abuse of legal rights, Zimmerman said, "Those are complicated questions that have to be directed to the interim government."
During one visit, Quigley asked Jean-Juste if he had a message for the people who support democracy in Haiti. The priest immediately replied, "Insist that we return to constitutional order in Haiti. Demand freedom for all political prisoners. Respect the rights of everyone. Pledge to respect the vote of the people. Advocate for the return of President Aristide so he can finish his electoral mandate through February 2006."
Claire Schaeffer-Duffy is a freelance writer living in Worcester, Mass.
National Catholic Reporter, October 29, 2004