National Catholic Reporter
Subscribers only section
February 25, 2005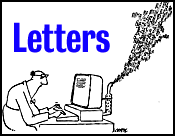 Israeli Web site watchdogs
You recently ran an op-ed by Neve Gordon about the Israel Academia Monitor organization, a reprint of what had appeared as one of a pair of two pieces in the British Times Higher Education Supplement. In the interest of fairness, I think you should also tell readers about the second of the pair of pieces, which puts the matter into balance. In that second piece, "Israeli Web Site 'Outs' Campus Extremists," I wrote:
"Israel Academia Monitor, like its American cousin Campus Watch, has begun recording the more outrageous statements of academic extremists.
"The U.S. Web site has long been controversial for publishing some of the loopier statements of faculty members who pose as Middle East 'experts.' Campus Watch has outraged members of the academic left wing, who denounce it for its 'McCarthyism.'
"Now Israel Academia Monitor has aroused similar outrage and denunciations. Those being documented by the Web site watchdogs complain it is an attempt to deny them free speech. Poppycock!"
In his Jan. 7 piece in the NCR attacking Israel Academia Monitor, Neve Gordon forgets to mention that he himself is one of those upon whom the new site focuses because of his fanatical anti-Israel propaganda writing, some of which is so extreme that it is carried by neo-Nazi Web sites and by Islamic fundamentalist magazines endorsing al-Qaeda!
The Web sites of Campus Watch and Israel Academia Monitor are little more than collections of direct citations published by the extremists in question. True, the monitors express the desire for donors to the universities to review the material and make their views heard regarding the political activities of faculty members.
What is wrong with donors also having the freedom of expression?
No one is denying academic freedom to the extremists, even though there are serious questions as to whether their words always fall within the bounds of what should be legitimately protected.
You can read the entire article at: israel-academia-monitor.com.
STEVEN PLAUT
Haifa, Israel
Steven Plaut is a professor at the University of Haifa.
Neve Gordon responds:
I have met Professor Steven Plaut a number of times in an Israeli court room, since I am suing him for publishing slanderous articles in which he calls me a "fanatic anti-Semite," "a Judenrat wannabe," "a promoter of Hitler" and "a groupie of the world's leading Holocaust denier." An article by Plaut, asking his readers to harass me, also appears on the racist Kahane Web site (and they obediently complied). He has even initiated an international campaign to have me fired. It seems he spends much of his time monitoring my articles and smearing my name. In his letter to NCR, he continues his defamation campaign, for which, as mentioned, he will have to answer in court.
---
I am no theologian, but I believe Fr. Patrick Kelly in "Does God support democracy?" (NCR, Feb. 4) was less than forthright in lumping the judges of Israel with the kings. As I recall from reading scripture, the Lord was none too happy with the Israelites for wanting a king to rule them like other nations. While I would not equate the judges with democracy, neither would I equate them with the rule of kings.
Further, in my un-nuanced reading of Rerum Novarum, I see the principle of subsidiarity as being akin to the ideas of our capitalism -- not unfettered capitalism, but the capitalism that says that folks should get to make choices.
Perhaps democracy is not found in scripture or in the social teachings of the church, but I see the people of God under the judges as being freer than those under the kings.
C.R. KRIEGER
Lowell, Mass.
---
I was astonished to read about a "tsunami miracle" in Sri Lanka in the article published in your esteemed journal by Dr. Marjorie Maguire (NCR, Jan. 28). We have not heard of an orphanage run by the Rev. Dayalan Sanders and his miraculous rescue in a motorboat of 26 children about to be swept away by the tsunami. No press, radio or TV station has reported such a miracle. No Christian group in Sri Lanka has claimed anything even remotely resembling this happening of biblical proportions. To think that a pastor could save his flock by jumping into a motorboat to cut through a 40-foot wave is so utterly ridiculous that comment is unnecessary.
R. CHANDRASOMA
Colombo, Sri Lanka
Marjorie Maguire responds:
This story about the Rev. Sanders saving his orphanage by stopping a wave was widely reported in America. I saw it at least three times on CNN, and one time was an interview with the Rev. Sanders himself, as he excitedly described the wave standing still. The story is also available on the Internet. For example, see the Dec. 30 Washington Post. While I cannot personally attest to the truth of the Rev. Sanders' story, I can assure you that the story was heard by many in America and around the world.
---
Good for Mike Daley ("Viewpoint," NCR, Jan. 21)! Cardinal Joseph Bernadin's "Consistent Ethic of Life," or seamless garment, promised to be a high point in U.S. Catholic discourse. I was deeply disappointed when it didn't grow the way I'd hoped it would, at least nationally. And I share Mike's concern for the "common ground" that we could have, do have, if we could only look at the "ground" we Christians are standing on: the Gospel values of care for one another, as in Matthew 25.
I'm all for an annual march or whatever common action we can take to carry this position forward. I do have hesitation about the date proposed, Nov. 14, only because the anniversary of the murder of the Jesuits in El Salvador is commemorated within a couple of days of that date and I'm not sure there are enough folks prepared to take part in actions so close together. When is Cardinal Bernadin's baptismal date? Any better?
BETTY ROGERS
Ronkonkoma, N.Y.
* * *
Being one of Mike Daley's roommates our senior year at Xavier University in Cincinnati, I can assure you that if he and I can live in the same apartment and belong to the same church, there is room for this common ground on such diverse issues as abortion and the School of Americas/Western Hemisphere Institute of Security Cooperation. Long live Cardinal Bernardin -- St. Joseph of Chicago, pray for us! So Mike, where should we have the march? Chicago? Cincinnati? Charleston? Some other Bernardin landmark? You let me know, and I'll be there!
DENNIS TEALL-FLEMING
Belmont, N.C.
Dennis Teall-Fleming is director of Faith Formation for Queen of the Apostles Catholic Church in Belmont.
* * *
I agree with Mike Daley that the School of the Americas protest at Fort Benning, Ga., should be dropped in favor of a "Consistent Ethic of Life March."
The SOA protest is counterproductive, ethically flawed and a waste of resources. Fr. Roy Bourgeois, the protest leader, privately admits that the goals of the protest are primarily political. His former boss, Fr. Raymond J. Finch, then superior general of the Maryknoll Missioners, told an Army audience at West Point, "We know you do not teach torture, but we say that because you are a symbol of a wrongheaded foreign policy toward that region" (May 2, 1988). That some of our church leadership is willing to lie to advance its goals is deeply disappointing.
Mike Daley interpreted an incident between soldiers and protesters to indicate that soldiers are somehow threatened by protesters. Not hardly. A noncommissioned officer instructor at the school told me, "I was raised Catholic, but I have nothing in common with those people. They disgust me."
As a Catholic also, I am dismayed that so many of my church leadership either support or tolerate this slander directed at our young men and women in uniform at the school who are promoting democracy, professionalism and human rights to the Latin American military students. Canceling the SOA protest at Fort Benning and applying those resources to a "Consistent Ethic of Life March" may restore truth telling as a higher value among some of our Catholic brethren.
WILLIAM H. WILLOUGHBY
Concord, Ohio
---
---
The article "Throw open the doors on Church Street" (NCR, Jan. 21) by Episcopal priest Jim Swarthout appears a bit outdated today, especially since contemporary Church Street consists of synagogues, mosques, temples and so on, along with Christian churches. Maybe the "Week of Prayer for Christian Unity" should be changed to a "Week of Prayer for Religious Unity." Indeed, there will be no peace between religions on Church Street, U.S.A., until Americans of all religious backgrounds (and of no religious background) learn to respect one another's beliefs and accept one another as brothers and sisters.
(Fr.) JAMES CHICHETTO, CSC
Easton, Mass.
---
I am astounded at the number of Catholics, priests included, who define themselves as "pro-life" and who actively support the death penalty no matter what Pope John Paul II writes in his encyclical letter, Evangelium Vitae. When as a co-chair of Catholics Against Capital Punishment for the Tucson, Ariz., diocese, I requested we be included in the local March For Life, I was told it was for only those opposed to abortion and that we would not be welcome.
During my tenure as co-chair, I would call on local pastors requesting we be allowed to set up tables outside the church to distribute anti-death penalty literature and requesting signatures on petitions opposing the death penalty, specifically the execution of juveniles in the state of Arizona. Several pastors denied permission and told me they were personally for the death penalty. At those parishes where we were allowed, I was disappointed and dismayed by many Catholics arriving/leaving Mass who indicated they were for the death penalty. Some would proffer remarks such as, "They should kill more of them."
Those of us opposed to the death penalty in Arizona will continue to work for its abolition no matter the unseemly remarks of priests and other Catholics.
TERRY R. McGUIRK
Tucson, Ariz.
---
Fulton J. Sheen, celebrated preacher, teacher, author and bishop, whom Paul Kengor (NCR, Jan. 7) well describes as "extraordinarily popular," a "superb communicator," "extraordinary" and "renowned because he was so gifted," was not without some striking eccentricities, as Thomas C. Reeves' "superb biography" (2001) reveals, including the creation of an unearned Roman theology doctorate in order to facilitate a promotion at Catholic University.
As one of his presbyterate in Rochester, N.Y., whither he had been "exiled" (1966-69), allegedly by the archbishop of New York, I found him to be fruitful in spiritual advice but, bereft as he was of appreciable pastoral experience, disappointingly impractical; a performer, not a listener; and one pledged to act democratically who acted autocratically.
As the church historian Fr. Robert McNamara puts it, "The 'Sheen heritage' in Rochester was therefore not so much a bequest of achievements as of focus."
E. LEO McMANNUS
Venice, Fla.
---
"Parishioners defy archbishop" (NCR, Jan. 28) reads like a replay of history. It's amazing that in 1891 Archbishop Peter Kenrick of St. Louis achieved a compromise that has lasted over a century when many of his contemporary hierarchs took the route that Archbishop Raymond Burke is now taking.
In the late 19th and early 20th centuries several Polish-American immigrant congregations broke with Rome because of arguments over finances and control of property. When Bishop William O'Hara of Scranton demanded that Polish parishes hand over property control in order to remain in communion with Rome, the Polish National Catholic church was formed through the consecration of Fr. Francis Hodur as bishop by the Old Catholic Church of Utrecht. Archbishop Burke should read the history of this independent Catholic church and reflect on similarities relevant to the current conflict.
Some seminal issues broached by independent Catholic jurisdictions have now been embraced by Rome: vernacular liturgy, Communion under both species, married clergy (although limited to Protestant converts), as well as more lay participation at Mass.
More controversial issues such as lay control of finances and property, local election of bishops and celibacy options for clergy are still the domain of the hierarchy. Perhaps these are matters where history and the experience of other non-papal Catholic jurisdictions could provide lessons to avoid further confrontations.
JACK BUDREW
Miami
* * *
How is it that we find ourselves in the position where Archbishop Burke is ready to impose interdict on good thrifty Catholics just to make sure he is adhering to canon law? If there were not nearly $9 million at stake, would the archdiocesan office be so uptight about this?
I'm reminded of a story about a young man who was in a religious order. It seems that during his first year, a young man could only walk with his eyes downcast and could not speak to anyone for a year and a day except the novice master, and then only after approaching the novice master, kneeling and receiving a blessing. One day a young novice came running down the hall hollering to the novice master, who was engaged in conversation with someone. The novice master thought, "Maybe I should teach this young man a lesson. I will ignore him until he approaches me correctly." The novice again shouted as he fell to his knees to be recognized, "Novice master! Novice master!" Still the novice master continued to ignore the novice. Finally, the novice master gave a very slow blessing to the novice and asked, "What is so important that you come running down the hall yelling with your eyes raised. Don't you know that is not proper procedure? Whatever do you want?" The young novice responded, "The basement is on fire!"
Are we so caught up in the rhetoric of form over function?
ROBERT VOSEN
Canton, Miss.
---
Letters to the editor should be limited to 250 words and preferably typed. If a letter refers to a previous issue of NCR, please give us that issue's date. We reserve the right to edit all letters. Letters, National Catholic Reporter, P.O. Box 419281, Kansas City, MO 64141. Fax: (816) 968-2280. E-mail: letters@natcath.org Please be sure to include your street address, city, state, zip and daytime telephone number.
National Catholic Reporter, February 25, 2005