Issue Date: November 2, 2007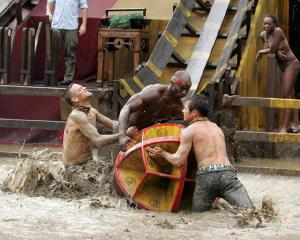 -- Photos CNS/©CBS/Survivor
Contestants Dave, James and Frosti struggle through an immunity challenge on Episode Two of "Survivor: China."
Beating the odds on 'Survivor'
The program's new season confirms its bizarre reality
By ERIN RYAN
In early September, TIME magazine's TV critic, James Poniewozik, published a list of the best 100 TV shows of all time. Among his choices was CBS' "Survivor," the show that debuted to huge ratings in 2000 and helped fuel the American craze for reality TV programming.
There are endless reality shows on TV today: the frequent CBS Emmy-winner "The Amazing Race," in which players race on foot, by oxcart, pony, car, train and plane across the globe; the hugely popular singing competition "American Idol" on FOX; The CW's "Beauty and the Geek." The list goes on.
But there's something about "Survivor" that sets it apart, said Poniewozik.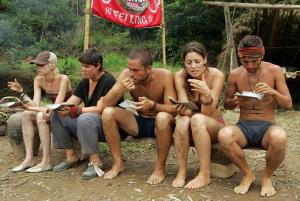 Members of Fei Long tribe have a snack on "Survivor: China."
"In reality TV, 90 percent of success is in the concept, and 'Survivor's' remains the master equation: isolation + cash prize + hot-weather clothing = entertainment," Poniewozik wrote. "Still, the 10 percent that is execution separates the best from the rest, and 'Survivor' remains a constantly surprising and enthralling game, both socially and physically."
A few weeks ago, "Survivor" kicked off its 15th season with "Survivor: China." On Episode One, perennial host Jeff Probst appeared on the steps of a 16th-century Buddhist monastery and explained that the contestants "will live in the shadows of this temple" as they spend their 39 days on "China's Lake of a Thousand Islands."
When the contestants arrived at the monastery courtyard, they were told they were to participate in a Buddhist ceremony. "I want to assure everybody, because I realize that everybody has different beliefs, this is not a worship ceremony," Probst said. "The people of this land want you to feel welcome."
The contestants entered the temple and the ceremony began. It was hard to tell what was going on. Monks chanted, and the contestants knelt before incense bowls. They bowed again and again. "We bowed for, like, days," Courtney, the 22-year-old New York waitress, said later to the camera. "I swear to God we were in there forever."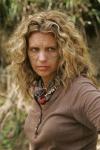 Leslie Nease
During the ceremony, the camera showed one contestant, Leslie, standing there in consternation and then leaving the temple while the ceremony was still in progress. "I'm a believer in Jesus Christ, and in the Bible it says, 'You shall not bow down to other gods,' " Leslie said. "I just couldn't do it." Later she told Probst that she "didn't mean to be disrespectful," but the ceremony "felt like worship."
Probst speculated that Leslie's actions might hurt her play later in the game, but she didn't seem overly concerned about strategy. "I'm just going to play the game and be me," she told Probst. As she told some other players in Episode Three, "I'm here to love people and show them the love of Christ."
The formula of "Survivor" remains much as it has been over the past seven years, ever since contestants stepped onto the island of Pulau Tiga in the first season, "Survivor: Borneo." Sixteen people arrive in a remote location in the hopes of outlasting everyone else over the next 39 days and walking away with $1 million. On the first day, Probst divides the contestants into tribes and sends them into the wild to struggle for food and shelter. Along the way they make alliances with other players, always looking out first for No. 1. Twice an episode the tribes face off in physical or mental challenges -- maneuvering obstacle courses, solving puzzles, pushing giant spheres across a muddy field, pulling weights off the ocean floor. The winners take possession of the "immunity idol," which protects them from having to vote off one of their members at the tribal council at the end of each three-day episode. The last one standing walks away with the prize.
Part of the fascination of the show comes from seeing the different strategies characters employ in order to win. Be nice? Lie and cheat? Make yourself indispensable? "Survivor" players have tried them all.
In the first episode of "Survivor: China," which aired Sept. 20, we saw the failed strategy of Chicken, a 47-year-old chicken farmer from Marion, Va., who got voted out of the Zhan Hu tribe ("Fighting Tiger," according to Probst) apparently because he refused to offer an opinion or take a stand on anything. "Chicken, I think you've truly lived up to your name," whispered 29-year-old jewelry designer Peih-Gee when casting her vote. As of press time, five people have been voted off of "Survivor: China."
Leslie, the 38-year-old radio show host from South Carolina who refused to participate in the temple ceremony, appeared prominently in Episodes One to Three. The viewing audience learns a little about her job and her family. She's married with four children. Her profile on www.CBS.com adds that Leslie teaches fitness classes three nights a week; has her own speaking ministry where she encourages others in their Christian faith; has written a book about fitness and spirituality; was Mrs. North Carolina in the Mrs. USA pageant in August 2001; and in 2006 went on a mission trip to Latin America.
She has also sent "Survivor" 11 audition tapes over the past five years. Her bio says she "always wanted to experience 'Survivor' for herself and decided she wasn't giving up. She never let the rejections get her down, but instead allowed them to fuel her passion for the adventure."
Why would a Christian -- or any religious person -- want to be on "Survivor"? Reality TV is voyeuristic. It pits people against each other, often dressed in skimpy clothing. It encourages people to be crafty and calculating and promotes "survival of the fittest."
On Episode Three, Leslie returned to her Fei Long ("Flying Dragon") tribe after being "kidnapped" by Zhan Hu and cheerfully told them what a good time she had. She had found out that there were three Christians in the Zhan Hu tribe. This bothered Aaron, 32-year-old surfing instructor and leader of her tribe. "People are going to find the tie that binds," he said, speculating that her "in" with these other Christians would give her dangerous alliances later on down the line. She talked too much at the other camp, he said. "I don't know if it's her heart, or what."
At the tribal council, the contestants decided Leslie was too dangerous to have around. Probst snuffed her torch -- "In this game, fire represents your life," he often reminds them -- and told her, "The tribe has spoken."
"I always knew I'd be here as long as God wanted me to be here," Leslie said to the camera later, smiling. She'd have liked to stay a little longer than her nine days, but, she said, "I had a great time." Winning didn't seem to matter to her as much as being herself, making friends and encouraging other people to have fun. Leslie's Christianity seemed genuine.
The intersection of faith with the crass competition that's at the heart of "Survivor" makes for odd viewing. And this intersection is not confined to "Survivor: China." Religious people pop up on reality television all the time: You'll see a girl on "America's Next Top Model" reading her Bible or speaking tearfully to the camera about how God will get her through. Maybe these religious reality contestants just want adventure. Or maybe it gives them the chance to show TV viewers that God is still a part of the American landscape, as fame-crazed and materialistic as that landscape can sometimes seem.
Erin Ryan is an NCR staff writer.
National Catholic Reporter, November 2, 2007