Issue Date: November 2, 2007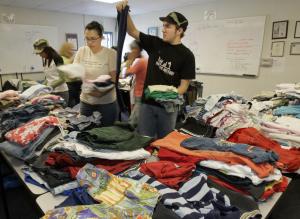 -- AP Photo/Reed Saxon
Loyola Marymount University students -- from right, Joe Dempsey, Nathalie Sanchez, and India Swearingen -- sort donated clothing at a distribution center in Lamont, Calif., March 7. About a dozen students from the school spent their spring break living with and serving farm workers who had lost their jobs after a devastating freeze destroyed crops.
Grappling with tensions between money, mission
By EILEEN MARKEY
As Catholic higher education in the United States enters its third century, colleges and universities are striving to maintain their uniquely Catholic identity and mission in the face of mounting financial pressures. The 221 American Catholic colleges and universities educate 720,000 students each year, from elite universities that rival the top secular institutions, to tiny colleges that serve working adults and academically struggling students, according to the Association of Catholic Colleges and Universities. All of them are engaged in nearly constant dialogues over what it means to be a Catholic institution.
How does a university remain faithful to its Catholic mission -- including support for the preferential option for the poor -- when the average annual price at a private four-year college is $32,000? That figure from Trends in College Pricing 2007, a survey by the College Board that combines tuition, room, board and all college fees, is nearly 66 percent of the median household income in the United States, which the U.S. Census Bureau calculates was $48,201 in 2006.

Fr. Charles Currie
"It's going to be a real challenge in the future. We're not going to be able to keep raising the tuitions. It's going to be a real fundraising challenge," said Jesuit Fr. Charles Currie, president of the Association of Jesuit Colleges and Universities, which represents 28 institutions. "More and more if we add something, we're going to have to look for something to subtract," he said.
At the most selective schools, tuition plus room, board and other fees add up to close to $50,000 a year. Not surprisingly, the most selective Catholic universities, such as Georgetown, Notre Dame and Fordham, have the highest percentage of students from families with annual incomes greater than $100,000, according to 2006 data from the Cooperative Institutional Research Program at the University of California, Los Angeles. At smaller and less selective Catholic colleges, only 22 percent of students come from families earning more than $100,000.
"You almost have two different worlds here," said Richard Yanikoski, president of the Association of Catholic Colleges and Universities. "There are the institutions that are serving the academically accomplished and the more affluent on one hand. On the other hand you have those that are serving the students of moderate academic accomplishment and considerable financial needs. I always say the strength of Catholic higher education is its internal diversity."
Some institutions are flourishing, enjoying record numbers of applicants and watching their endowments grow. But most Catholic colleges are not Notre Dame, Boston College or Georgetown. Most are small schools educating less affluent students and those with less than stellar academic records, most of whom must work to support themselves throughout their educational career. That financial strain has real effects on students' education, said Jesuit Fr. Raymond Schroth, editor of Conversations, a magazine of Jesuit higher education and the professor of humanities at St. Peter's College in Jersey City, N.J., where many students carry full-time jobs and classes. "If I had millions of bucks, if I were a philanthropist, I would use that money to make college more affordable to the point where students would not have to have outside work, because you are not getting a college education when you do that."
The smaller and less selective schools have carved out a role serving students who encounter barriers to higher education, Yanikoski said. "Immigrants, single parents, adult women, women from financially shaky backgrounds, these colleges have distinguished themselves by reaching out to those who have not had the opportunities," he said.
"There are many that are struggling to survive. Not everyone is surviving. But to the extent that some are, they are putting off funding certain projects, they are using part-time faculty. Catholic institutions were among the earliest and the best at instituting weekend and night programs for adults. That's a new revenue stream with not much new cost. Often what they can't pay for in cash they try to get in volunteer services from their communities," Yanikoski said.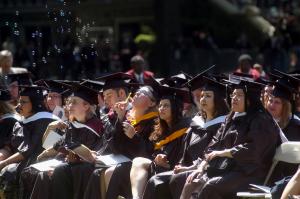 -- Levine Roberts Photography/Frances M. Roberts
Anne Dunphy, center, blows bubbles during Fordham University's May 2003 commencement.
Catholic schools are in a bind, Yanikoski said, explaining that they tend to have smaller endowments and lower rates of alumni donation than their secular counterparts. Meanwhile, they have a deep ethical requirement to serve the less affluent and to educate for lives of social service -- leading to alumni whose careers are often not as financially lucrative and whose donations to their alma maters are smaller. But as exorbitant as tuition appears, it still doesn't cover the true cost of educating a student, Yanikoski said.
"Even in the highest-priced institutions, the students do not pay for the total worth of what they receive. That's paid for from the endowments, donations and other measures," he said, citing research by the National Association of College and University Business Officers.
Past and current college presidents, administrators and members of the Association of Catholic Colleges and Universities and the Association of Jesuit College and Universities said financial pressure and subsequently increasing tuition bills don't come from boards of trustees but from the market itself. Students and their parents expect a high level of services and amenities on campus, and faculty need to be compensated in rough relation to their peers at deeper pocketed institutions.
"The boards realize that the mission issues are not the responsibility of the priests or nuns," Currie said of boards of trustees. "Contemporary trustees at our schools are very interested in mission. We always say the mission bottom line is as important as the financial bottom line."
But that dedicated approach doesn't change the stark financial realities.
"Salaries and benefits for faculty and staff amount to approximately $140 million each year," said Jesuit Fr. Joseph McShane, president of Fordham University in New York. "More than $150 million is allocated to financial aid." But with a total endowment of just $500 million (compared to $1 billion at Boston College) the interest on investments does not earn the income necessary to provide financial aid to everyone who needs it, he said. While 91 percent of Fordham's freshman class received some form of financial aid, McShane said the university still needed to do more. "We have a long way to go to be able to grow the endowment in a way that allows us to be true to our mission of educating students of modest means," he said.
"Fordham has traditionally served and continues to have a very important mission to educate first-generation students and students of modest backgrounds. This is a challenging mission and a joyfully challenging one. Access and affordability issues are central to us."
Colleges and universities are striving to remain faithful to a Catholic mission by providing high levels of financial aid, lobbying the U.S. Congress to fund larger federal education grants and by relying on tireless fundraising, volunteer efforts and cost cutting, according to administrators.
Jesuit Fr. Robert Caro said maintaining and increasing economic diversity is a major priority at Loyola Marymount University in Los Angles where he is vice president for Mission and Ministry. Caro is president of the Conference on Mission and Identity of the Association of Jesuit College and Universities.
"I would say, thinking of our own experience here, it is a matter of how they allocate resources. There was an operational expenses cap here last year in order to add to financial aid. It's a matter of how you use resources."
Eileen Markey is a freelance writer who lives in Bronx, N.Y.
Catholic identity: not only found in limits, but in positive action
Aside from zero sum price issues, leaders in Catholic higher education said the greatest challenge in maintaining a Catholic identity and mission at their schools involves faculty.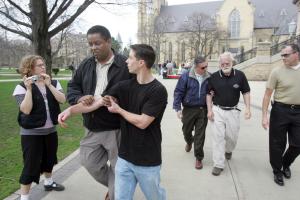 -- AP Photo/South Bend Tribune/Jim Rider
Daniel Baker, third from left, and Frank Cordaro, second from right, are led away by campus police at the University of Notre Dame in South Bend, Ind., March 26. Several members of the Catholic Worker movement were protesting the ROTC program on campus.
"The faculty is the critical group," said Jesuit Fr. Joseph O'Hare, who was president of Fordham University from 1984 to 2003 and now serves as associate editor at America magazine. "I discount the notion that because you went to a Catholic school you will support the mission. Some of our faculty who were not Catholic embodied the mission of Fordham better than anyone."
Faculty buy in to Catholic identity is a tender issue. In the wake of Ex Corde Ecclesiae (the Vatican document defining the relationship of Catholic colleges and universities to the church, which was adopted by the U.S. Conference of Catholic Bishops in 2000) and knee-jerk pressure from alumni, colleges negotiate a thorny path in determining what it means to be a Catholic institution. Can a Catholic university approve a gay and lesbian rights club? Can a Catholic university permit on campus recruiting by the military? How does a Catholic college balance hiring the finest academic in each department with its goal of building a faculty that is sympathetic to the institution's mission of educating heart and mind in a Catholic intellectual tradition?
O'Hare finds the pitched arguments that arise around social issues beside the point.
"The test should not be what boundaries does a Catholic university have, what are the limits, what can it not do, but what are the things that another institution would not be doing that Catholic institutions should undertake. I think it's unfortunate that too much attention is put on the boundaries of a Catholic institution and not enough on what positive actions they can engage."
Today a major effort to inculcate mission and identity is underway at most colleges through the positions of vice president for mission, university chaplains and other administration personnel specifically charged with maintaining the uniquely Catholic nature of a college or university.
"We have to do a very good job of orienting our lay colleagues to our ideals," said Jesuit Fr. Charles Currie, president of the Association of Jesuit College and Universities. "We do take hiring for mission very seriously. You want folks who will take the mission seriously, non-Catholic and Catholic faculty and administrators need to buy in to the mission of the institution."
-- Eileen Markey
National Catholic Reporter, November 2, 2007