Issue Date: November 2, 2007
'A microcosm of the global reality'
Florida's Barry University noted for encouraging, celebrating diversity
By PATRICIA LEFEVERE
Miami Shores, Fla.
Newcomers to Barry University will be forgiven for thinking they have arrived at the United Nations, especially if their first visit takes them into the new student center whose atrium displays 80 flags representing the homelands of Barry's student body.
Enter the center's spacious, picture-windowed cafeteria and first-time visitors may well find they've stepped into a global village.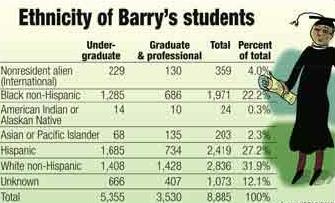 -- Source IPEDS 2006
While international students make up only 4 percent of the 5,900 undergraduates and 3,400 graduate students, "we're a microcosm of the global reality," said Dominican Sr. Linda Bevilacqua, Barry's president. Like Greater Miami, Barry attracts growing numbers of Hispanics, African-Americans, Haitians and Asian-Americans.
Those who come to Barry from 49 states and the six continents experience what it's like not just to rub shoulders with those unlike the folks back home, but also how to celebrate the variety of cultures, languages, religions and ethnicities on campus. Part of their educational experience is "getting out of their comfort zone and engaging with someone different from themselves," said Bevilacqua, now in her third year as president.
Hispanic students constitute the largest group on campus, accounting for 27.2 percent of Barry's enrollment. Special outreach programs have attracted migrant and farm worker students as well as urban Latinos. This year the university established an Institute for Hispanic/Latino Theology and Ministry, offering educational resources to ordained and lay ministers from many parts of the nation (see related story).
The school has won praise from the Hispanic Outlook in Higher Education magazine for providing academic opportunity to Hispanic women. The publication ranked Barry among the top 20 schools in the country for the number of Hispanic women enrolled in doctoral and master's degree programs and for the number of Hispanic women on the faculty -- 10 percent in Barry's case. The ratings were for the 2004-2005 academic year.
One of the reasons international students "feel so welcome here," Bevilacqua said, is the rich diversity and acceptance that pervades the campus. Students from the West Indies and Caribbean islands, from Canada and Brazil, Africa, the Near and Far East and from Europe -- as well as their American classmates -- all contribute to the International Festival of Nations held each year.
U.S. News and World Report has ranked Barry No. 1 for campus diversity among schools of its size in the South for the past eight years running. The effort has been intentional, Bevilacqua said. Part of the school's mission is to demonstrate concern for all individuals in an atmosphere where Gospel values prevail, where people care for and about one another, where diversity is embraced and individuals are nourished, she said.
Bevilacqua is only the sixth president of the school, which the Dominican Sisters of Adrian, Mich., founded in 1940, naming it Barry College for Women. The name was chosen by the Dominican prioress and the school's first president, Sr. M. Gerard Barry and her two brothers -- Bishop Patrick Barry of St. Augustine, Fla., and Msgr. William Barry. Both men were instrumental in founding the school.
In 1981 the college became Barry University during the presidency of Dominican Sr. Jeanne O'Laughlin. Under her leadership Barry inaugurated a division of biological and biomedical sciences and a School of Podiatric Medicine. In 1999 it opened a law school in Orlando. Students studying to become physician assistants can take courses here or in St. Petersburg, where the program is taught live in a video-conference classroom.
St. Petersburg is one of 20 off-campus locations where students can earn credits while learning close to home in classes arranged through the School of Education and the School of Adult and Continuing Education.
Proximity to work and family are important, Bevilacqua said, adding that 47 percent of enrollees are the first generation of their family entering college and 60 percent of students come from families whose annual income is $60,000 or less.
"We're constantly struggling to make our values-based education affordable," she said. Because some 90 percent of students receive financial aid, Barry's fundraising is focused on finding partners for scholarships. The school works closely with families helping them plan for a college career for their sons and daughters.
Aiding migrant families
Nowhere is this more apparent than among farm worker and migrant families whose children have begun to study at Barry through the College Assistance Migrant Program, called C.A.M.P. Currently seven students are enrolled at Barry thanks to the program, which is funded by the Florida Department of Education.
Students in the program receive a fully paid first-year education as well as a $100 a month stipend. They are required to maintain a 2.5 average and to look for scholarships for the subsequent years of college.
"We're here to help students navigate the educational system," said Sonja Montas-Hunter, former executive director of Barry's Office of Migrant Education. This includes not just finding money to pay for a $30,000-a-year education, but also assisting with language, culture and health issues, she told NCR.
Among the sons and daughters of migrants at Barry are Pedro Salinas, a freshman, and his sister Evelia, a second-year coed. The pair comes from a large family, whose older brothers are working hard to help them stay in college, Montas-Hunter said.
But before students are ready for college, they must first finish high school or earn their GED and learn to speak and write English well. In many homes, parents are unable to help students with their homework and language arts. To meet these difficulties Barry has installed Web TV devices for nearly 100 children in Homestead, Fla. The technology allows pupils to stay in touch with their teachers at school and stay current with their homework -- both important as seasonal work finds families on the move.
The university has had a strong presence in Homestead since 1998, coming in six years after Hurricane Andrew devastated the area. Many of the programs are run from the South Dade Farm Worker Housing Center in Homestead, where Janie Greenleas, the new executive director of the Office of Migrant Education works a few days each month. Some 500 families -- from Mexico, Central and South America and Haiti -- have been helped through such Barry initiatives as child and family literacy programs, training in reading, high school equivalency and English language learning.
"We look at the whole family," Greenleas said, noting the university uses two counselors on site in Homestead to evaluate all youngsters and families before they enroll in programs.
Foot care
Every year some 500 migrant elementary children are served by Barry podiatric medical faculty at the back-to-school health fair held at Open Door Health Center in Homestead. Since 1987 the university has provided podiatric primary care to more than 250,000 patients in minority and medically underserved communities.
It offers these free services at four Foot and Ankle Institutes in Miami-Dade County, providing more than $1.5 million in charitable care each year -- much of it in service to the elderly, indigent and homeless people and to thousands of children. "We don't ask people their legal status and we don't generally turn anyone away," said Dr. Chet Evans, vice president for medical affairs in the university's Division of Medicine.
When Barry opened its School of Podiatric Medicine in 1885 -- the seventh podiatry college in the nation, the first in the Southeast and the only one located on a Catholic campus -- there were only a handful of African-American podiatrists in Florida. Through scholarships, tuition assistance and career opportunities for minority and underprivileged students, a vast number of African-Americans have become podiatrists, nurses, physician assistants and other health professionals by acquiring their degree at Barry.
Today more than a fifth of the school's podiatric clinical faculty is of African-American background. Despite the cost of a medical education -- loans for a four-year medical degree average $150,000 nationwide -- more than half of Barry's 800 graduating podiatric doctors work in medically underserved communities.
Patricia Lefevere is a longtime contributor to NCR.
Institute focuses on Hispanic theology
Membership in the U.S. Catholic church today is 40 percent Hispanic and it is expected to be 80 percent Hispanic by 2030. Yet many ordained ministers and lay ecclesial ministers who serve this expanding faith group lack a foundation in Hispanic theology and ministry.
To meet this need and to anticipate the future leadership requirement of Hispanic Catholics and Protestants, Barry University launched the Institute for Hispanic /Latino Theology and Ministry earlier this year.
Lay and ordained ministers can enhance their background in Hispanic theology, ritual, preaching and piety while enrolled in the institute. They can do this by earning either a certificate, a Master of Arts in Practical Theology or a Doctor of Ministry. Each option offers the student a fundamental to advanced concentration in Hispanic/Latino theology and ministry.


-- Patricia Lefevere
Fr. Jorge Presmanes
Already 20 candidates are enrolled in the master's and 15 in the doctoral programs. They include laypeople who work in diocesan offices, who are directors of regional offices, religious educators, and hospital and prison ministers, said Dominican Fr. Jorge Presmanes, director of the institute
Aware that ministers cannot take a year or even a semester off to study at a university, the institute has offered them the chance to stay put and complete reading and writing requirements at home. Candidates are only required to be on campus for intensive two-week residencies offered during winter and summer terms.
During that time they are able to attend seminars with Michelle Gonzalez, a Cuban-American feminist theologian at the University of Miami, with Jesuit Fr. Allan Figueroa Deck, who runs the diversity desk at the U.S. bishops' conference in Washington, as well as with experts on Hispanic theology, ministry and preaching in the Barry theology department.
The program has attracted students from the Northeast to California. Many receive support from their diocese, their religious order or denomination. But others have to take vacation and sick days to attend, Presmanes said.
"Our success as an institute is our ability to provide scholarships," he said, noting that few lay church workers are able to afford a graduate education. The Gendron Foundation of the Dominican Sisters of Adrian, Mich., has been a major benefactor to the institute.
-- Patricia Lefevere
National Catholic Reporter, November 2, 2007