Issue Date: November 2, 2007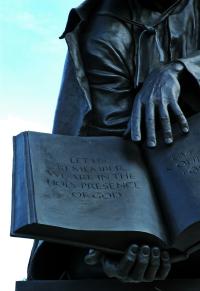 -- Dreamtime.com
A detail from a statue of St. John Baptist de LaSalle, founder of the Christian Brothers and the patron saint of teachers. It sits on the Chapel Plaza at the center of the campus of St. Mary's College in Moraga, Calif.
The Catholic campus
Six presidents on challenges of mission, identity
By HEATHER GRENNAN GARY
Catholic colleges and universities face many of the same issues as any school: rising costs and corresponding tuition hikes, student and faculty recruitment and retention, the academy's place in the world. But the 221 U.S. Catholic colleges and universities (with a total enrollment of more than 720,000) often have different ideas about how and why to address those challenges. They also grapple with the additional concerns of religious identity and how what they do connects to the larger church.
NCR recently talked with a half dozen presidents at Catholic schools across the country about what they see as the main challenges facing Catholic higher education. Their answers provide insights not just into the situation today, but into the history and future of Catholic higher education as well.
JACQUELINE POWERS DOUD
Mount St. Mary's College
Los Angeles
As the only Catholic women's college in the western United States, Mount St. Mary's student body reflects the ethnic diversity of Los Angeles: About 48 percent of undergraduates are Latina, 22 percent are Asian, 11 percent are African-American, and 18 percent are Caucasian. About 40 percent are first-generation college students.
Founded in 1925 and sponsored by the Sisters of St. Joseph of Carondelet, the school enrolls just under 2,500 students and has been awarded more Fellowships for Aspiring Teachers of Color by the Rockefeller Brothers Fund than any other college or university in the United States. A member of the board of the Association of Catholic Colleges and Universities, Doud is Mount St. Mary's first lay president. She took office in 2000.
Every capable and motivated young woman regardless of socioeconomic background should have an opportunity to pursue higher education at a Catholic college if she so chooses. Our big challenge is to provide needed financial aid. We tell our students they can do anything, so we have to make it possible.
One of higher education's biggest challenges is identifying and selecting Catholic college leaders who are conversant with and committed to the Catholic tradition. Current Catholic college and university leadership includes a whole population of former religious who benefited from formation in the Catholic intellectual tradition. There's not another generation quite like that. But as more laypersons are heading these colleges, it's important to identify and select people committed to the Catholic intellectual tradition in the context of Vatican II theology.
Attracting Catholic faculty -- not just to philosophy and religion departments but to all fields -- is a challenge as well. In the past, with so many sisters and priests on faculties, we took for granted that faculty members were literate about the Catholic intellectual tradition. Now Catholics are educated in all kinds of colleges and universities, and when they are searching for a job they're not necessarily looking to be at a Catholic college. They're looking for the whole package: time for scholarly work and opportunities in their discipline, as well as location and benefits.
JACK P. CALARESO
Anna Maria College
Paxton, Mass.
Founded by the Sisters of St. Anne in 1946, Anna Maria College is part of the 13-college Worcester, Mass., Consortium (which includes two other Catholic institutions, Assumption College and College of the Holy Cross) that allows students to take classes at any of the institutions. Anna Maria enrolls approximately 1,500 students in more than 30 programs. Calareso took office last July. He has served as president of Ohio Dominican University in Columbus and Briar Cliff University in Sioux City, Iowa.
There are a handful of issues that we're all facing. The first is just fidelity to mission. Are we clear about our mission and what makes us unique? What's our identity and how is that manifested on our campus? How does it find its way into our curriculum, programs and services, policies, and procedures? Are we being true to our Catholic identity? If we're not, why do we exist? There are plenty of great colleges in the U.S. What do we expect our graduates to know and learn and do in their lives?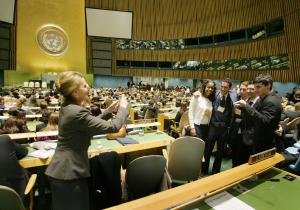 -- Getty Images/AFP/Don Emmert
A group of students from Luiss University in Rome, North Park University in Chicago and Neumann College in Aston, Pa., pose for a photo during a Model U.N. assembly in April 2006 at the United Nations in New York.
There's a general perception that Catholic higher education is quality higher education. One reason we have so many non-Catholics attending our schools is that there's an understanding that Catholic colleges teach and model good ethical and moral values. But we can't simply live off our reputations. Anna Maria is a small institution -- we're less well-known than many other schools -- but we're taking this issue of accountability very seriously. We have a responsibility to say, "This is what we say we do and this is how we do it." Learning objectives, goals, assessments, statistics, and claims about our programs all ought to be substantiated and transparent to the public.
As we graduate students into a world that's much smaller than it used to be, we have a responsibility to move aggressively away from simply a Western perspective and toward a global one. Students need to encounter other cultures and traditions through study abroad and other international and multicultural programs. They need to see how complex the world is.
Teaching our students about other faiths, traditions and customs is particularly important for Catholic institutions because we are part of a universal church that's alive and well in virtually every part of the world. We're part of a network that ought to help us focus globally. We're not only brothers and sisters with Catholics in our own communities, but we share that identity with people in Eastern Europe and Latin America, in Africa and Asia.
About 60 percent of our student body is Catholic; if we were 100 percent Catholic we wouldn't be a Catholic institution. Having some diversity and an opportunity to encounter people of different faiths is part of the richness of Catholic higher education and the Catholic intellectual tradition ... the common search for truth in service to the common good.
ROSALIE MIRENDA
Neumann College
Aston, Pa.
Founded and sponsored by the Sisters of St. Francis of Philadelphia, Neumann has almost doubled its number of full-time students in the past 10 years. It is one of 12 Catholic institutions of higher education in the Philadelphia archdiocese and currently enrolls just over 3,000 students in 19 traditional undergraduate programs, seven graduate programs, and an accelerated associate and bachelor's degree program for adults. Fifty-nine percent of the students are Catholic.
Mirenda, a board member of the Association of Catholic Colleges and Universities, has served as Neumann's president since 1996.
One major challenge I see is the preservation and strengthening of the Catholic imagination through our institutions. The commodification of higher education is scary. The world needs the unique respect and reverence for the human person that comes through our Catholic tradition. The Catholic -- and in our case, Franciscan -- perspective that we bring to the world through our graduates, programs and all that we do is extremely critical and needs to continue.
In our strategic plan, one goal that's remained constant over the past decade is to articulate our Catholic Franciscan identity in a pervasive manner. We're not just thinking about it in terms of theology courses or mission and ministry, but in everything we do. ...
We do need to be concerned with finances and intellectual rigor. But if we don't pay attention to the identity piece, then why do we need to exist? Other private and public institutions have wonderful programs from a secular point of view. It's less expensive to go to Penn State.
Catholic institutions do have to determine how they will serve the immigrant of today, the poor among us, the least served. It's my impression and experience that it's our kind of college and university where those students are now. We have to find ways to finance those who are least served educationally. It's not that these young people don't have the capacity to learn; it's that they need more support, and that costs the institution.
VINCENTIAN FR. DENNIS HOLTSCHNEIDER
DePaul University
Chicago
DePaul University is the nation's largest Catholic university. Of the school's more than 23,000 students, nearly 15,000 are undergraduates. This year 30 percent of freshmen are first-generation college students.
Founded by the Vincentians in 1898, DePaul offers more than 200 undergraduate and graduate programs on six campuses in and around Chicago. Holtschneider took office in 2004 and previously served as executive vice president of Niagara University in Niagara Falls, N.Y.
Our biggest challenges are in two areas: Catholic identity and access of the poor to our institutions.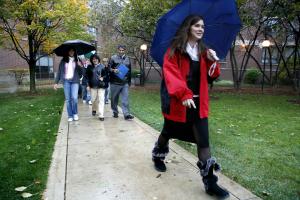 -- MCT/Chicago Tribune/Michael Tercha
In October 2006, Alexis Presseau, then a senior at DePaul University, leads an orientation tour of the school's Lincoln Park Campus in Chicago for prospective students and their parents.
I studied the Catholic identity piece a couple of years ago when [education researcher] Melanie Morey and I surveyed all the presidents of Catholic colleges and universities. At that point, already more than 50 percent of the presidents were lay. By and large, schools are hiring very competent people, and most are Catholic. But when we asked them when they last studied religion, they told us it was in confirmation class.
I'm not suggesting presidents need an advanced degree in theology, but it's a real question for boards as they conduct presidential searches: Do candidates have enough religious background? It doesn't have to be the president; it could be the provost. But somehow, the leadership of Catholic colleges and universities needs to be able to understand and articulate that religious vision and identity.
Another piece of that study, and another challenge, is that at least up to that point, women were being progressively eliminated from presidential leadership. In past years as many as two-thirds of Catholic school presidents were women. By 2003, that number was completely reversed. We discovered that when female-founded institutions hired a lay president, half the time they hired a man. In that aspect, Catholic colleges and universities are moving in the opposite direction from the rest of the country.
Almost all Catholic colleges and universities were founded when Catholics were the main immigrant group. As Catholics took a more established place in society, many colleges moved that direction, too. The second challenge is making sure there's still access for first-generation college students.
Schools across the country are in a bidding war for the highest SAT scores. The bulk of financial aid is merit-based and not need-based. The challenge for Catholic institutions is not to get caught up in that bidding war, to be wary of following that trend. But it hurts your rankings when you do that. DePaul consciously makes the decision to focus on need-based aid, so we're willing to take a hit on the rankings for that reason.
Catholic schools should always have a place for students who can't afford to be there. We have to hold the line on need-based aid. The federal government is cutting billions from student loan programs this year, and grants are worth far less than they used to be. Catholic schools need to figure out how to make need-based support a priority.
CHRISTIAN BR. RONALD GALLAGHER
St. Mary's College of California
Moraga, Calif.
Founded in 1863 by the Christian Brothers, St. Mary's is a liberal arts college in the Lasallian tradition located 20 miles east of San Francisco. St. Mary's enrolls nearly 4,000 students in 38 undergraduate programs and seven graduate programs. Approximately 60 percent of undergraduates are Catholic, and 48 percent are students of color. All undergraduates and faculty participate in the Collegiate Seminar, the school's great books program that dates back to 1941.
Gallagher previously served as secretary general of the Brothers of the Christian Schools in Rome and vice chancellor of Bethlehem University in the Holy Land. He became St. Mary's president in January 2005.
The general challenge facing everyone is affordability, and for us that's connected to accessibility. We want to reach underserved students, and that means first-generation students, students from inner cities, and students who wouldn't normally be considering Catholic higher education because of cost or other obstacles.
Our challenge is how to make college, and St. Mary's in particular, a tangible expectation. Part of dealing with that involves forging partnerships with foundations and agencies to help support developing programs, courses and scholarships.
Our students are used to living in a diverse society. Here on the West Coast, it's not a problem recruiting Hispanic students. The freshman class is more than 20 percent Hispanic. ...
Another challenge for Catholic colleges and universities is educating students for social responsibility and citizenship. We can do that by having our curriculum and cocurricular activities embody the Catholic social justice tradition. There's a real willingness and interest of this generation of students to be involved in service, to encounter and struggle with actual problems in society.
The issue of Catholic identity is on the minds of most Catholic institutions. For us that means living out the tradition of John Baptist de LaSalle by placing the student at the center and focusing on their needs so we can discover their gifts and help them succeed. We also follow in the tradition of Catholic liberal education through our great books program, in which everyone reads Aquinas and Augustine, Newman, the mystics. It's a way to incorporate the Catholic intellectual tradition and it gets students to think broadly about the important questions.
Creating an interreligious understanding and making Catholic education accessible for people who aren't Catholic is very much a part of our mission. We see a growing interest from faculty and staff in supporting that. And inviting people from all religions to be part of this educational tradition helps strengthen it.
DOMINICAN SR. LINDA BEVILACQUA
Barry University
Miami Shores, Fla.
A Dominican institution, Barry University enrolls nearly 9,000 students in more than 60 traditional undergraduate programs, accelerated bachelor's programs designed for working adults, and more than 50 graduate programs. For eight years in a row, U.S. News and World Report's Best Colleges Edition has ranked Barry as No. 1 for campus diversity among similar-sized schools in the South. (See story on Page 6.)
Bevilacqua, who previously served as president of Gwynedd-Mercy College in Gwynedd Valley, Pa., has been president of Barry since 2004 and is on the board of the Association of Catholic Colleges and Universities.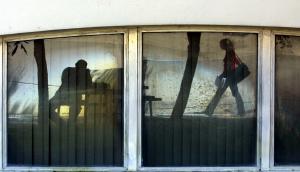 -- MCT/C.W. Griffin
A student walking across the Barry University campus is reflected in a building window.
We find ourselves in a culture whose values are extremely contrary to our own. When you focus on a theological framework and the context of Catholic higher education -- a strong faith dimension and intellectual tradition, Catholic social teaching, rituals, sacramental life -- and juxtapose that against the prevailing values of materialism, secularism, consumerism, individualism, racism, ageism, it is challenging.
Today we have large numbers of students coming to Catholic colleges and universities without a clear understanding of the basics of their faith and the teachings of the church. Over the years Catholic colleges have adapted the curriculum of their theology departments to reflect that change.
Religious congregations are well aware that if their mission and charism are to perdure, it's because lay men and women embrace the mission and transmit them into the future. Our university was founded by the Adrian Dominicans, and I'm particularly grateful our congregation realized years ago we needed to prepare for when there would be fewer of us in positions of influence in our institutions. Now, we take five to eight members of the Barry community to the motherhouse in Michigan for a sponsorship weekend every other year with all other sponsored institutions. It's a very meaningful, powerful experience to go back to where it all started and pick up the energy, history and tradition as lived in that place.
That same kind of ongoing education of faculty, staff and students is equally important for trustees of Catholic colleges and universities. For trustees to guide the institution well, we need them to understand the lived expression as a Catholic, Dominican university.
A final challenge to Catholic higher education in this country is how to foster and enable students, faculty and staff of other religious traditions to deepen their faith. In my first year as president, the mother of a new student told me she was bringing her third daughter to Barry. Their family was Muslim, but she said she and her husband were so pleased at how the university had embraced their two older daughters that they had no choice but to bring their third. That notion of Catholic higher education as welcoming and hospitable and respectful of people of other faith traditions is both a hallmark and a challenge.
Heather Grennan Gary is a freelance writer living in Goshen, Ind.
National Catholic Reporter, November 2, 2007