Issue Date: November 2, 2007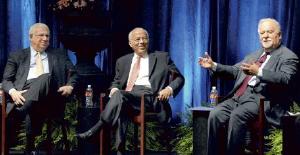 -- CNS/Clarion Herald/Frank J. Methe
Vartan Gregorian, right, announces $14 million in post-Katrina grants at New Orleans' Xavier University Sept. 19. The presidents of two of the three local universities receiving the grants are, from left, Scott Cowen of Tulane University and Norman Francis of Xavier University.
$14 million to bolster education in New Orleans
By PETER FINNEY JR.
Catholic News Service
New Orleans
Vartan Gregorian, president of the Carnegie Corporation of New York, is an American success story whose life is proof of the power and value of higher education.
Now Gregorian and the corporation founded by U.S. Steel magnate and philanthropist Andrew Carnegie are sharing the wealth by investing $14 million in higher education and other learning initiatives in post-Katrina New Orleans, including a $4 million grant to Xavier University, the country's only historically black Catholic university.
The $14 million in Carnegie grants, announced at a student forum at Xavier's University Center Sept. 19, also includes $5 million to Tulane University, $2 million to Dillard University, $2 million for the restoration of the Rosa F. Keller Library in Broadmoor and $1 million to Teach for America, which will triple the 130 corps members serving in New Orleans by 2010.
Gregorian, 73, former president of Brown University and CEO of the New York Public Library, told hundreds of students from Xavier, Dillard and Tulane to continue feeding their intellectual curiosity because he learned through personal experience that education is the key to future success.
"School, for me, was the helicopter that took me out of a burning village in Beirut, Lebanon, at the age of 15 and brought me to the United States," Gregorian said.
Gregorian, who was born in Iran, said his mother died when he was 6 and his father was mostly absent, so he was raised by his grandmother.
"She was a wonderful woman who, although she was not educated, believed in the value of education," Gregorian said. "She made sure I would go to school." Because of the personal turmoil in his childhood years, he attended Russian, Armenian, Turkish, Persian and French Arabic schools before emigrating to the United States.
He was 21 when he entered Stanford University as a freshman. "I wore a necktie as a freshman because I was ashamed to be so old," he said. But Gregorian finished his humanities degree in two years and earned a doctorate in another two years.
He told students he "cheated himself" by not taking science courses as an undergraduate because "my English was not too good and I was afraid my grades would go down and I was afraid I would lose my scholarship."
"Don't cheat yourself," Gregorian told the students. "The only imperishable thing you have is your brain. Everything else you have is ephemeral.
"I always tell freshmen that the world is not going to see someone exactly like you again. You are a unique moment in the history of creation. You can be a dot, a letter, a word, a sentence, a paragraph, a chapter or a book -- or you can be blank. Don't lose the brilliant mind and potential you have."
Norman Francis, president of Xavier, said the university would use the $4 million grant to retain current faculty, recruit additional faculty and enhance the university's financial assistance program. Xavier sustained $90 million in hurricane-related damages, and the school has an endowment of just $52 million.
Francis, who is in his 40th year as president of Xavier, told students they were living in a privileged time to be able to help rebuild New Orleans. "All the [Carnegie] foundation is asking of you is to pass it on to someone else," he said. "We are asking you to become leaders wherever you go and where you see a need to serve.
"[Katrina] was the greatest catastrophe in America, and it's going to be a while solving it and recovering," Francis added. "What is happening today is a reaffirmation not just of New Orleans but of the institutions. We are important to this country, and we're hoping the rest of the nation doesn't forget what happened in New Orleans."
National Catholic Reporter, November 2, 2007